Ethan Whiteside was born into agriculture. He is currently the fourth generation to manage his family's land in Queenstown, Maryland, and spent his early years preparing to take over the farm his great-grandfather purchased in 1947. Ethan partnered with USDA before the pandemic to expand his beef cattle operation. He now leverages USDA programs and services to weather price declines and marketing challenges caused by COVID-19.
Expanding a Family Farm
Warrington Farm has housed dairy, poultry, hog, tobacco, and beef cattle operations over the past 73 years. It's currently a beef cattle and straw operation, which Ethan has managed since graduating from Penn State University in 2013 with a bachelor's degree in Animal Science. Ethan operates 45 acres of pasture and 30 acres of hay on-site and works with his uncle to farm an additional 1,600 acres of row crops across Queen Anne's County. He also runs WF Angus, his cow/calf and show cattle operation with approximately 35 head of Angus cattle.
"Being a beginning farmer, it can be difficult to get started," Ethan says. "I wouldn't have been able to be this far ahead at my age without having the support USDA has provided."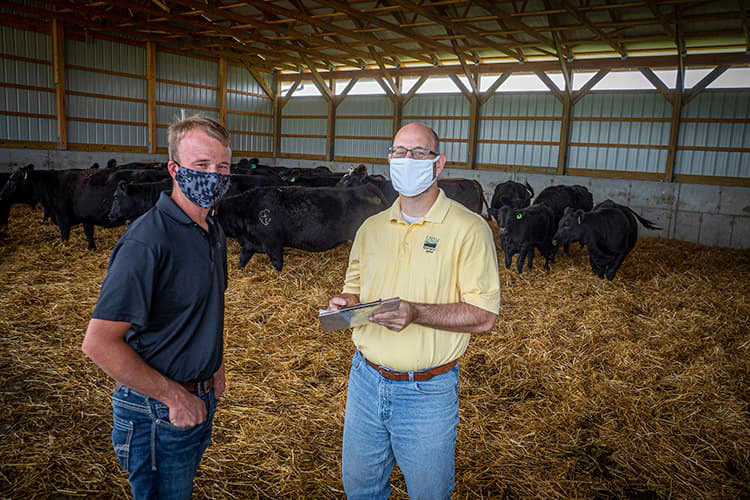 Before the pandemic, Ethan worked with USDA's Natural Resources Conservation Service to build a cow feeding facility, with manure and waste storage. The project was completed last year using technical and financial assistance through NRCS's Environmental Quality Incentives Program. The structure helps to reduce runoff from the barnyard and allows the safe storage of manure until it can be applied to crops as fertilizer when required.
"USDA was really easy to work with," says Ethan. "They came out to the farm a few dozen times. I changed my mind a few times on the plans, and they didn't mind that."
Farming Through the Pandemic
Ethan is one of many farmers impacted by the coronavirus pandemic. Corn prices have dropped drastically compared with pre-pandemic rates, and cattle prices are the lowest he has seen in recent years.
The largest challenge the pandemic created for Ethan's beef operation is the lack of processing space in local butcher shops. Demand to buy locally grew when groceries stores faced a shortage of meat at the start of the pandemic. Butcher shops were booked "almost a year out," making it impossible for Ethan to have more beef processed. "The market was there, but without a way to process it, there was no way I could take advantage of that," he says.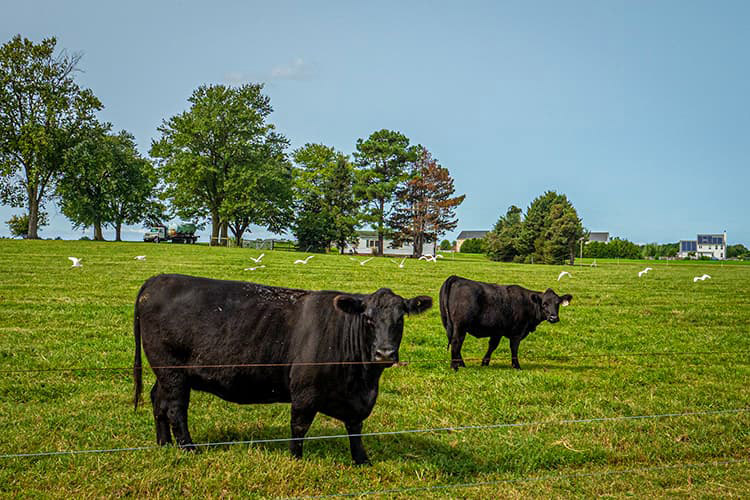 Ethan applied for USDA's first Coronavirus Food Assistance Program in June to help offset some of the price declines and income losses caused by COVID-19. "The CFAP payments came in right at a crunch time," he says. "There are constant bills – feed bills, equipment bills – so it was a benefit to have that payment come in."
Ethan has already applied for Coronavirus Food Assistance Program 2, which provides eligible producers with direct financial assistance due to continued market disruptions and associated costs because of COVID-19.
CFAP 2 is a separate program from the first round of the Coronavirus Food Assistance Program, now called CFAP 1. Farmers and ranchers who participated in CFAP 1 will not be automatically enrolled and must complete a new application for CFAP 2. USDA's Farm Service Agency will accept CFAP 2 applications through December 11, 2020.
Reflecting on his CFAP 1 application experience, Ethan encourages other farmers to apply now for CFAP 2. "Your local office is definitely willing to help," he says.
Watch Ethan's CFAP 1 testimonial video below and learn how to apply for CFAP 2 at farmers.gov/cfap.
More Information
USDA continues to assist agricultural producers with disaster assistance, conservation, safety net, and farm loan programs and services such as conservation planning and acreage reporting while taking safety measures in response to COVID-19.
Visit farmers.gov/coronavirus to learn about current USDA flexibilities and programs for farmers and ranchers impacted by the coronavirus pandemic, including the Coronavirus Food Assistance Program 2.
For more information about USDA programs and services, contact your local USDA Service Center.

Jessica Clarke is a Key Program Technician and Communications Coordinator with FSA in Centreville, Maryland. She can be reached at jessica.clarke@usda.gov.