Dawn Allen knows cranberries. A fourth-generation grower and owner of Freetown Farm LLC in Freetown, Massachusetts, cranberry production has been integral to her family since her great-grandmother started this operation in 1923. What began with 7 acres of bog has expanded to a 28-acre bog producing berries for tables across the state and beyond. Dawn faced an unprecedented drought this year on top of the coronavirus pandemic. She worked with USDA to keep her operation growing for the next generation.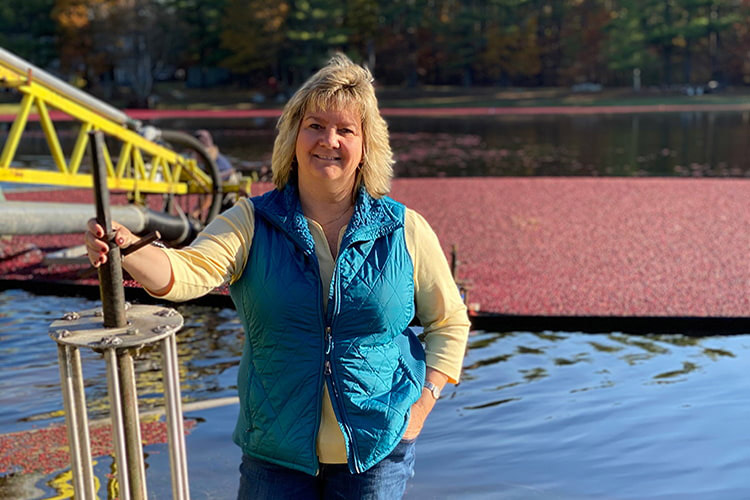 Growing Resourcefully - A Family Tradition
Dawn's county in southeastern Massachusetts was under an extreme drought in September when annual harvest typically begins, adding complications for a berry dependent on water for harvest and decreasing the window for harvest time. "In my short 54 years," she says, "we have experienced a drought of this magnitude – never."
At the same time, the coronavirus pandemic impacted labor forces and agricultural markets across the nation. With harvest time and potential workers reduced, Dawn resorted to precision harvest equipment and loading technologies developed within her family for a successful 2020 harvest season. She also worked with her local USDA Service Center to apply for the Coronavirus Food Assistance Program 2, CFAP 2.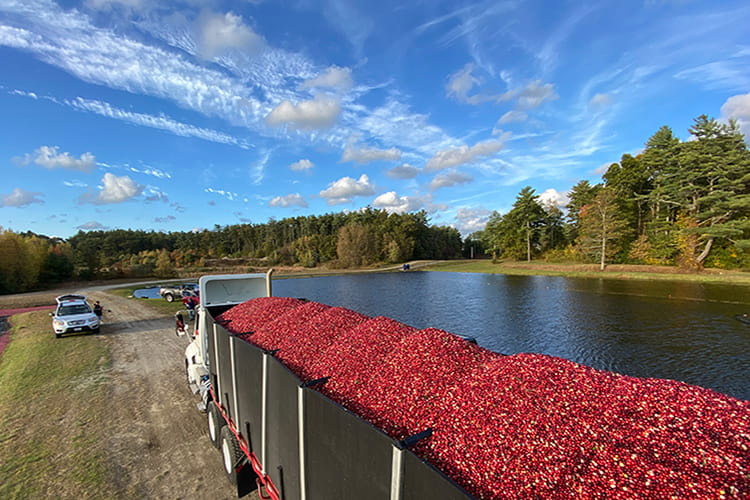 USDA Support Through CFAP 2
 "The CFAP money was critical at a juncture where we're beginning to start our cranberry harvest in September and October," says Dawn. "These dollars have been instrumental at keeping cranberry growers farming and in business for the future."
Dawn shares her experience with CFAP 2 in this two-minute video. Her advice to other producers is simple – apply.
CFAP 2 is for agricultural producers who continue to face market disruptions and associated costs because of COVID-19. CFAP 2 is a separate program from the first round of the Coronavirus Food Assistance Program, CFAP 1, and includes more than 300 eligible commodities. Many, like cranberries, were not eligible under CFAP 1.
Use our CFAP 2 Eligible Commodities Finder to check eligibility for the commodities you grow or raise, and visit farmers.gov/cfap to learn about options to submit your application by the December 11 deadline. You can also call 877-508-8364 to speak directly with a USDA employee ready to offer assistance.
Dawn is proud of both the legacy and future of Freetown Farm LLC. "We're looking forward to celebrating 100 years of growing cranberries," she says. "The next two generations will be taken over by women. Pretty prestigious."
Resources for Your Operation
At USDA, we're thankful for the many producers like Dawn who've worked hard to feed us during this challenging year. Whether you come from a long line of farmers or are just getting started, we offer programs and services to support your operation.
Visit farmers.gov to learn about resources related to funding, risk management, conservation, and overcoming natural disasters. Farmers.gov/coronavirus covers current USDA flexibilities and programs for producers impacted by the coronavirus pandemic, including the Coronavirus Food Assistance Program 2.
USDA offers one-on-one support to producers at more than 2,300 USDA Service Centers nationwide. We encourage you to check the operating status of your local USDA Service Center and make an appointment to discuss your business needs.

Elizabeth Creech is a Public Affairs Specialist with USDA's Farm Production and Conservation Regional Communications Team. Elizabeth can be reached at elizabeth.creech@usda.gov.