In this Ask the Expert, Chris Groskreutz answers a few questions about USDA programs and opportunities for veterans pursuing a career in production agriculture.
At the suggestion of his grandfather, who upheld the family farming legacy that began in the late1800s, Chris began his own career in agriculture starting as an intern with the Georgia Soil & Water Conservation Commission. That eventually led to a career with the Natural Resources Conservation Service (NRCS) as a public affairs specialist. Although he didn't end up on the family farm, Chris feels that helping others fulfill their agriculture goals is just as rewarding. Chris' father served in the U.S. Marine Corps for 22 years, making veterans very close to Chris' heart. He is honored to help those who served transition to farming.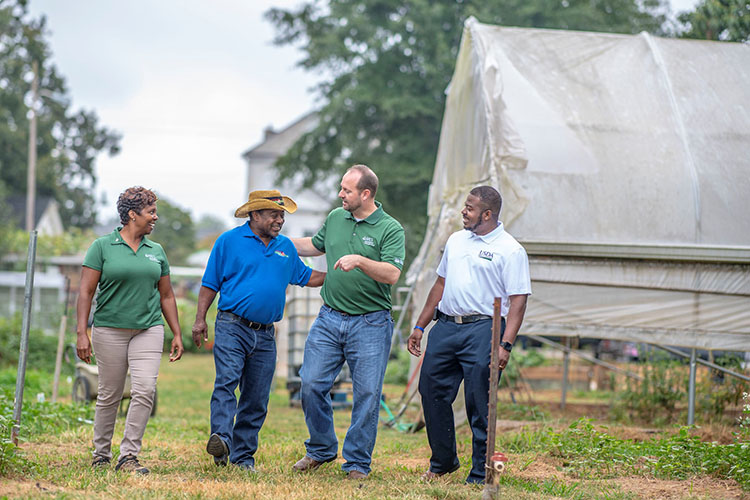 Who does USDA consider a veteran?
USDA defines a "veteran farmer or rancher" as a producer who served in the United States Army, Navy, Marine Corps, Air Force, or Coast Guard, including the reserve components.
You can qualify as a veteran if:
You were released from service under conditions other than dishonorable

You operated a farm or ranch for 10 years or less or if you first obtained status as a veteran during the most recent 10-year period
If you operate as a legal entity or a joint operation, all individual members must independently qualify as veterans.
What USDA programs are available to veterans?
Starting a new chapter in life can be a daunting task for veterans, but there are many programs that can help provide clear direction to match your passion. While most USDA programs can assist veterans, some programs have set asides, or targeted funding, while others have reduced or waived fees for veterans. USDA offers farm loans, as well as commodity, safety net, conservation, and disaster assistance programs to cover your operation's needs.  
Because access to capital and land is a big challenge in agriculture, one of the most commonly used programs is the Farm Services Agency's (FSA) Farm Loans, which can help you purchase farmland, make capital improvements, or finance operating costs. Each year, FSA sets aside a portion of its loan funds for veterans and beginning farmers and ranchers. With the help of an FSA Microloan, Tracy Robinson, a Marine Corps veteran, was able to start his own farming operation. He plants a rotation of peanuts, cotton, soybeans, and wheat on his 300-acre farm in Early County, Georgia.
Another great resource is NRCS's Environmental Quality Incentives Program (EQIP). If you need help with managing and improving natural resources, this program provides technical and financial assistance to implement conservation practices that improve water and air quality, soil and plant health, and reduce the risk of erosion and sedimentation. Chad Tackett, a veteran in Lincoln County, Georgia, participated in EQIP to install 60 acres of riparian buffers around his creek along with the cross fencing and five watering facilities necessary to operate his newly established rotational grazing system.
Mitigating risk is an important part of farming and, and programs such as FSA's Noninsured Crop Disaster Assistance Program (NAP) or crop insurance through the Risk Management Agency (RMA) can help. Qualifying veterans are eligible for a NAP service fee waiver and a 50 percent premium reduction when purchasing higher levels of coverage.
What resources are available to veterans through USDA's partners?
Programs like Texas AgrAbility's Battleground to Breaking Ground offer online and traditional classroom educational opportunities as well as hands-on learning experience on working farms and ranches.
Both Farmer Veteran Coalition and AgrAbility offer helpful resources to assist with purchasing and retrofitting equipment due to a disability.
The Dairy Grazing Apprenticeship and SCORE offer mentoring opportunities that provide valuable real-world experience in your field of interest.
How do I find out more about these opportunities?
The first step is to call your local USDA Service Center. Our staff can answer any questions and provide information about programs and opportunities specific to your operation.
The USDA New Farmer website is another useful tool that includes USDA resources and introduces you to the network of resources that go beyond USDA. 
USDA Service Centers are open for business by phone appointment only and field work will continue with appropriate social distancing. While our program delivery staff will continue to come into the office, they will be working with our producers by phone, and using online tools whenever possible. All Service Center visitors wishing to conduct business with the FSA, NRCS, or any other Service Center agency are required to call their Service Center to schedule a phone appointment. More information can be found at farmers.gov/coronavirus. 
Jesi Ward is a Public Affairs Specialist with NRCS in Alabama. Jesi can be reached at Jesi.Ward@usda.gov.