In this Ask the Expert, Scott Reed, Chief Program Specialist for the USDA Farm Service Agency (FSA) State Office in Texas, answers a few questions about drought assistance for livestock producers. Part of his job responsibilities includes overseeing the implementation of disaster assistance programs for Texas farmers and ranchers. 
Scott has worked on livestock disaster assistance programs at the county, state, and national levels and has first-hand knowledge of how drought conditions can affect livestock producers. He grew up on the family farm in Navarro County where they raise cotton, grain sorghum, wheat, and cattle. He goes home every weekend to help his brothers on the farm.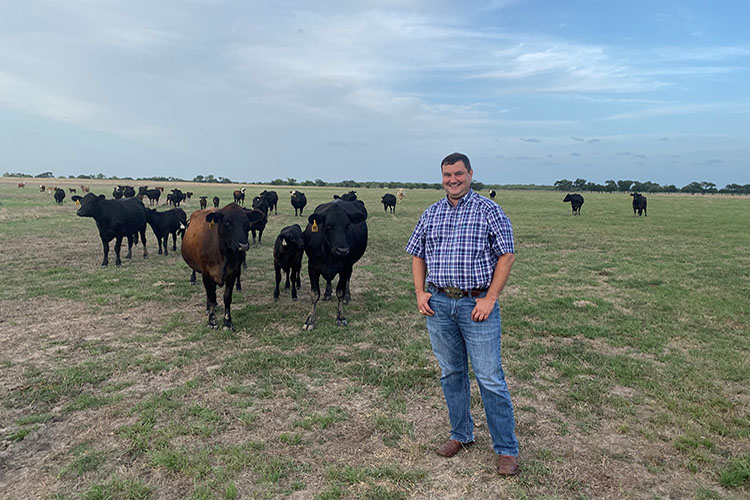 What type of assistance is available for livestock producers affected by drought?
If your livestock operation is impacted by severe or exceptional drought, you can apply for assistance through the Livestock Forage Disaster Program (LFP). LFP is one of several disaster assistance programs available through FSA. These payments help producers who suffer grazing losses due to a qualifying drought. Your program payment will be based on the number of weaned cattle you own and the number of acres. I know that keeping cattle through a drought means additional feed expenses, and these payments are intended to help offset that cost.
 
What kind of livestock are eligible?
Weaned livestock for commercial use are eligible for LFP, including adult and nonadult beef cattle, beefalo, buffalo/bison, dairy cattle, alpacas, deer, elk, emus, equine, goats, llamas, reindeer, and sheep. Your livestock must have been grazing the eligible land through the normal grazing period during the drought. 
Another key eligibility factor is that your livestock must have been owned, leased, purchased, or under contract, or you must be a contract grower for at least 60 days before the beginning date of the qualifying drought.  
What types of grazing crops are eligible?
You can apply for LFP on native or improved pastureland with permanent vegetative cover as well as with crops planted specifically for grazing livestock, including forage sorghum, barley, oats, rye, triticale, wheat, annual planted ryegrass, or annual planted crabgrass. 
Is my county eligible for LFP?
If you're experiencing drought conditions, I suggest visiting the Livestock Forage Disaster Program webpage to check your county's eligibility status by forage type. 
What qualifies as an eligible grazing loss?
LFP program eligibility triggers based on your county's drought status on the U.S. Drought Monitor.  On the website, you have the option to select your region, state, and county. From there you will see the current drought intensity in your respective area. There are six intensity statuses that can occur. Of the six, only the following three will trigger LFP payments:  
D2 (severe drought) intensity in any area of the county for at least eight consecutive weeks.

D3 (extreme drought) intensity in any area of the county at any time.

D4 (exceptional drought) intensity in any area of the county for four weeks (not necessarily consecutive).
How can producers apply for assistance?
You can contact your FSA county office to schedule an appointment and apply for assistance once your county has triggered a qualifying drought status according to the U.S. Drought Monitor.
What records do I need to apply for LFP?
You'll have to submit a completed application for payment and any required supporting documentation to your FSA county office within 30 calendar days after the end of the calendar year in which the grazing loss occurred. 
Contract growers will need a copy of the grower contract and any other supporting documents required for determining eligibility. Make sure these documents show evidence of loss and that your grazing land is owned or leased. 
Where can producers get more information about this program?
For more information, visit Livestock Forage Disaster Program webpage or read the LFP Fact Sheet. 
USDA Service Centers are open for business by phone appointment only, and field work will continue with appropriate social distancing. While our program delivery staff will continue to come into the office, they will be working with producers by phone and using online tools whenever possible. All Service Center visitors wishing to conduct business with the FSA, NRCS, or any other Service Center agency are required to call their Service Center to schedule a phone appointment. More information can be found at farmers.gov/coronavirus. 
Leila Naylor is an Administrative Specialist with FSA in Rhode Island. Leila can be reached at Leila.Naylor@usda.gov.