Ask the Expert is a new series launching on farmers.gov. In this Ask the Expert, Sarah Campbell, the National Beginning Farmer and Rancher Program Coordinator based in Washington, D.C., answers a few questions about resources for beginning farmers and ranchers.
Sarah is leading a new team that will coordinate USDA's beginning farmers and ranchers efforts. As a beginning farmer, Sarah spends a lot of time listening to USDA field staff, program experts and organizations who work with beginning farmers.
In this Ask the Expert, Sarah answers questions about USDA support for beginning farmers and ranchers.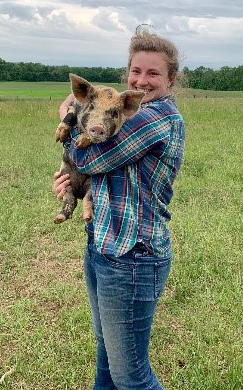 How will your team provide support for beginning farmers and ranchers?
The team will support beginning farmers directly through our field staff. They offer technical assistance and help guide new farmers to navigate the many resources USDA has to offer by working with them one-on-one. Our team also works with organizations that serve beginning farmers and ranchers. By collaborating with stakeholders and service providers, we increase awareness and understanding of USDA programs and resources as well as help these organizations get resources to support their work.

Who does USDA consider a beginning farmer or rancher?
USDA views a beginning farmer as someone who has been farming for less than ten years. Beginning farmers are an incredibly diverse group; they can be first generation farmers, come from a multi-generational farm family, be transitioning from another career or military service, be any age, and manage a variety of operations of all scales and sizes from a small urban lot to a sprawling ranch.

What resources are available for beginning farmers and ranchers?
USDA has numerous resources for beginning farmers and ranchers and we can work with them at any step in their journey. For beginning farmers who are just starting out and don't have an operation of their own, we have information and resources on business planning, getting started with USDA, and helping them connect to local workshops offered through organizations like Extension Services.
If someone is starting to farm, USDA can help beginning farmers finance an operation, get conservation assistance, find a mentor, and access risk management resources.
Most of our programs are a great resource for beginning farmers. Some USDA programs have set asides, or targeted funding, while others have reduced or waived fees for beginning farmers. Programs that are competitive may award additional points to beginning farmers when they are considered for funding. USDA also has a lot of data that can help beginning farmers make important decisions. For example, the National Agricultural Statistics Service publishes average land rents and the Agricultural Marketing Service has pricing data that is publicly available for commodity and specialty crops.
Beginning farmers can explore the resources USDA has to offer by visiting newfarmers.usda.gov, farmers.gov, or by contacting their local office.
 
What barriers can USDA help beginning farmers and ranchers overcome?
Beginning farmers frequently say that access to land and capital are their biggest challenges. USDA has programs and resources to help them buy land or for start-up costs. However, you don't need to be a landowner to participate in a USDA program. The Farm Service Agency's microloan program is very popular with beginning farmers as is the Natural Resources Conservation Services High Tunnel Cost Share Environmental Quality Incentives Program. Beginning farmers may lack the reserves or capacity to weather a natural disaster or significant loss and our agencies can help them manage risk through crop insurance and disaster assistance programs.
Starting a farm business is hard and beginning farmers need a strong support system. Working with their local USDA Service Center lets them talk to subject matter experts and program specialists who can connect them with resources and networks.

How can beginning farmers and ranchers contact their local USDA Service Center?
Beginning farmers can find their local service center through the office locator tool on farmers.gov. I recommend they make an appointment before visiting their local office, connect with their state coordinator, and read our how to prepare for your first visit guide online. Our offices can assist producers in person, on the phone and by email. Farmers can also connect with staff at local farm events and conferences.
USDA Service Centers are open for business by phone appointment only and field work will continue with appropriate social distancing. While our program delivery staff will continue to come into the office, they will be working with our producers by phone, and using online tools whenever possible. All Service Center visitors wishing to conduct business with the FSA, NRCS, or any other Service Center agency are required to call their Service Center to schedule a phone appointment. More information can be found at farmers.gov/coronavirus. 
FSA, NRCS, the Risk Management Agency and Rural Development have designated State Coordinators and Beginning Farmer and Rancher Champions in each state to support beginning farmers and increase outreach and education. These coordinators are a great starting point and their contact info can be found on farmers.gov.

Can you give us some background information on your farm operation?
I grew up on my family's farm and worked at several farms after college before coming home and starting my own farm business. I have a small diversified livestock operation with beef cattle, sheep, hogs and chickens. I sell meat locally from my farm and at the farmers market. Having two jobs keeps me on my toes and I couldn't do it without the support of my family and farm community. When I tell folks it takes a village and to build a support system, I mean it and am speaking from my personal experience!