.
Ask the Expert is a new series launching on Farmers.gov. In this Ask the Expert, Michael Henderson, the State Agronomist for the USDA Natural Resources Conservation Service (NRCS) in Des Moines, Iowa, answers a few questions about an online conservation planning resource called the electronic Field Office Technical Guide.
Mike helps lead the state's efforts to provide conservation planning assistance to Iowa's farmers and landowners.  His work includes maintaining agronomic conservation standards and technical documents as well as developing and delivering training to staff. He has 17 years of service with NRCS in Iowa.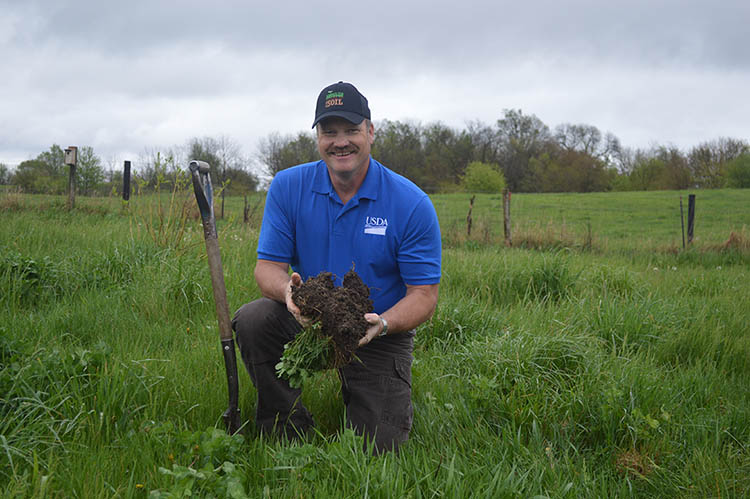 What is the electronic Field Office Technical Guide?
The electronic Field Office Technical Guide is the 'go to' location for NRCS guidance and reference materials. It is organized into the following 5 sections, which helps catalogue a massive amount of information in a usable manner.
Section 1 – General References
In the first section, you will find general references which include maps of Major Land Resource Areas and conservation practice cost data.
Section 2 – Natural Resources Information
Here you'll find more detailed information on natural resources, including climatic data, ecological site descriptions, and county-specific soils information.
Section 3 – Conservation Management Systems
The third section focuses on how to evaluate and treat resource concerns with planning criteria, governing legislation, and guidance documents.
Section 4 – Practice Standards and Specifications
This section contains detailed state-specific information on practice standards and construction specifications for installing practices.
Section 5 – Conservation Effects
The last section contains the information about the positive impacts of each conservation practice or the Conservation Practice Physical Effects.
The first three sections can be used to evaluate the farming operation. The conservation practice standards in Section 4 can be used to treat the identified resource concerns. The Conservation Practice Physical Effects table in Section 5 helps select which practices can best address the resource concerns.
Why is this information important to farmers?
The guide is a valuable online tool that is available 24/7 to help you decide how to best protect your farm's soil and water. This can be as complex as evaluating an entire farm to as basic as protecting one ephemeral gully in a field. All the information is based on science and thoroughly vetted to ensure the best possible protection of resources.
This information can help you understand how to properly implement conservation practices to achieve the desired impact. While the guide isn't a substitute for the personal conservation planning assistance provided by your local NRCS staff, it does help you better understand the available options for treating your farm's natural resource issues and concerns.
How can farmers access this information?
The electronic Field Office Technical Guide is state specific and publicly available online at https://efotg.sc.egov.usda.gov. Open the page, select the state you want to view, and click submit.
Once a state has been selected three options are available to find information. The document tree allows the user to select each section to view information. Document Search provides a way to search for a specific document by title, keyword, or subject area. Recently Changed shows all the information that has been recently updated.
How can a farmer get more information about the electronic guide?
Farmers can contact their local NRCS Field Office for assistance using the electronic Field Office Technical Guide. Your NRCS staff will be able to assist you with any of the information contained in the guide.
Can you give us some background information on your farm operation?
I was raised on an irrigated crop farm in the Oklahoma Panhandle and came to Iowa when I got married in 1993 to try dryland farming. My farm is operated in a corn soybean rotation with cover crops.
We have riparian buffers along a stream, two constructed wetlands, and several acres of pollinator habitat. I passionately support the agricultural community. I strive to educate others about the beauty of nature and how to protect the natural resources we have.
USDA Service Centers are open for business by phone appointment only and field work will continue with appropriate social distancing. While our program delivery staff will continue to come into the office, they will be working with our producers by phone, and using online tools whenever possible. All Service Center visitors wishing to conduct business with the FSA, NRCS, or any other Service Center agency are required to call their Service Center to schedule a phone appointment. More information can be found at farmers.gov/coronavirus.
.