USDA's Natural Resources Conservation Service (NRCS) has been given a once-in-a-generation opportunity to deliver $19.5 billion in conservation funding through Conservation Technical Assistance, the Environmental Quality Incentives Program, the Conservation Stewardship Program, the Regional Conservation Partnership Program, the Agricultural Conservation Easement Program, and for measuring the climate benefits that all this work will achieve. While we have been hard at work in the first year of implementation, we wouldn't have been able to achieve our current level of success without the thoughtful feedback from our partners.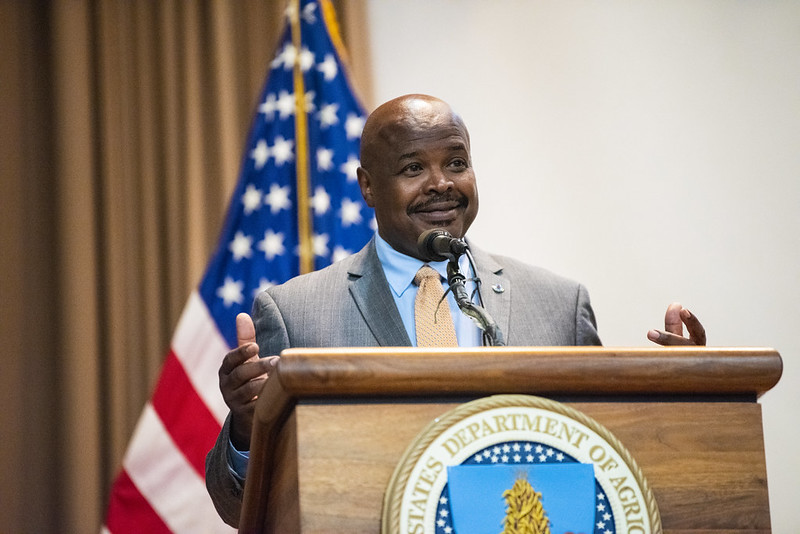 To that end, we released an Inflation Reduction Act Implementation Request for Information in November 2022. NRCS received over 450 comments that are helping improve our program delivery by removing administrative burdens, streamlining, and expediting program enrollment; building agency and partner capacity to deliver services more quickly; and providing more equitable services. We are using this feedback to expand climate-smart agriculture and forestry activities and refine our measuring, monitoring, reporting and verification of greenhouse gas reduction efforts.
These thoughtful suggestions have helped accelerate our implementation of the Inflation Reduction Act. So far in fiscal year 2023, NRCS is already implementing the majority of recommendations you submitted.
Your feedback and recommendations resulted in some quick wins for NRCS, including: 
Streamlining processes for the Regional Conservation Partnership Program (RCPP) and the Agricultural Conservation Easement Program (ACEP). The agency has begun an ongoing RCPP improvement effort, which includes program changes to improve our RCPP portal for partner use, simplifying agreements, and streamlining the reimbursement process. For ACEP, we raised the national appraisal review threshold and have added 22 new certified entities this year.
Leveraging over $140 million in agreements with partners to deliver increased boots on the ground results, through conservation districts, state agencies, and many other conservation-focused organizations.
Expanding connections with retired employees through the Association of Retired Conservation Service Employees to provide mentoring to the incoming workforce and added additional senior experienced workers for more workforce capacity.
Supporting a newly staffed Technical Service Provider (TSP) branch to expedite review of applications and enhance customer service.
Investing in training staff to increase competency around diversity, equity and inclusion principles.
Expanding our outreach, resulting in welcoming over 60,000 new customers this year.
Reviewing NRCS' recognized Climate Smart Agriculture and Forestry practices and developing an expanded list of practices based on available scientific research. 
These changes based on your suggestions are a large part of the reason that NRCS is in such a strong position as we look ahead to the next year of increased funding in fiscal year 2024. 
Of course, we recognize that there is more we can do to improve, and we are committed to continuing to do so with your feedback. Additional recommendations you submitted that will significantly improve our delivery of the Inflation Reduction Act will be implemented in the upcoming fiscal years. Be looking for more improvements related to our Technical Service Provider program; our Measuring, Monitoring, Reporting and Verification to quantify carbon sequestration and greenhouse gas emission reductions from conservation investments; and our continuing efforts to streamline our programs. As the number of producers we can assist with our increased funding continues to grow, my staff and I are excited to roll up our sleeves and continue to tackle your suggestions that will take some additional research but have major potential to advance our work.   
 
I want to say a sincere thank you to those who shared their innovative thinking and helpful suggestions. The Request for Information is just one of many ways that we are working together to ensure our conservation community can deliver on the climate-smart opportunities available through the Inflation Reduction Act. At the local, state, and national levels, we welcome your suggestions and ideas for how to improve our implementation in the coming years.  
 Terry Cosby is the Chief of USDA's Natural Resources Conservation Service.