USDA's Farm Service Agency has launched a new tool on farmers.gov, USDA's self-service website for farmers, to help farmers and ranchers find information on farm loans that best fit the needs of their operation.
If you're looking for financing options to operate a farm, buy land, or both, you can answer a few simple questions about what you're looking to fund and how much money you need to borrow. You will receive information within minutes on which types of loans may best fit your needs. This new tool is especially helpful for beginning farmers and ranchers as well as those who are new to FSA farm loans.
How to Access
To use the Farm Loan Discovery Tool, visit farmers.gov/fund and click the "Start" button.

Follow the prompts and answer five simple questions to receive loan information that is applicable to your agricultural operation. The tool is built to run on modern browsers like Chrome, Edge, or Safari, and is fully functional on mobile devices. It does not work in Internet Explorer.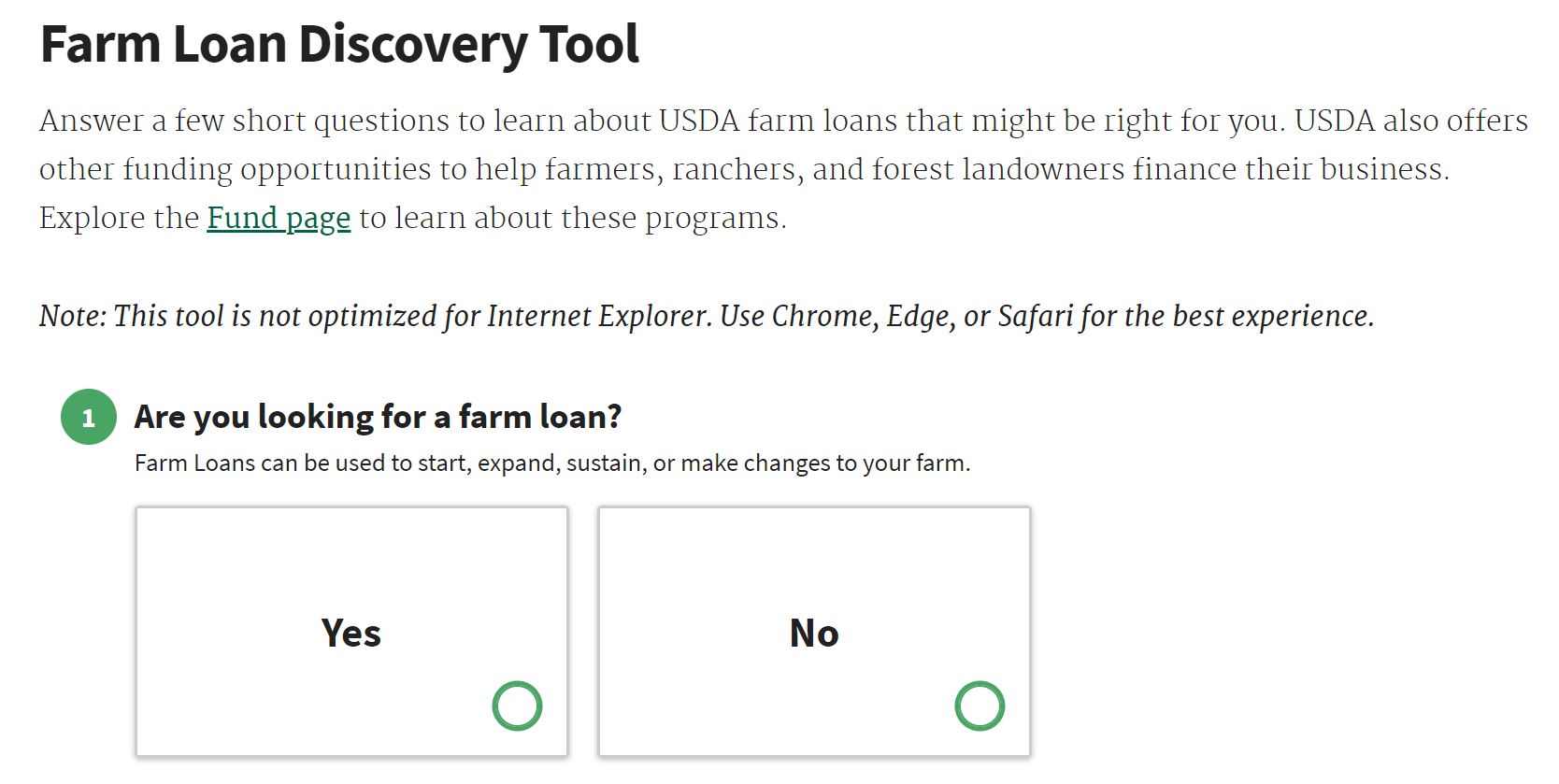 From here, you'll be able to download application quick guides applicable to you that outline what to expect from preparing an application to receiving a loan decision. There are four guides that cover loans to individuals, entities, and youth, as well as information on Microloans. The guides include general eligibility requirements and a list of required forms and documentation for the loans applicable to your operation. The guides will help you prepare before your first USDA Service Center visit with a loan officer.
Built for Your Needs
USDA is building farmers.gov for farmers, by farmers. Over the past year, we've worked closely with the Customer Experience Center of Excellence, established by the General Services Administration, to find ways to improve our delivery of programs and services.
As part of this process, we took a close look at FSA farm loans by tracking the farm loans journey. In interviews with customers and staff, we developed some key recommendations, many of which involved access and self-service to loans online. This tool builds on the existing tools on farmers.gov. Earlier this year, USDA launched the My Financial Information feature, which enables farmers to view their loan information, history, payments, and alerts by logging into the website.
More Features to Come
We are continuing to develop more resources for farmers that will be available on farmers.gov. Eventually, farmers will be able to:
submit loan documents to their service center via the farmers.gov dashboard; and 

view loan information as entities.
Courtney Dixon serves as Director of the Program Operations and Appraisals Division for Farm Service Agency's Farm Loan Programs. Courtney can be reached at courtney.dixon@usda.gov.