You can now manage your conservation activities and request assistance from USDA's Natural Resources Conservation Service (NRCS) by logging into your farmers.gov account. These conservation features join several others already available through the farmers.gov portal, including the ability to view farm loan information. As more content and capabilities are added, farmers.gov is quickly becoming the online hub for producers to find resources, submit applications, and request assistance.
Previously, self-service conservation activities were available through Conservation Client Gateway, but that portal retired on Oct. 15.
But those functionalities are now available through farmers.gov portal. It was designed and built with the valuable input of USDA customers like you and ready to use for your conservation needs.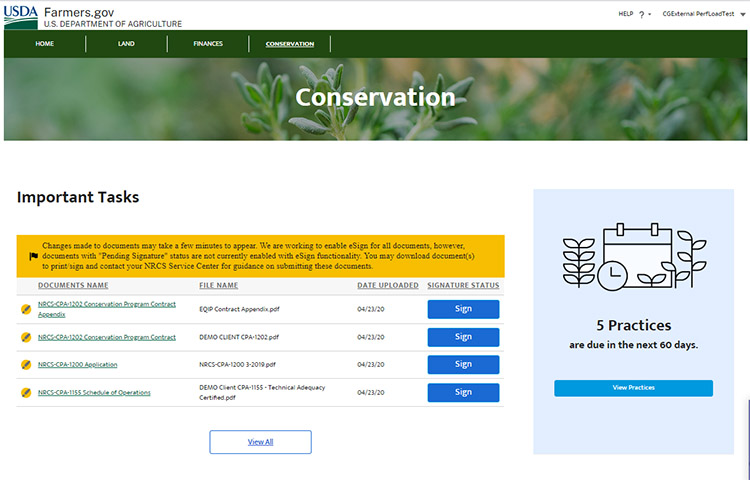 Through farmers.gov portal, you can:
View, upload, download and e-sign documents;

Request conservation assistance;

Request financial assistance, including submitting a program application;

View and request application details;

Reference technical terms and submit questions;

Access information on current and past conservation practices and plans;

Report practice completion and request practice certification;

View detailed information on all previous and ongoing contracts, including the amount of cost share assistance received and anticipated; and

Have authority for FSA and NRCS customers to work in the portal and act on behalf of their active power-of-attorney entitlements and their current authorities for business entities.
Current Conservation Client Gateway Users
If you were a current Conservation Client Gateway user, your information and data is available through farmers.gov. To access your information, visit farmers.gov and sign into the site's authenticated portal via the "Sign In / Sign Up" link at the top right of the website. You'll sign in using your CCG account login information.
New Farmers.gov Users
If you do not have login information for farmers.gov, you can create your login profile, or eAuthentication by following the instructions at farmers.gov/sign-in
Help and Support
The how-to video instructions explain some of the popular features. If you need additional help, personal assistance is available at the farmers.gov Service Desk by selecting the "Help" link located at the top of the all authenticated portal pages and submitting a "Contact Us" request. NRCS field office staff are always available to assist you with your conservation questions and other needs.
Ciji Taylor is a Public Affairs Specialist with USDA. She can be reached at ciji.taylor@usda.gov