The nomination period for the USDA Farm Service Agency's annual county committee election began June 15 and continues through Aug. 2, 2021. Throughout the nomination period, we've been introducing county committee members across the nation. In the fifth installment of the series, we'll meet Wesley Sullivan, a fourth-generation farmer and rancher in Comanche County, Oklahoma and second-year member of his local FSA county committee.
A Family Tradition
Wesley farms with his brother, Joshua, and father, Joe. Once solely a dairy farm, the Sullivan family has transitioned their operation to now include 3000 acres of cotton, alfalfa, hay, oats, sorghum forage, turfgrass, and millet, in addition to beef and dairy cattle.  Wesley chose to pursue a career in farming because it is all he has ever known.
"Some of my favorite memories growing up was the chance to come home from school and go straight to the farm," he said. "My friends and I would always go straight to the tractors and cows. It was great to spend time with my friends and get a head start doing what I love."
There is no doubt that farming and ranching is a family task. Even during the busy planting and harvesting seasons, Wesley has the next generation in tow.
"Sometimes, when things get tough as a farmer, I think back to how great it was growing up on the farm and how I want my kids to grow up out here too," he said. "Even though the days are long, my 3-year-old son is sitting with me every day. That is what makes all the hardships as a producer worth it. I get to spend all my time with my family."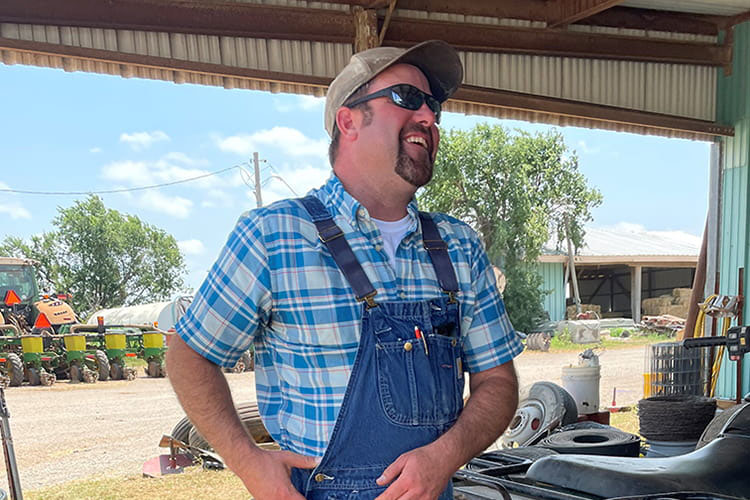 Community-Minded
The family is very involved with their community by providing a variety of farm-raised products, including beef, eggs, milk, butter and cream for sale through an open-door system at their operation's headquarters. All customers purchase their products using the honor system. The Sullivan family really enjoys providing directly to their community.  
Another example of this community-minded spirit is the Sullivan family's involvement on the FSA county committee. Wesley is in the second year of his first term on the Comanche County committee. He follows in his older brother's footsteps who served three full terms on the same committee.
"When my brother's term was up, I wanted to be able to help the farmers and ranchers of my community, just like Josh did," he said.
County committee members are farmers elected by their peers to serve as a direct link between the agricultural community and USDA. Farmers on the committee help deliver FSA farm programs at the local level, help decide the programs their counties will offer, and work to make the programs serve the needs of local producers.
Each year, FSA accepts nominations for a specific Local Administrative Area. The LAA up for election rotates each year.
"Not only is it helpful to know about the programs, but I can be there to tell more people about FSA programs," Wesley said.  
He really enjoys the community bond that he has developed with his county committee.
"Conversing with producers in the other LAAs is humbling and encouraging," Wesley said. "I hear about their struggles and their successes and I know we are in this together."
The committee helps tie the county's agriculture community together.
"It would be difficult for all of the producers to only have the County Executive Director as an information warehouse," he explained. "But with the COC, it gives the producers someone to go to for information and as an outlet to be real about what they are experiencing."
More Information
For more information on FSA county committee elections, contact your local FSA office or visit  fsa.usda.gov/elections.
Madeline Alewine is the state communications and outreach coordinator with the Farm Service Agency in Oklahoma.