For the most up to date information on the services available on farmers.gov and how to access them, please visit the sign in/sign up page.
The vision of farmers.gov is to provide farmers, ranchers, and forest landowners with online self-service applications, educational materials, engagement opportunities, and business tools.
Many of these self-service features are available through the secure farmers.gov portal, where you can log in to your dashboard to apply for programs, process transactions, and manage accounts.  
If you work with USDA, we encourage you to get an USDA eAuthentication account, providing you access to the farmers.gov portal and enabling you to better manage your USDA business online.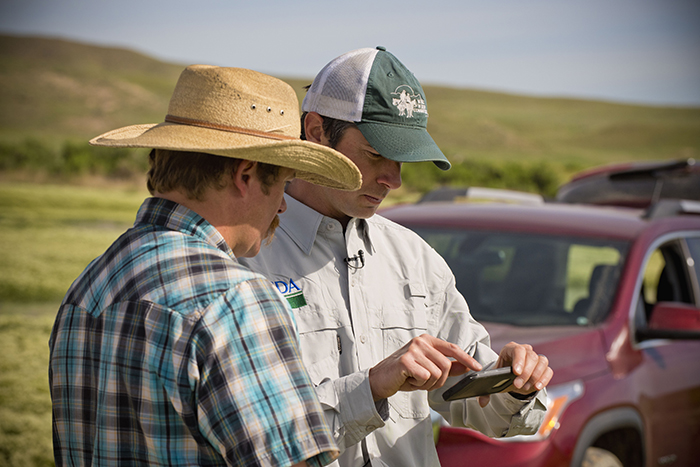 Sign Up Today
We encourage you to register for a Level 2 eAuthentication account:
Contact your local service center to ensure your correct email address is on file.
Create an account at www.eauth.usda.gov. When creating your account, be sure to request Level 2 access and use the email address on file. 
Complete identity verification by either using the online self-service identity verification method or by completing the identity verification in-person at your USDA service center. 
Now that you're now enrolled, contact your local USDA service center to have your account linked with your USDA customer record.
You're ready to login!
Currently, only customers doing business as individuals can access their records using a USDA eAuthentication account. Access for customers doing business as an entity (such as an LLC or Trust) or on behalf of another individual will be available in the future.
Available Features
USDA is building farmers.gov for farmers, by farmers, based on feedback from you and our field employees who serve you. Once you're logged in to the secure farmers.gov portal, you can view a dashboard personalized with your customer profile and complete the following activities:
You can also link directly to our existing business applications, such as Farm Service Agency's FSAfarm+ and Natural Resources Conservation Service's Conservation Client Gateway. As we grow, these and other USDA business applications will be integrated into the dashboard.
Other Upcoming Features
In the next year, USDA plans to add new features, enabling you to:
view information on current and previous farm loans;
evaluate loan programs to find the best fit for your business goals; 
submit loan documents to your service center; and
view your farm records, including your farm and tract number and maps.
Need Help?
For help setting up your account, visit our sign-on page. For other questions, we encourage you to reach out your local USDA service center.
Michelle Thomas is farmers.gov lead and a farm mom to a horse-crazy 4Her, a whole host of farm animals, and a burro named Ruby. Michelle can be reached at michelle.thomas@wdc.usda.gov.