This Friday meet Nathaniel Rhodes of Rowesville, South Carolina, where he grows a variety of crops on 225 acres. Growing up on the farm, he inherited the land from his parents, which was purchased by his great-grandfather in the 1800s. Deeply rooted to the farm and his farming community, Nathaniel has a strong passion for protecting the land and helping wildlife thrive.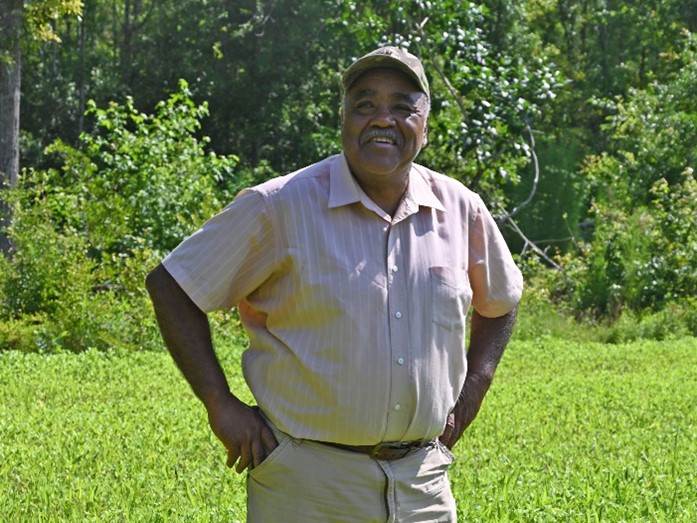 A Passion for Wildlife
The loud whistle of the bobwhite quail and the discovery of quail coveys led Nathaniel to contact his local USDA Farm Service Agency office to inquire about the Conservation Reserve Program, hoping FSA could assist him in increasing wildlife, specifically quail, on his property.
"Quails make the most beautiful sound," Nathanial said.
He enrolled in the program in October 2021 with two 10-year contracts for habitat buffers for upland birds, which gives landowners a way to use a small portion of their land to create bird habitat while continuing to farm. Through CRP, Nathaniel has planted two quail buffers using a wildlife seed mix that consists of partridge pea, black-eyed Susan, ragweed, bluestem, switchgrass, and other species.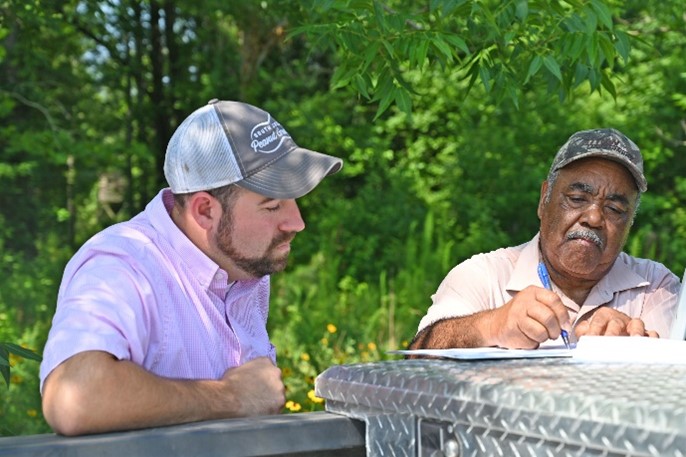 Since the implementation of the buffers in April 2022, Nathaniel has seen an increase in wildlife, including not only quail, but turkey and deer as well. Although he is in his first year of planting the buffers, he plans to continue adding to the buffer strips in the future, as well as managing the land with disking. He also planted additional varieties not included in the seed mix, such as nut sage and sorghum, and even has plans to build a pond. He hopes to attract even more wildlife and create a haven where they can flourish.
"Mr. Rhodes has put his best foot forward making a positive impact toward conservation for wildlife," said Maddie Squires, FSA program technician. "He has a true appreciation for what we are trying to accomplish with the CRP program and has been an absolute pleasure to work with."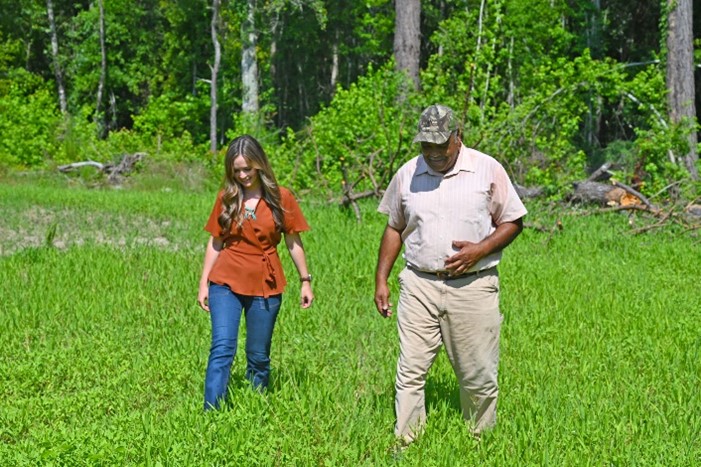 A Passion for the Land
While Nathaniel is new to managing a portion of his land for wildlife, he has farmed for most of his life. His main crops include corn, soybean, oats, wheat and, occasionally, cotton. He also plants a variety of truck crops, such as butter beans, okra, sweet corn, and peas, and sells them locally. He now farms along with his grandson, who plans to return to the farm after college.
"I'm now the fourth generation to be living on the farm, and I hope to pass it on to my grandson one day," he said.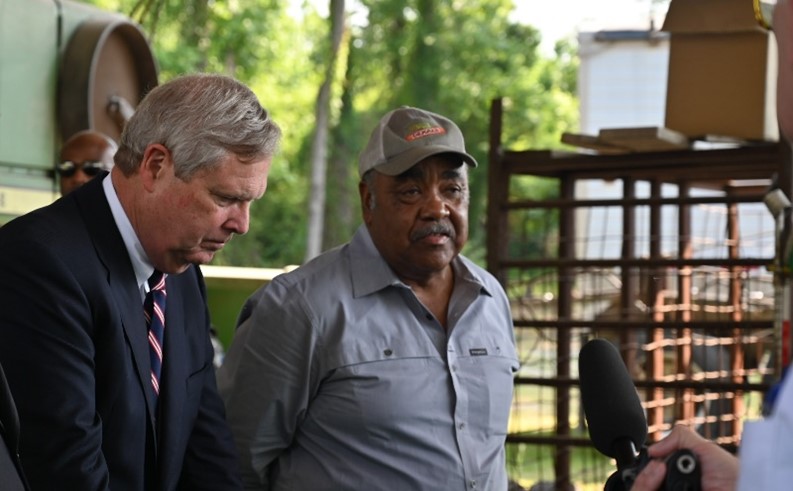 As an active farmer, Nathaniel has a strong working relationship with USDA. To manage his risk and protect his bottom line, he participates in FSA programs annually by enrolling his sweet corn and okra in the Noninsured Disaster Assistance Program, and his eligible production acres in the Agriculture Risk Coverage and Price Loss Coverage programs.
"FSA programs have been beneficial to assisting me with costs on the farm over the years," he said.
He has also worked with USDA's Natural Resources Conservation Service over the past 10 years to create pollinator habitat on his property, using financial and technical assistance through the Environmental Quality Incentives Program.
"The pollinators are so beautiful that sometimes I just sit and admire them," Nathaniel said. In addition to their beauty, Nathaniel believes the pollinators have been beneficial to his crops over the years, and he has seen higher yields for both his corn and soybeans since planting them on his property.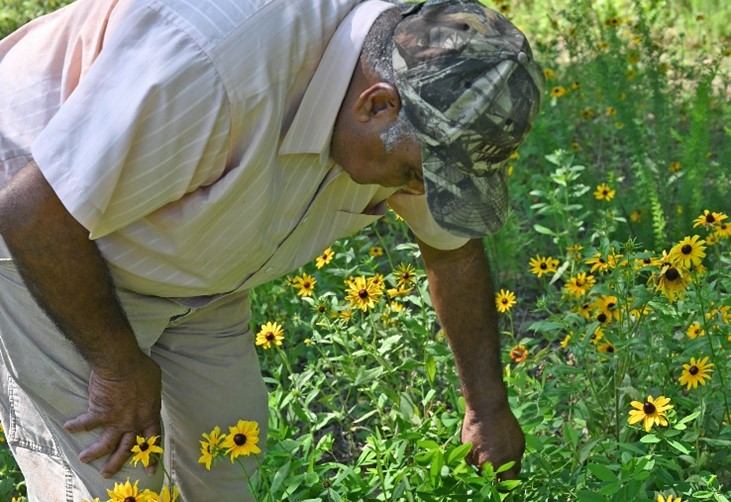 A Passion for the Community
In addition to being dedicated to his farm, his land, and wildlife, Nathaniel is also a community leader and innovator. His interest in soil health led him to participate in a five-year research project with the University of South Carolina, testing the efficiency of implementing cover crops to improve soil health.
He is involved in several local farmer-led organizations, like the Orangeburg County Young Farmers Association and the National Black Growers Council. He is also currently serving a three-year term as the vice chair of his local FSA County Committee. In years prior, he served as the minority advisor to the committee.
"Mr. Rhodes' devotion to agriculture and his involvement with the FSA County Committee for Orangeburg County are inspiring," said Maddie. "We are so grateful to have him as part of the [FSA] team."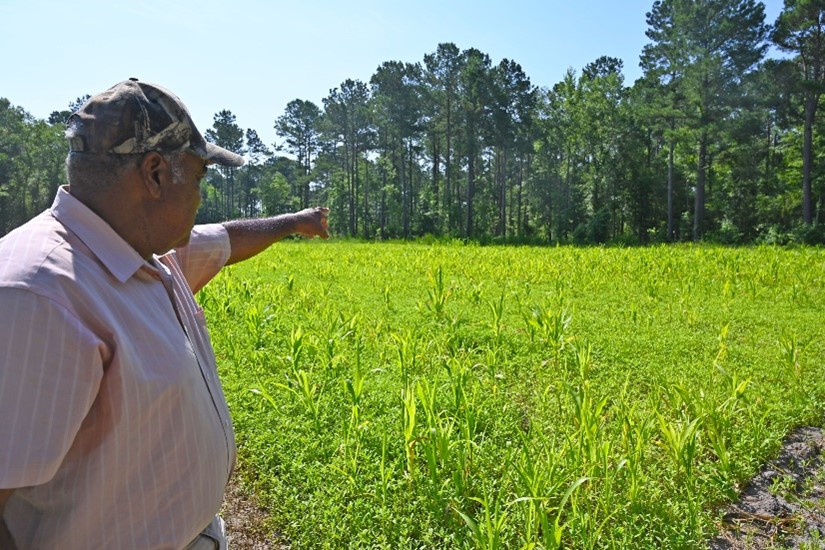 More Information
Visit local farms, ranches, forests, and resource areas through our Fridays on the Farm stories. Meet farmers, producers and landowners who are working to improve their operations with USDA programs.
USDA offers a variety of risk management, disaster assistance, loan, and conservation programs to help producers weather ups and downs in the market and recover from natural disasters as well as invest in improvements to their operations. Learn about additional programs.
For more information about USDA programs and services, contact your local USDA service center.
Sabrenna Bryant is the state outreach coordinator for FSA in South Carolina.