This Friday meet Ken Sparks, an urban farmer creating a legacy in Southern California. Focusing on sustainability and food foresting, his goal is to provide organic foods to underserved communities in the Los Angeles area, and educate his community and his followers online to grow their own food. Known as "Farmer Ken" on social media, Ken showcases his farm journey through a variety of videos that share quick tips, best practices, and more.
"Food equity is important," Ken said. "I provide a source of healthy, organically grown, food. I also love growing and sharing unique cultivars that are harder to find in stores."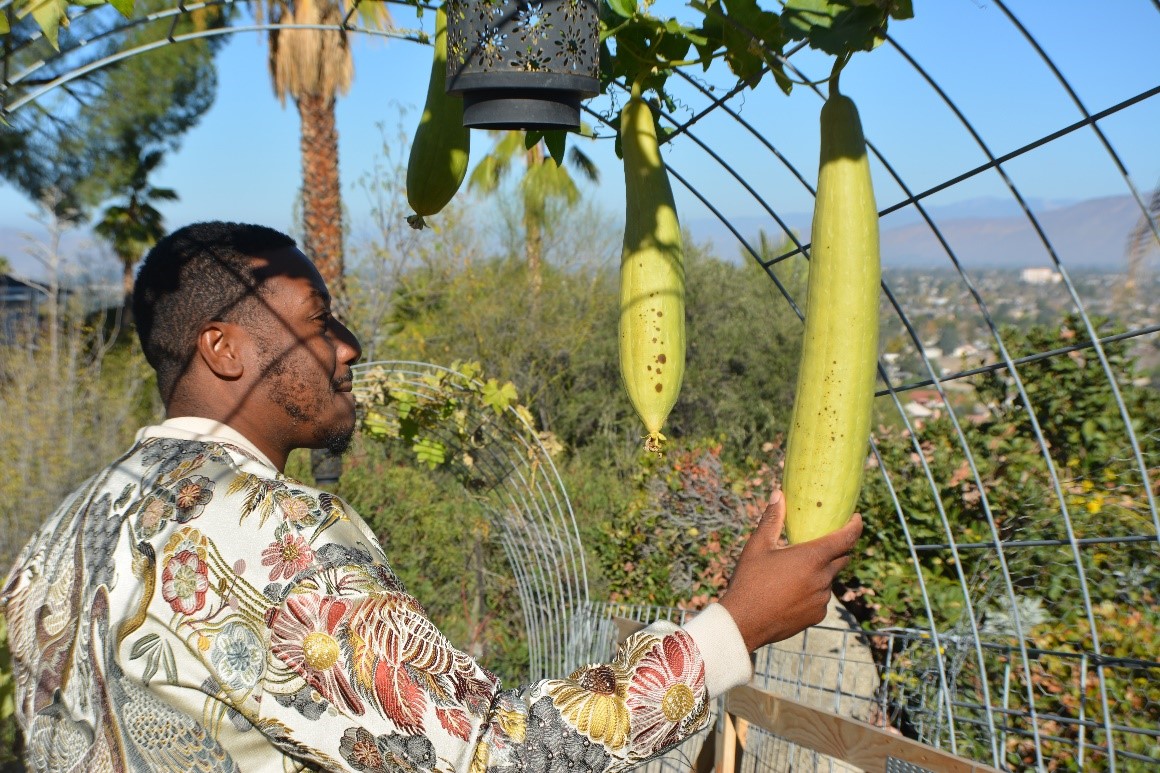 Getting Started
Having grown food for most of his life, Ken's interest in gardening started at the young age of five. He has fond memories of learning how to grow a garden with his grandmother and great-grandmother while living in Twinsburg, a suburb of Cleveland, Ohio. Those early experiences lead him to help build community gardens in Columbus, Chicago, and Los Angeles.
After high school, he received a USDA multi-cultural scholarship at the Ohio State University, where he majored in African American studies, and minored in agriculture natural resources and music. At Ohio State, Ken was a member of the school's chapter of Multicultural students in Agriculture, Natural Resources and Related Sciences.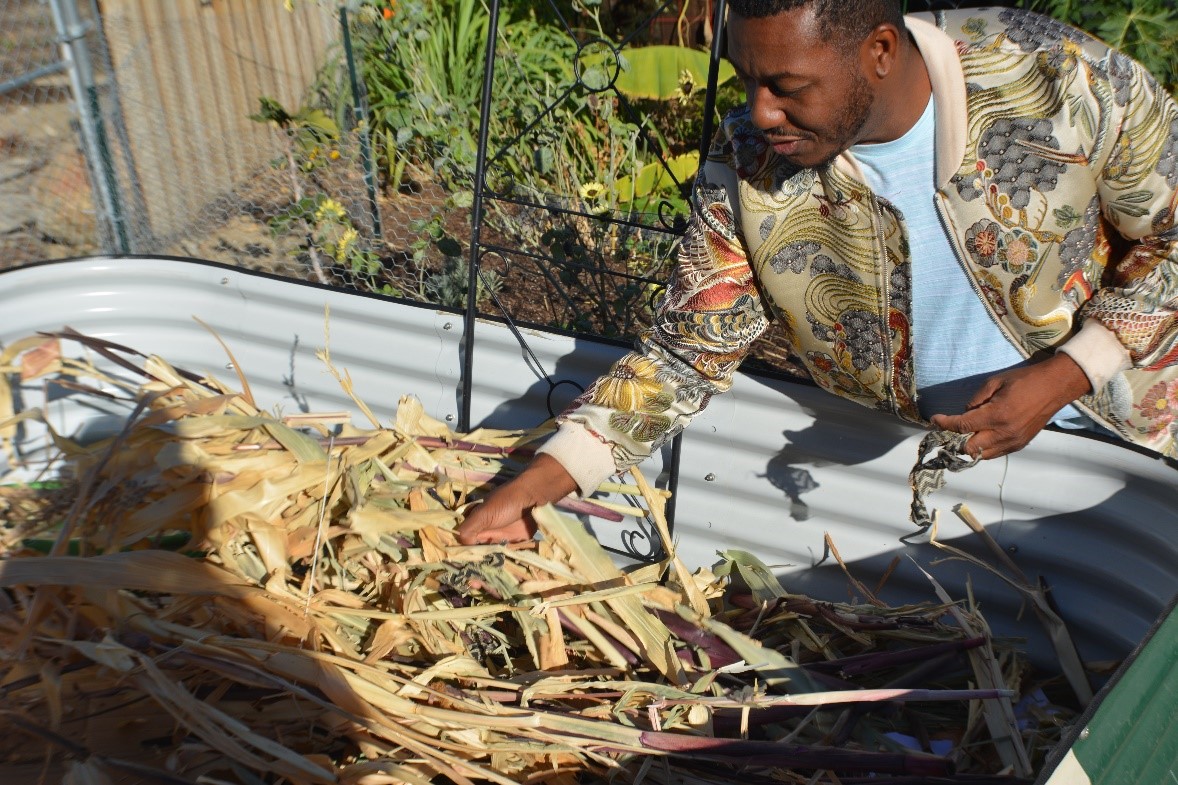 Upon relocating to Chicago, he received a master's degree in education from the University of Illinois at Chicago. He spent time in the city developing and leading academic and enrichment programs for youth and families. Some of those enrichment programs included agriculture, healthy eating, and community gardening.
He later moved to California and started an urban ag farm in Los Angeles, selling produce on Etsy and at local farmers markets.
Watching it Grow
"I incorporate practices that lead to long term sustainability and create a positive impact on the environment," Ken said. "I do no-till on my land, and I create spaces on the farm to grow symbiotically with nature."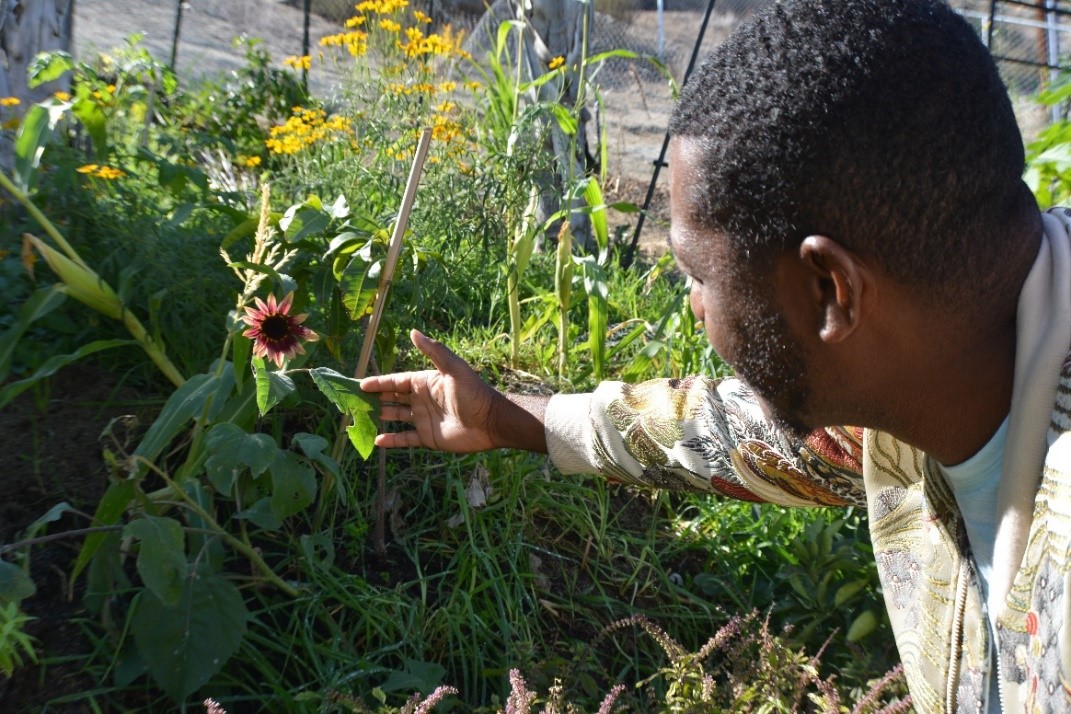 A farm ownership loan from USDA's Farm Service Agency helped Ken expand his operation. With this loan, he has been able to grow his crops in larger parcels to produce even more. FSA offers up to $600,000 for eligible borrowers through these ownership loans. This loan can help producers pay closing costs, construct, or improve farm buildings, or to help conserve and protect soil and water resources.
Ken grows a variety of mixed row vegetable crops, citrus, stone fruit, herbs, and berries on a little more than an acre. It doesn't seem like a lot of land, but with his focus on food foresting, permaculture and creating an understory canopy, you can already start to imagine his own Garden of Eden come to fruition.
Urban farmers and gardeners, like Ken, work among diverse populations to expand access to nutritious foods, foster community engagement, provide jobs, educate communities about farming, and expand green spaces. USDA programs can help these producers conserve, fund, and protect their operations.
USDA's programs for urban producers help build infrastructure for urban agriculture. USDA's Office of Urban Agriculture and Innovative Production provides grants and cooperative agreements to nonprofits, local governments, and other entities, as well as sets up FSA urban county committees to increase producer input in delivering programs. Learn more at farmers.gov/urban.
More Information
Each Friday visit local farms, ranches, forests, and resource areas through our Fridays on the Farm stories. Meet farmers, producers and landowners who are working to improve their operations with USDA programs.
USDA offers a variety of risk management, disaster assistance, loan, and conservation programs to help producers weather ups and downs in the market and recover from natural disasters as well as invest in improvements to their operations. Use our Farm Loan Discovery Tool to learn more about farm ownership loans and other loans, and visit farmers.gov.
For more information about USDA programs and services, contact your local USDA service center.
Brooke Raffaele is the communications coordinator for FSA in California.