Each Friday, visit local farms, ranches, forests, and resource areas through our #FridaysOnTheFarm stories. Meet farmers, producers, and landowners who are working to improve their operations with USDA programs.
This Friday meet Dr. Tolani Francisco, a veterinarian raised on the Laguna Pueblo homeland where agriculture was a family tradition. She continues that tradition in her career and life on her farm in Bosque Farms, New Mexico.
Saving Animals
Some of Tolani's earliest memories are working along acequias with her granddad. Her father was the first Native American to graduate from the College of Agriculture at Brigham Young University. He became an agricultural extension agent and later taught agriculture with the Bureau of Indian Affairs. Tolani's parents were also 4-H instructors. Her summers were often spent on her maternal grandparent's farm in South Carolina on the Catawba Nation reservation.
"We've always been aggies," Tolani said.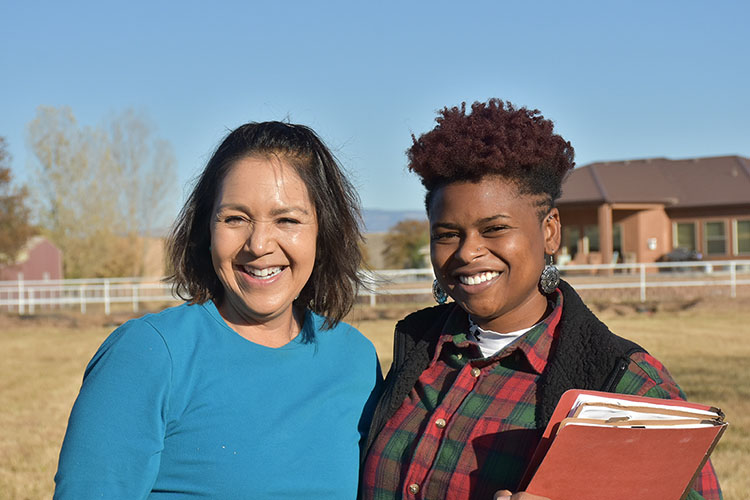 Tolani has had a long and successful career working with animals, starting out as a veterinarian in private practice, then continuing with USDA's Animal and Plant Health Inspection Service, with the United States Air Force as a captain following September 11, and now, most recently, as a wild horse and burro coordinator with USDA's Forest Service.
While her career has taken her to many places internationally and domestically, Tolani decided she wanted to come back home to New Mexico.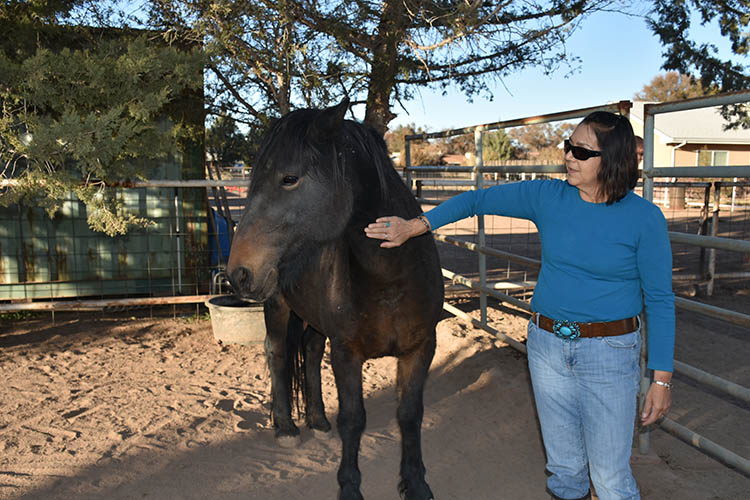 Tolani has a history of saving animals and her property is home to a few rescues, including a horse named Huckleberry and a dog named Chubs. These days, Tolani has added saving the land to her resume.
In 2017, Tolani and her husband, Jason Schlie, purchased their land in the Bosque Farms area. The property had been a field of Sudan grass and was poorly irrigated by an earthen ditch. The couple decided they wanted to grow alfalfa and calculated a five-year window for that to happen. They soon realized that they could use a little help.
Saving the Land
Tolani learned about the Environmental Quality Incentives Program, offered through USDA's Natural Resources Conservation Service, and reached out to local staff for assistance.
With the program, she was able to replace the earthen ditch irrigation system with a pipeline and multiple valves, cutting irrigation time by nearly seven hours. This also saved Tolani from having to continuously clear the ditch of debris, roots, and trash.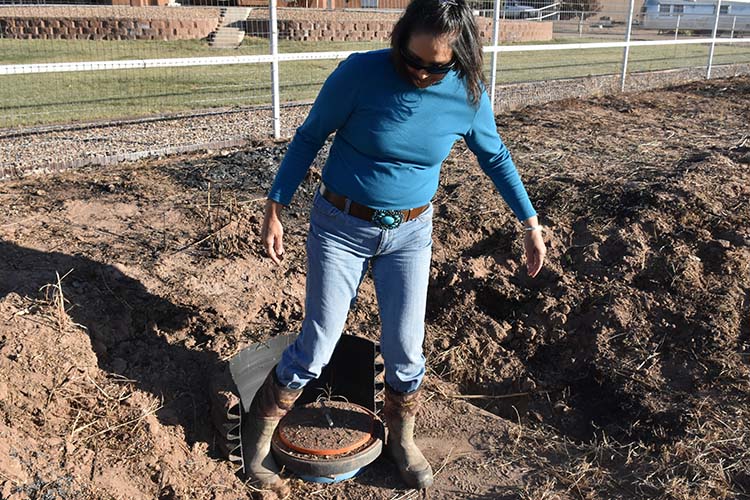 This upgrade provided more time for Tolani to work on other activities and has helped her farm thrive. Her alfalfa is in high demand for its good quality and fetches a high price. From the start, her local NRCS field office has offered continuous assistance and support.
"With the NRCS, you've got family," said Tolani.  
Tolani plans to continue working with NRCS to improve her land. Her current goal is to convert her field into pasture grass. Tolani and NRCS Soil Conservationist Jasmine Wilson are already planning the next steps, which include cover crops, continued soil testing, and potential visits to the Los Lunas Plant Materials Center.
Someday, Tolani may even work with NRCS to ensure the land stays in agriculture with an NRCS easement program. For the present, she is just happy to have her agricultural oasis.
In the corner of Tolani's field near the gate is a red sandstone bench from Laguna that was hand-chiseled by her granddad and that she used to play on as a girl. Her granddad has passed on, but Tolani likes to think of him there, sitting on the bench and watching over her as she works and as the field continues to grow, recover, and become healthy, beckoning the return of the natural world back to the land.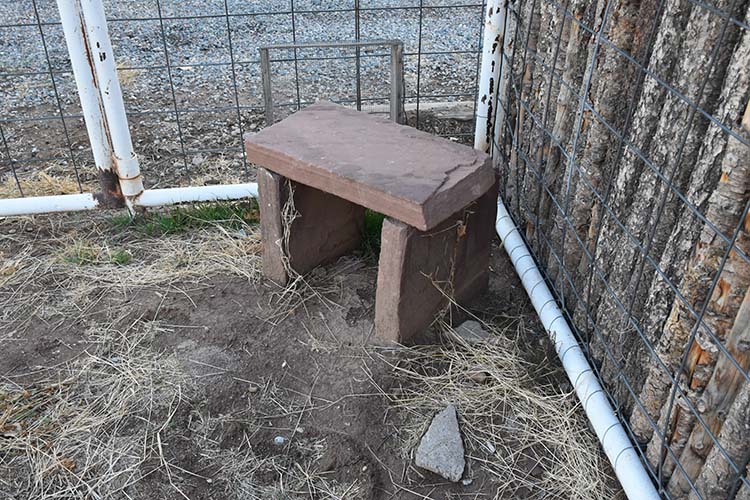 More Information
USDA offers a variety of risk management, disaster assistance, loan, and conservation programs to help agricultural producers in the United States weather ups and downs in the market and recover from natural disasters as well as invest in improvements to their operations. Learn about additional programs.
For more information about USDA programs and services, contact your local USDA service center.