With a focus on forestry, the USDA's Natural Resources Conservation Service (NRCS) is making it easier and less costly for private landowners to manage their property within Minnesota's Camp Ripley Sentinel Landscape, a 10-mile buffer that simultaneously protects natural resources and the National Guard's training mission.

Sentinel Landscape
Sentinel Landscape partners work with private landowners to advance sustainable land management practices around military installations and ranges. Founded in 2013 by the U.S. Departments of Defense, Agriculture, and Interior, the partnership's mission is to strengthen military readiness, conserve natural resources, bolster agricultural and forestry economies, and increase climate change resilience.

The Mississippi River runs through the 52,830-acre regional center, where about 30,000 military personnel and civilians train every year. Forests lie to the north, farm fields to the south. Forestland makes up 35 percent of the Camp Ripley Sentinel Landscape and all but 0.5 percent of those forests are privately owned.
Those lands buffer Camp Ripley from the city of Brainerd's urban sprawl, harbor an array of wildlife, and put distance between residents and the sometimes-loud military operations that run 24 hours a day, seven days a week.
Partnership
The $2.7 million in NRCS assistance tied to a five-year Regional Conservation Partnership Program (RCPP) renewal is making that work more affordable for landowners within the Sentinel Landscape. Landowners can receive a forestry management plan that considers their goals and resource concerns, and then pursue NRCS assistance to implement practices.
Little Falls-based NRCS District Conservationist Josh Hanson said NRCS and the Morrison Soil and Water Conservation District have worked on forestry projects before. The Sentinel Landscape program expanded and accelerated that work, giving landowners access to an array of state and federal programs.
Forest Management
Bob and Donna Perleberg tapped NRCS' Environmental Quality Incentives Program (EQIP) and Conservation Stewardship Program (CSP) assistance through the Sentinel Landscape RCPP to offset the expenses of combating blister rust and invasive buckthorn, retaining snags, and managing woody debris on their 480 acres of forest land.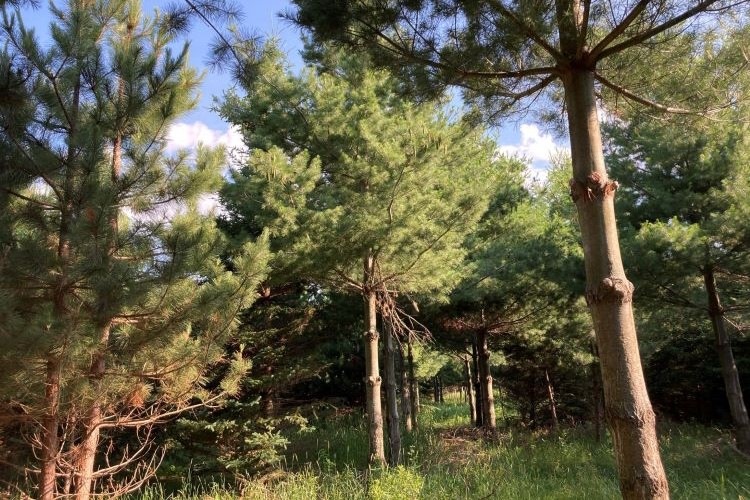 The Perlebergs' definition of a well-managed central Minnesota forest: an ungrazed, thinned stand of multi-aged mixed hardwoods with a well-established, naturally regenerating understory.
"The biggest obstacle is a pretty easy one—our own egos as landowners," said Bob Perleberg, who has written stewardship plans for others within the Sentinel Landscape in his role as a private forestry consultant. "We don't want change. We don't look forward. We don't look at the health of the forest. We look at what we want, and we want big, fat over-mature trees.
"You have to look past what you want and say, 'What does the forest want?' The decisions you make and the decisions you don't make are going to impact that piece of woods for hundreds of years," Perleberg said. "When you walk through the woods you should say, 'What do I want here in 200 years?' Because these decisions we're making now with oak in central Minnesota are going to be impacting us in 200 years."
Over two decades, the Perlebergs have harvested timber, planted trees, added wildlife food plots and ponds, and maintained nine miles of trails that extend to a small lake on the edge of the property. Timber wolves, bears, and fishers show up on their trail cameras. Deer favor the diverse habitat.
"Landowners that have enrolled into these protection mechanisms are now looking at ways to improve management of the resources they have," said Josh Pennington, environmental supervisor at Camp Ripley. "Camp Ripley cannot manage resources in a silo. It takes a larger landscape, and private lands surrounding Camp Ripley are critical."
More Information
USDA Offers a variety of risk management, disaster assistance, loan, and conservation programs to help producers weather ups and downs in the market and recover from natural disasters as well as invest in improvements to their operations. Learn more about additional programs.
For more information about USDA programs and services, contact your local USDA service center.