What does USDA have for your state and county? Let's find out! Today we launched the farmers.gov dashboard pilot for Iowa — a dashboard that provides one-stop shopping for state and county-specific agricultural data and USDA resources.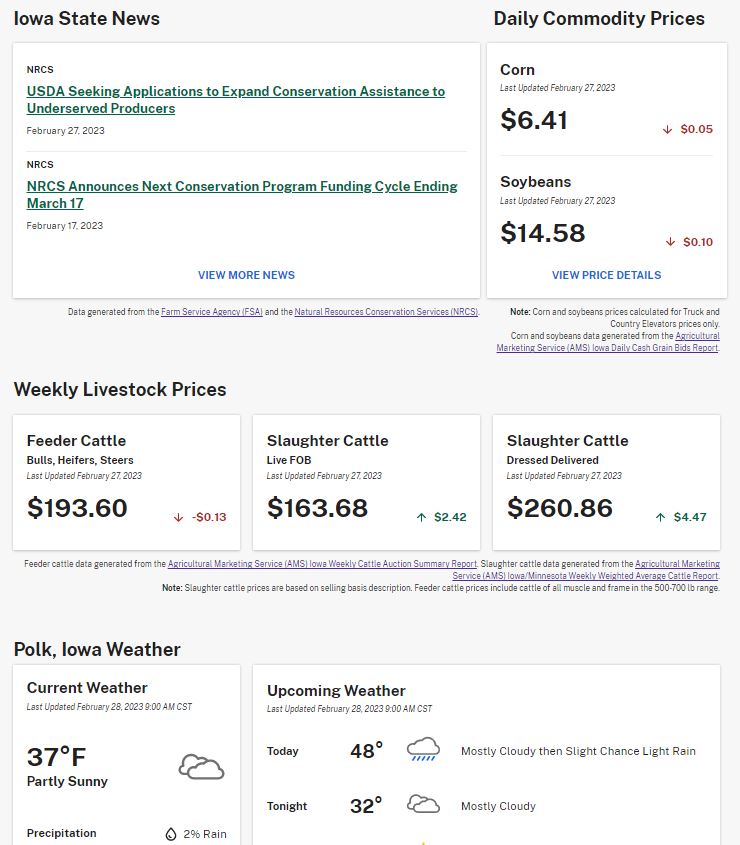 Dashboard Features
The farmers.gov dashboard consolidates data and information from USDA and other government agencies including:
Commodity Pricing. View commodity pricing information and trends in prices over time with data provided by the Agricultural Marketing Service. 
News. View consolidated state news from the Farm Service Agency and Natural Resources Conservation Service.
Weather Forecast. View current, upcoming, and severe weather information to plan and prepare for weather conditions that may impact your operation with data from the National Weather Service.
Historical Climate. View historical temperature and precipitation data to analyze weather patterns over the past ten years with data directly from the National Oceanic and Atmospheric Administration.
Past Storm Events. View past storm events data to be aware of the types of storms that may occur in your area around certain time periods or to use as a reference when applying for crop insurance from the Risk Management Agency or USDA disaster assistance programs.
Additional State Resources. View USDA state resources, like contact and subscription information for your state beginning farmer and rancher coordinator or state agency offices.
Upcoming States and Features
The dashboard is currently only available to Iowa during the pilot phase, but we are working to expand the dashboard to all other states and to add more commodities. We will announce when new dashboards are available to help you do more online with farmers.gov.
Why We Made the Farmers.gov Dashboard
USDA provides many farmer-focused data sets and local resources across numerous online sources. Some information may be spread across different websites and some data may be tough to find or easily analyze, especially for our farmers and ranchers that are new to USDA.
We created the farmers.gov dashboard as a single place where you can easily access your local state and/or county-specific agriculture-related data and information from USDA and other government agencies. This material can help you make better-informed and data-driven business decisions for your farm operation. We also took some of the more complex data sets and merged them into easy to read charts and graphs to help you quickly find information that matters to you.
No login is required to use the farmers.gov dashboard—just select your state and county to view resources for your location. The dashboard is only available for Iowa so far, but other state dashboards will be coming soon.
Tell Us What Your State Dashboard Needs!
As always, your feedback is valuable and appreciated. Tell us how we can improve the dashboard and what your upcoming state dashboard should include?
Or you can always use the blue "Feedback" button on the bottom right of every page on our site to leave your feedback and use the word "dashboard" in your comment, thanks!