Fruits and veggies give us the well-balanced diet we need to live healthy lifestyles, and pollinators are our suppliers. They pollinate nearly $15 billion worth of crops that support our healthy eating habits. Our population is growing, and fast. By 2100, we're supposed to reach 10.9 billion people. Yet, our pollinators, our source of nutritional value, continue to fade away.
Farmers, ranchers, and forest landowners across the nation are using conservation solutions to help combat threats to pollinators on their working agricultural lands. They know when bees, birds, butterflies, and bats thrive, we thrive.
Today, we'll share a few solutions USDA's Natural Resources and Conservation Service and Farm Service Agency are offering private landowners to help them recover pollinator populations and secure our future food supply.
Strengthening Bee Colonies
Wisconsin farmers like Tim McDonald realize the plight of pollinators, especially the sharp decline of native bees over the past 50 years. Tim recently used NRCS's Environmental Quality Incentives Program to restore 48 acres of land to include natural bee habitat on his Blue River farm.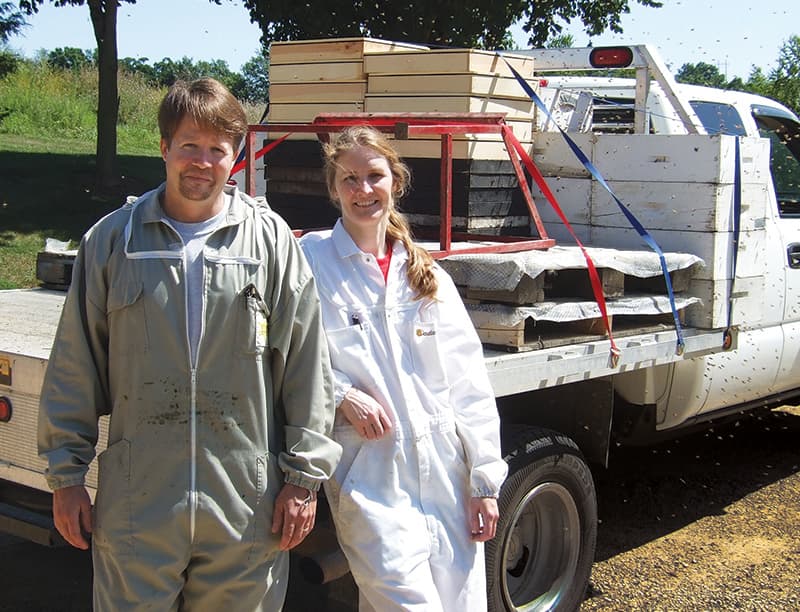 Tim and his wife, Dana, maintain 300-400 colonies of bees, including 250 honey-producing colonies and nucleus half-size colonies. The colonies replace other colonies for over-winter losses. And when populations start to peak during mid-summer, Tim has around 60,000 bees in each colony.
He started with three colonies, adding 30 or 40 more colonies over the years. Now he has hundreds of colonies, keeping them in over 400 hives across a 75-mile loop in 17 joining yards during the summer. He places nearly 24 hives in each adjoining yard, so they aren't over saturated with bees, leading to reduced forage.
From June to September, the Midwest is home to more than 65 percent of commercially managed honeybees in the country. It's a critical time when bees require abundant and diverse forage to build up hive strength for the winter. Tim added 15 acres of pollinator habitat, and 25 acres of tree and shrub site planning and plantings for enhanced habitat and winter cover.
Creating a Bird and Butterfly Refuge
In Argyle, Wisconsin, Tom and Eva Wedel have created a safe oasis for butterflies and birds. Their rolling prairies and forests provide habitat for monarchs and other butterflies with similar habitat needs. Through their Wedel Oak Woods Foundation, Tom and Eva promote the welfare of imperiled plant and animal species on their 400 acres of land.
Wedel Oak Woods was previously a dairy farm where the barn burned down. It made for the perfect revival. Their tillable land was in corn with the rest as pasture and trees.
Tom and Eva used FSA's Conservation Reserve Program to plant pollinator habitat on 45 acres of the land previously in corn production.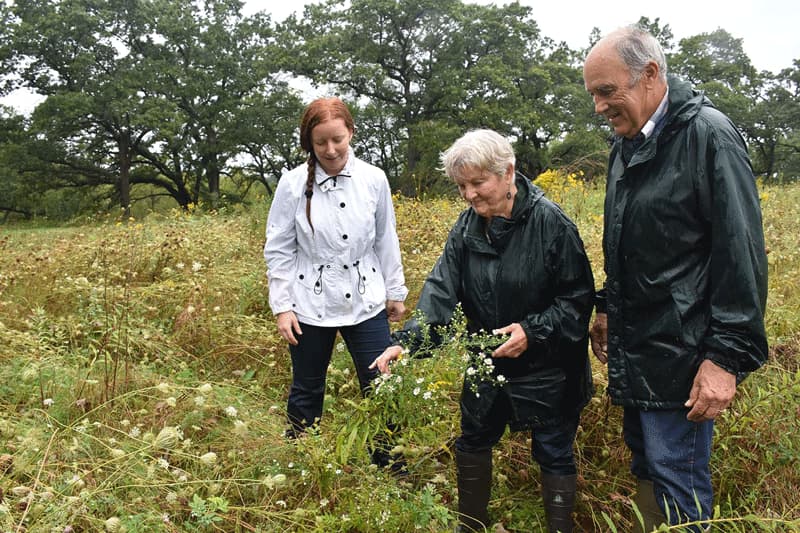 EQIP helped the Wedels restore their forest and native prairie acres to help support monarch habitat. They applied prescribed burn on their prairie and planted 12 acres of a multi-species pollinator mix. Four of those acres were to mainly benefit monarch habitat. They also planted one acre of 12–14 different varieties of wildflowers for pollinators and beneficial insects to thrive.
One species the Wedels love to see thrive is the orange milkweed for monarchs. Besides monarchs, Tom and Eva see nearly 73 different butterfly species, from Mourning Cloaks and Baltimore Checkerspots to Eastern Tailed Blues or Pearl Crescents.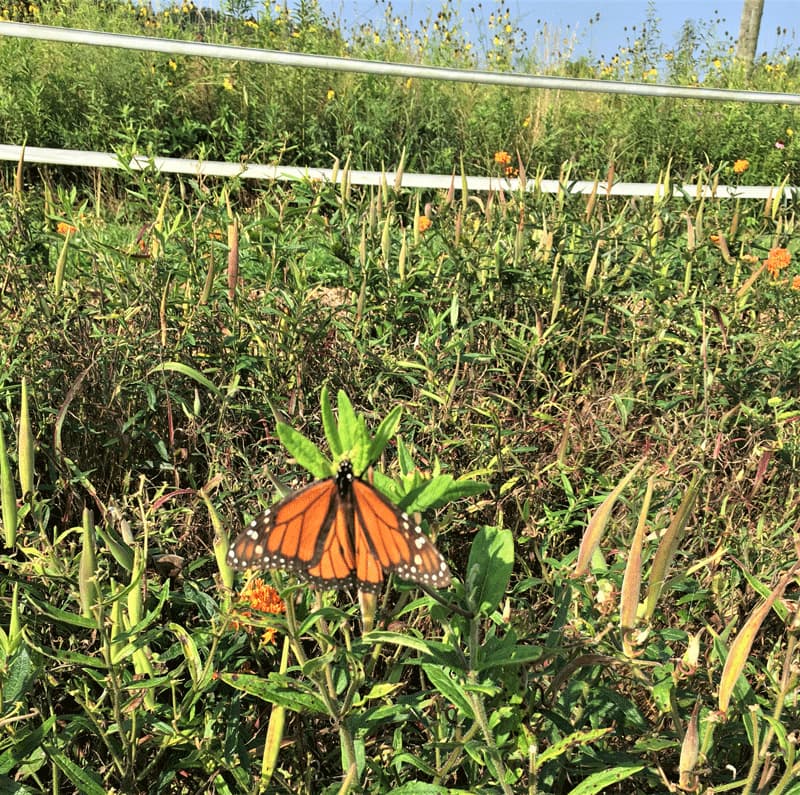 Down near Roberts, Illinois, a natural phenomenon descends on the Bleich's farm each fall. Now through the end of September, thousands of monarch butterflies invade Jason Bleich's family farm while traveling south to their winter hideaway.
The Bleich's farm is a popular resting spot for monarchs. Jason and his family used an area of their working land to create a pollinator's paradise using a variety of CRP conservation practices on their 75-acre farm. Jason and his family used evergreens, hardwood trees, and shrubs to create windbreaks, and also planted native grasses and wildflowers around field borders to create pollinator habitat.
Since monarch habitat is also great for a ton of other wildlife, the Bleich family loves the added outdoor recreation opportunity. They've seen an increase in wildlife, including pheasants, ducks, geese, and deer.
Building Awareness Through Education
Over in Indiana, NRCS and FSA joined the Indiana Soil and Water Conservation District, Purdue University Cooperative Extension Service and a host of government agencies to create an educational pollinator demonstration area at the Friends of Beck's Mill. The demonstration area helps educate visitors about practices local farmers are using to attract and provide habitat for pollinators.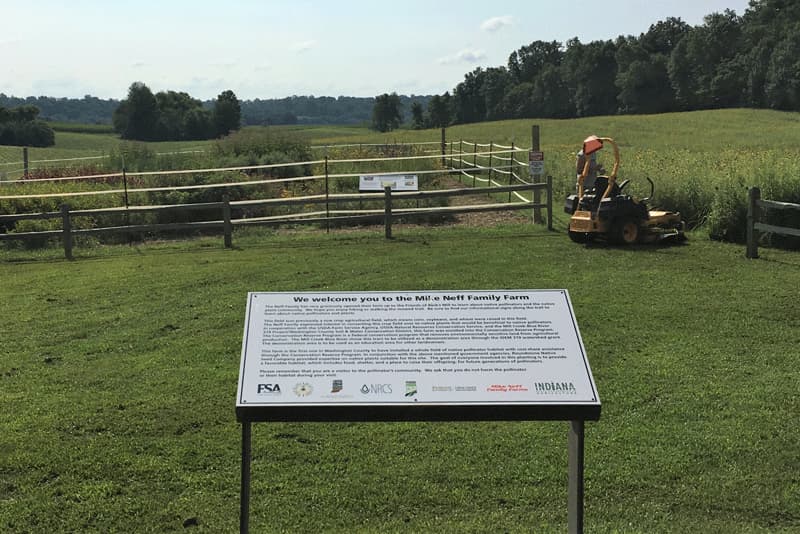 The Michael Neff family enrolled nearly 10 acres of cropland into CRP to transform idle land into a living pollinator classroom. Michael worked with local NRCS staff and the Roundstone Native Seed to develop a mix of seed species that would allow for blooms from early spring to late fall.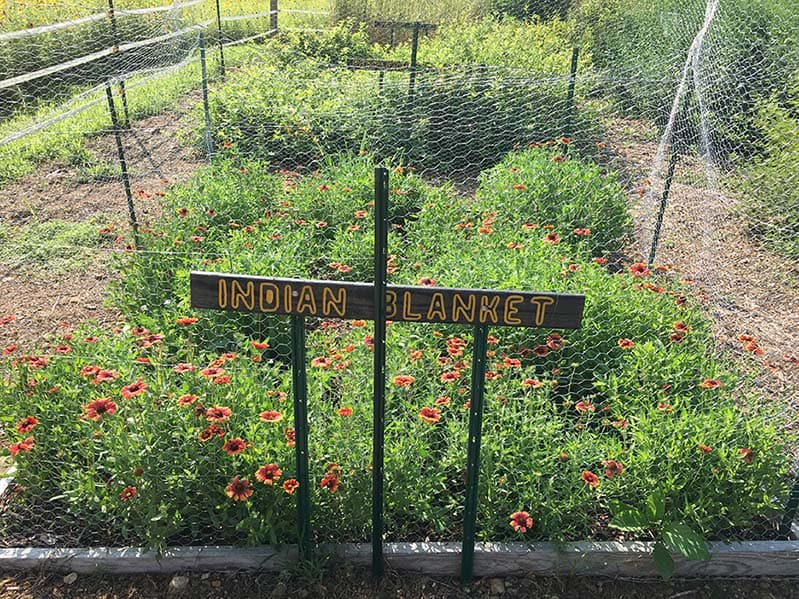 The Neff family also teamed up with the Washington County SWCD's Blue River Watershed Project to seed the demo area with native plants. The partnership marked signs with plant names and facts about pollinators. Brochures were also created to offer site facts to visitors of the Friends of Beck's Mill.
The Mill also hosted a field day with over 80 participants. From landowners and master gardeners to beekeepers and local farmers, the Neff's are finding creative ways to engage conservation stewards in the vital role pollinators play in our ecosystem and ways to help protect them on their working lands.
More Information
USDA offers a variety of risk management, disaster assistance, loan, and conservation programs to help agricultural producers in the United States weather ups and downs in the market and recover from natural disasters as well as invest in improvements to their operations. Learn about additional programs.
For more information about USDA programs and services, contact your local USDA service center.