The nomination period for the USDA Farm Service Agency's (FSA) annual county committee elections began June 15 and continues through Aug. 1, 2023. Throughout the nomination period, we'll be introducing county committee members from across the nation. This week, meet Royce Creque of Greenridge Guavaberry Farm, LLC, on St. Thomas in the U.S. Virgin Islands.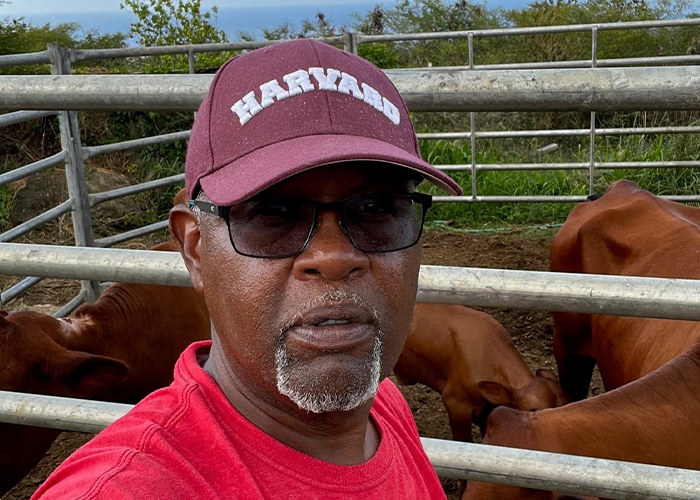 Finding His Passion
Royce's uncle, Myron Henneman, started the farming operation in 1984 in Bordeaux, St. Thomas. Before Royce became a full-time farmer, he originally started working on the farm during the weekends while he started his career in film production.
"I have a college degree in film production and had a professional job," said Royce. "I decided to go into farming full-time in 2012 because I was driven to push the farm to its potential. The only way we could get the farm to where it is now is if I put more time into the operation."
Royce was nominated by the LLC to become the farm's resident agent in 2014. Royce raises sheep and cattle on the operation and grows guavaberry, kale, bok choy, greens, herbs, peppers, celery, mangos, avocados, coconuts, dragonfruit, and rambutan. While his three daughters enjoy farm fresh food, their career goals don't include farming. To continue the family tradition, Royce's nephew plans to help with the operation in the future.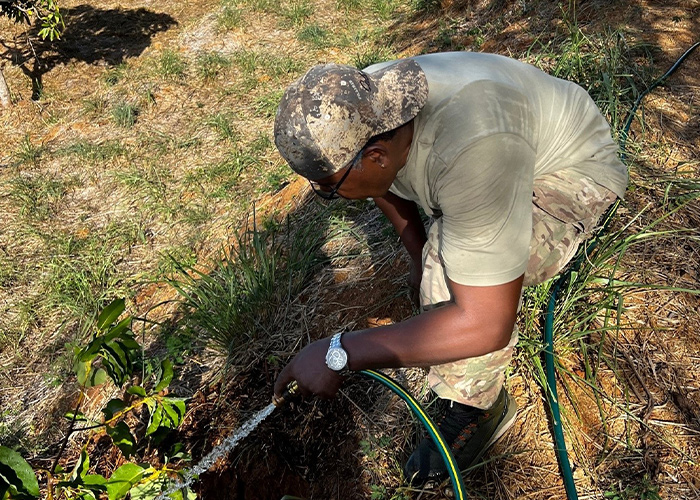 Farming in the Islands
Having an operation in the islands doesn't come without risk. For Royce, dealing with natural disasters is one of the more challenging factors in farming. To mitigate some of the impacts, he works with USDA to manage his risk and recover from natural disasters through programs like FSA's Noninsured Crop Disaster Assistance Program and Livestock Forage Disaster Program.
In addition to dealing with disaster, Royce utilizes the Reimbursement Transportation Cost Payment Program to help offset some of his costs. The program reimburses farmers and ranchers in Hawaii, Alaska, and insular areas for a portion of the cost to transport agricultural commodities or inputs used to produce an agricultural commodity.
In the future, Greenridge Guavaberry plans to expand the operation by putting more acres in production and converting from crop farming to orchard farming. Wanting to preserve his farm for future generations, he enrolled in the Environmental Quality Incentives Program through USDA's Natural Resources Conservation Service (NRCS) to tackle his conservation goals. Royce says he wants Greenridge Guavaberry to be a good steward of the land and a leader in good agricultural practices.
"We would not be where we are today if we did not utilize FSA and NRCS programs for our operation," he said.
Getting Involved
Royce has served on his local FSA county committee for the past two years. County committee members are farmers elected by their peers to serve as a direct link between the agricultural community and USDA. Farmers on the committee help deliver FSA farm programs at the local level and work to make FSA agricultural programs serve the needs of local producers.
Each year, FSA accepts nominations for a certain Local Administrative Area and the LAA up for election rotates each year.
"The county committee helps bridge the gap between FSA and farmers. I decided to become a member because I wanted to make a difference for St. Thomas producers and the territory," said Royce. "I enjoy the coming together with the other committee members, discussing problems, finding solutions, and providing input from what the farmers are experiencing."
When asked what he would say to encourage someone join their local county committee, he says, "In order to change the process, you will have to be part of the process. Do more, be more, and get involved".
More Information
For more information on FSA county committee elections, contact your local FSA office or visit fsa.usda.gov/elections.
Savanna Turner is the FSA communications coordinator for FSA in Florida and the U.S Virgin Islands.