In this Ask the Expert, Tyler Kendall, management and program analyst for the Natural Resources Conservation Service (NRCS) answers a few questions about USDA's farmers.gov customer portal. Tyler helps lead the effort to provide personalized customer information via farmers.gov.
A farmers.gov account provides self-service opportunities to Farm Service Agency (FSA) and NRCS customers through a secure, authenticated access process.
What features will conservation customers be most interested in?
There are several self-help options that allow you to access your conservation data from home or on your phone or tablet. For example, you can access, view, download, and print all of your conservation documents including your conservation plans, contracts, and plan maps. Contract documents can be conveniently eSigned in farmers.gov and the feature is mobile enabled so you can sign your documents from the field while on the go!
New features allow you to customize and print your map view. Additionally, you can export your practice and planning land unit (PLU) map data so it can be provided to a third party such as a technical service provider or exported as a feature file for use in other geospatial applications.
What is the latest feature available to conservation customers?
Recently the Finance Landing Page was enhanced to include NRCS program disbursements. Now, customers can see their latest program disbursements and view details of those payments through their farmers.gov account. While not all types of NRCS payments can be viewed at this time, having access to your recent conservation program disbursement activity 24/7 is a great benefit for customers.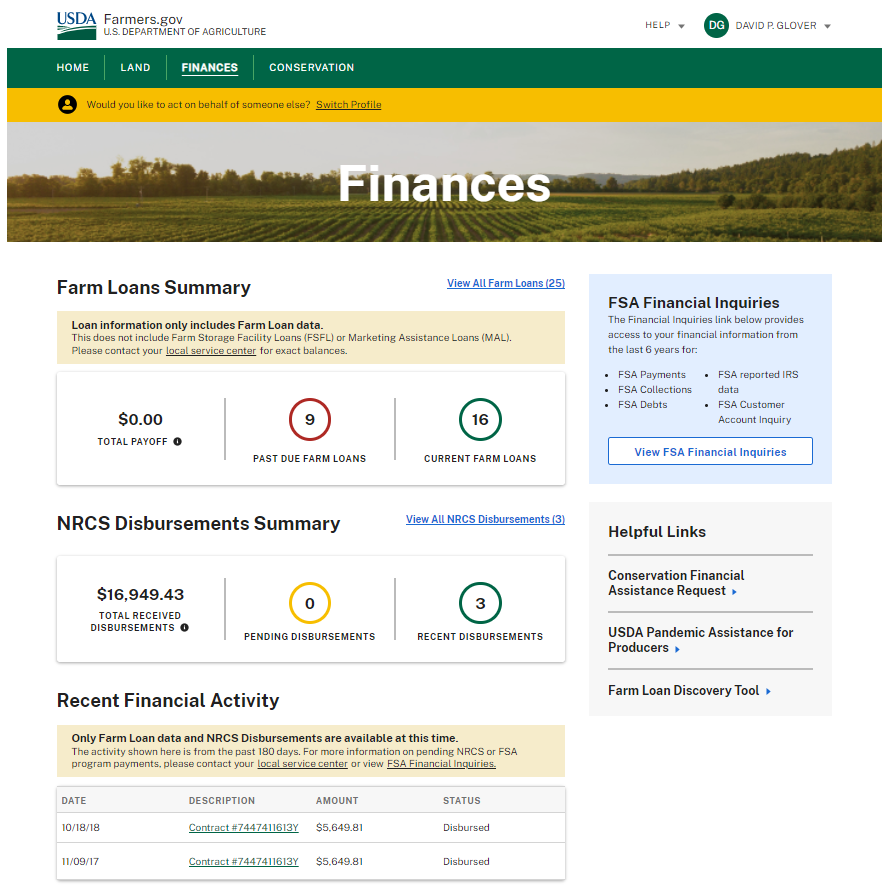 Can customers request help through farmers.gov?
Conservation customers have a number of options available to them in farmers.gov. For instance, you can request help with a resource concern by selecting the area of concern on a map, telling us a little about it, attaching any relevant documentation – such as a picture – and your request gets routed to the applicable field staff to pick up from there. You can even request conservation program financial assistance and sign an application as part of your request.
Customers with an existing plan or contract can also report practice completion from farmers.gov – simply select the practice, tell us what was completed, attach any applicable supporting documents like seed tags or a picture of the practice and your request will go to the applicable field staff.
If you need help or have a question with a practice in your plan, you can request practice assistance from your NRCS office by submitting a practice assistance request.
You can also request brief technical assistance right from farmers.gov for resource concerns that are not related to your plan and it will go right to field staff who can help you.
How can customers get a farmers.gov account?
You must have an eAuthenticated (eAuth) Login that is linked to your USDA customer ID. This allows USDA to ensure that personalized data is securely displayed to the correct person. From the farmers.gov home page, you should click on the LOG IN|SIGN UP hyperlink to log in with your eAuth Login.
If you have not established an eAuth Login, you should click "Login" then select "Create Account" link from the banner on the eAuthentication site to begin the account registration and identity proofing process.
To learn more about the Conservation section check out the Conservation Features Fact Sheet, User Guide, and How-To Videos.
Tyler works for the Natural Resources Conservation Service and is part of the team who built the Conservation feature. He can be reached at tyler.kendall@usda.gov