If you're reading this, you're probably somewhat familiar with the farmers.gov webpage, which includes informational pages, tools to help you find a farm loan, disaster recovery program, national deadlines, and so much more.
But did you know that farmers.gov also has an authenticated site where you can manage your USDA business? A farmers.gov account gives you one place to do business with the USDA's Farm Service Agency and the Natural Resources Conservation Service, including the ability to e-sign documents, request assistance and apply for programs.
The authenticated site has four sections: Land, Finances, Conservation and Applications & Requests. Let's take a look at what you can do in each section.
Conservation
The Conservation section lets you manage your conservation activities online. You can view, upload, download and e-sign NRCS documents. You'll even receive an email letting you know that an NRCS document needs your signature, which you can quickly and easily sign online in your farmers.gov account. An example of the email is shown below.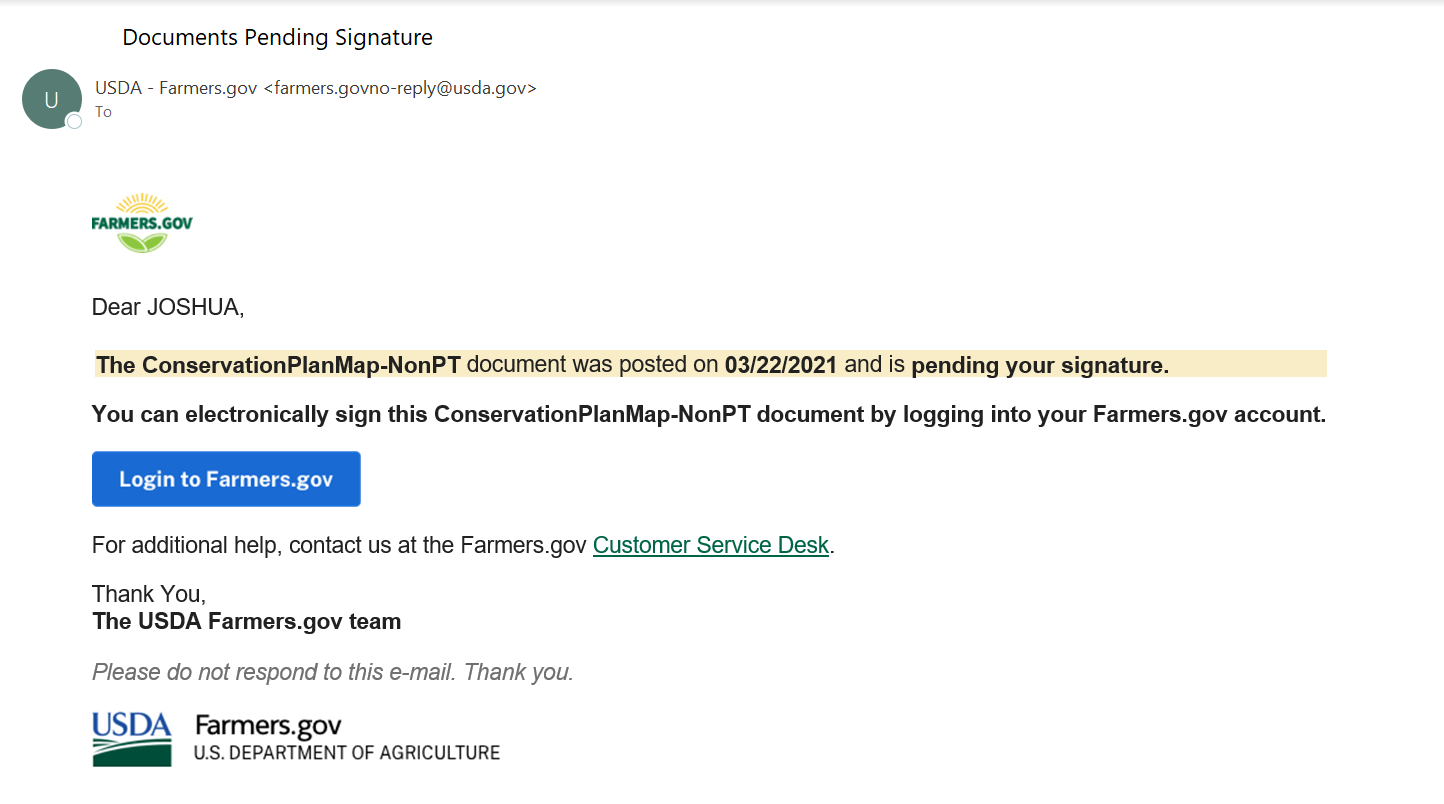 You can also:
Request conservation assistance;
Request financial assistance, including submitting a program application;
Access information on current and past conservation practices;
Report practice completion and request practice certification;
View detailed information on all previous and ongoing contracts, including the amount of cost- share assistance received and anticipated; and
Request contract modifications.
Learn more about the Conservation section: Conservation Features Fact Sheet, User Guide, and How-To Videos.
Land
This section includes Customer Farm Records Mapping, which provides you with self-help options and access to FSA data from home 24/7. For example, you do not have to wait for FSA to mail out maps for acreage reporting or make a special trip to the office to pick up your maps. You can print farm tract maps directly from farmers.gov.
New features include the ability to import precision agriculture planting boundaries and create labels containing crop information that can be printed on farm tract maps. The maps can then be provided to FSA at the local USDA Service Center for completing the annual crop acreage report. You can use the draw tools to determine acres in a drawn area. The drawn area can be printed on a map and provided to the Service Center, a third party such as a chemical applicator) or exported as a feature file for use in other geospatial applications.
Learn more about the land section: Fact Sheet, Tutorial Videos.
Finances
The Finances section allows you to view FSA farm loans, including loan information, interest payments, loan advance and payment history, paid-in-full and restructured loans as well as account alerts.
A new feature was recently added that allows you to view NRCS disbursements that have been paid or are pending payment. On the Recent Financial Activity page, you can view your NRCS Disbursements and Farm Loans financial activity from the past 180 days. While not all NRCS payments are viewable here most are, and this feature will continue to be enhanced.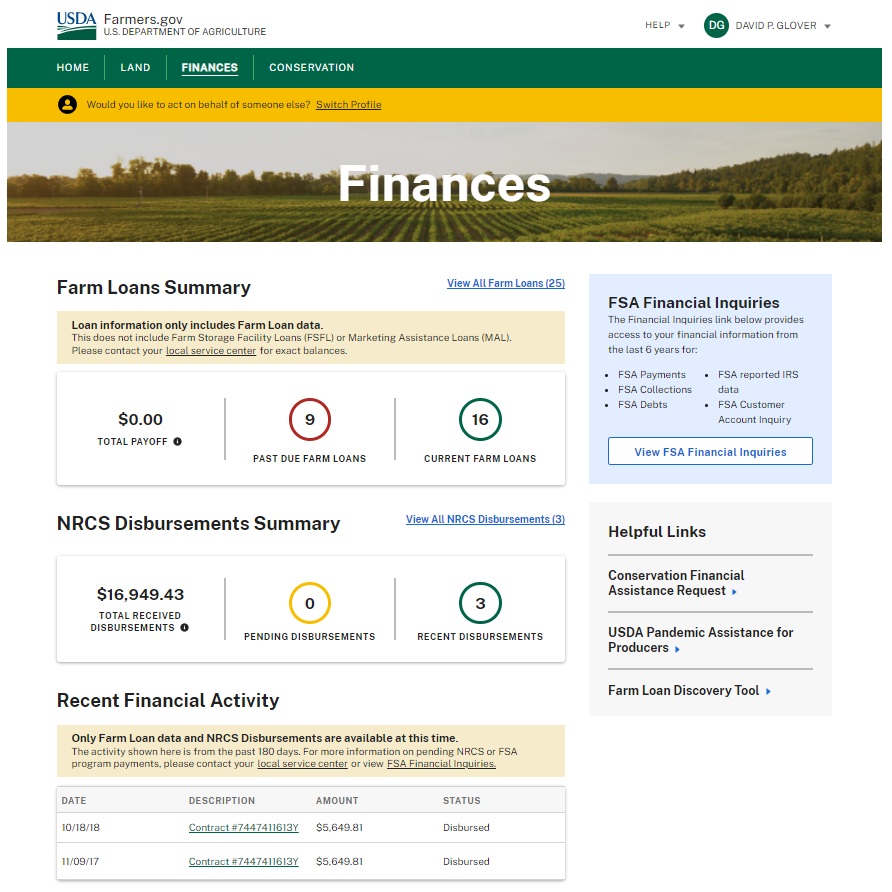 Application & Requests
Here you'll find a list of current applications and requests you have submitted.
What if you don't farm under your own name?
If your farming operation is under an organization/business name or under another individual's name and if you have provided documentation of legal signature authority to your local service center, you should have the ability to "Switch Profile" in order to do business on behalf of an entity or another individual. This feature is very popular and is available throughout the site.

Each agency and program have specific rules regarding the types of signature authority that are applicable. For example, not all programs allow the FSA-211 Power of Attorney to provide signature authority. Learn more about Switch Profile and Signature Authority.
Did we mention you can do all this on a laptop, tablet or your mobile phone? Are you ready to sign up yet?
How can I get a farmers.gov account?
You must have an eAuthenticated (eAuth) Login that is linked to your USDA customer ID. This allows USDA to ensure that personalized data is securely displayed to the correct person. From the farmers.gov home page, you should click on the LOG IN|SIGN UP hyperlink to log in with your eAuth Login.
If you have not established an eAuth Login, you should click "Login" then select "Create Account" link from the banner on the eAuthentication site to begin the account registration and identity proofing process.
If you want more information or have questions, visit farmers.gov/account or your local USDA service center.
Ciji Taylor is a public affairs specialist with USDA's Farm Production and Conservation mission area.