With harvest approaching and football season kicking off, it's a great time for producers to work on their own field goals. For the next several weeks, we'll be looking at conservation practices through the lens of football.
In some ways, being a farmer or rancher is like being a coach. You assess the landscape, develop a strategy, cultivate a team, and refine your tactics each season as you find the plays that work. All the while, your fans here at Natural Resources Conservation Service (NRCS) are proud to support and cheer you on, winning season after winning season.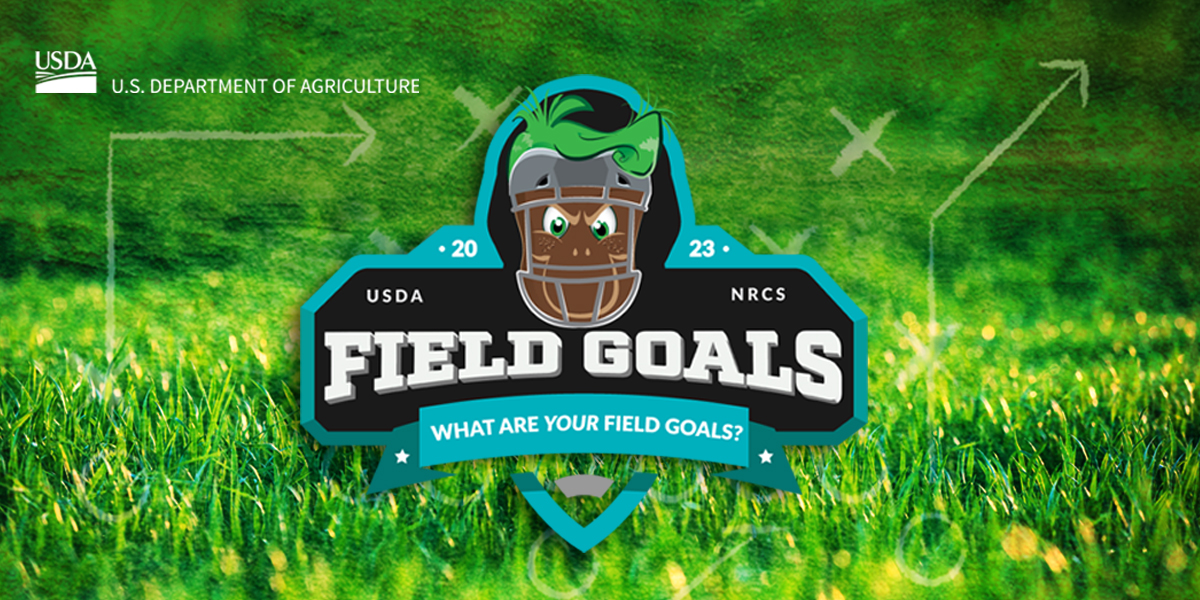 First Quarter
One of the first and most important steps is to develop a game plan. Ask yourself: What's working well? What could be improved? How can you best navigate your opportunities and challenges to reach your goals?
Our conservation experts can help you answer all those questions. We'll meet with you, walk your land with you, and help develop a conservation plan customized to match your field goals. This tailored gameplan will help you develop a playbook for many successful seasons.
Second Quarter
No successful farmer goes it alone; you're going to need to recruit a winning team. But if you create the right conditions, you'll attract the most talented players nature can provide.
Practice makes perfect, and we'll discuss some tried and true practices that will attract a deep bench of soil microbes, pollinators, beneficial insects, and other key players. With the right team, you'll grow like never before.
Halftime Report
Stay tuned while we check in with experts to provide play-by-play commentary of key moments, identify the most valuable players and offer advice for avoiding unforced errors and fumbles. Then it is time to take what you've learned, make mid-game adjustments and lead your team to victory in the second half.
Third Quarter
You've found your stride and things are growing well, but there's always room for a bit more optimization and improvement. We'll highlight practices that will elevate your team to the next level, help you thrive with fewer inputs and less waste, and grow more by doing less.
Fourth Quarter
By following your conservation gameplan, adopting soil health practices, optimizing your inputs, and reducing your waste, you'll enjoy a strong home field advantage for many seasons to come. Unlike in football, your team will always stick around and grow stronger with each passing season. You will bank the benefits of conservation and enjoy the resiliency and productivity of healthy soil.
No matter which of these goals you are looking to accomplish on your farm, experts from USDA's Natural Resources Conservation Service (NRCS), Farm Service Agency (FSA) and Risk Management Agency (RMA) are available to help you accomplish them.
For more information on how NRCS, FSA and RMA can help you kick this next growing season through the uprights, contact your local service enter by visiting farmers.gov/service-locator.