This planting season, we want to know: how are you growing more with less? Will you be reaping the benefits of your transition to no-till, and thanks to your hard work, expecting to reduce your inputs like fertilizer and water to lower your annual operating expenses? Perhaps the Pandemic Cover Crop Program or the Cover Crops Initiative provided the boost needed to plant or maintain your cover crops, which enhanced your production through healthier soil, less erosion, and sequestered carbon. Whatever the case may be, farmers.gov wants to hear and share your "growing more with less" story.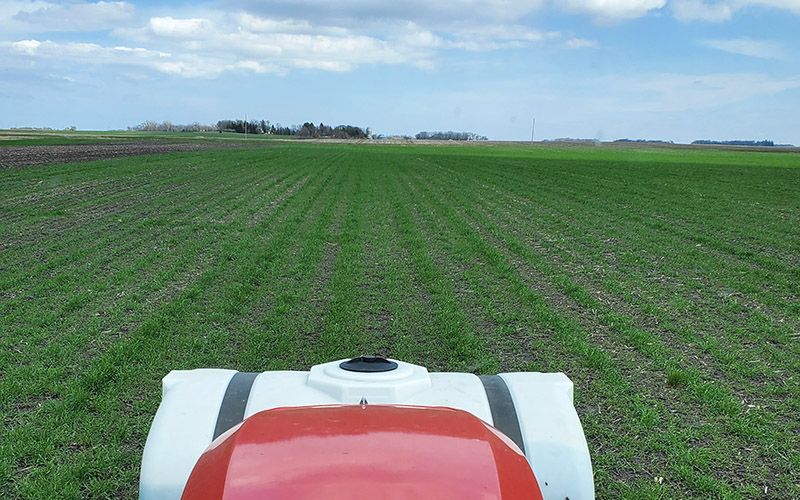 Conservation-minded production is what the world needs right now to build a more resilient future in the face of a changing climate paired with challenges here and abroad. Cover crops are an example of how many farmers grow more with less. Not only do cover crops act like a warm blanket for the soil during cold winter months, they also help maximize the impacts of fertilizer by reducing runoff and leaching, thus keeping precious nutrients in the soil for next year's crops. Some cover crops will also naturally enhance the nitrogen levels in your soil, the key ingredient in fertilizer. When a farmer invests in cover crops year after year, they can lessen their reliance on fertilizer over time, lowering overall costs.
During #plant2021, Minnesota corn farmer Matt Tiffany tested no-till vs. strip till and shared the promising results of his experiment. "We strip till most of our fields going to corn but are comparing that practice with no-till. There are more cover crops growing this spring than I have ever seen before. The planting conditions in the cover crops are the best I've seen in a few years. There is adequate moisture in the no-till vs. being too dry in tilled soil as well. The corn I grew in a no-till system was my highest yielding and most profitable corn I had last year," Tiffany said.
In the face of ongoing drought, growing more with less water is also a necessity for the conservation-minded farmer this planting season. According to the U.S Drought Monitor, the seasonal drought outlook for April – June anticipates persistent drought across nearly half the country.
Fortunately, there are science-backed techniques for farmers looking to reduce their water input this season, like irrigation water management plans that combine conservation principles with efficiency, balancing your farm's water needs with natural resources. Additionally, tools like drip irrigation, which provide water precisely where and when it's needed, can achieve greater precision with flow meters and soil moisture sensors.
This planting season we want to highlight the innovation and leadership demonstrated by conservation-minded farmers in our #Plant2022 campaign on farmers.gov. We'll share your photos and stories on @FarmersGov on social media, our blog, and a nationwide storymap. Here's how to participate:
Using your smartphone or digital camera, take photos of your operation during planting season.
In a few sentences, tell us: how are you growing more with less this year?
Include your name, the location of your operation, and links to any social media accounts you manage to promote your business.
Submit the above to SM.FP.Social@usda.gov by May 13, 2022.
Please note that by submitting your photo/video, you are granting USDA permission to use these materials for outreach and education purposes.
Follow @FarmersGov on Facebook, Twitter, and Instagram, and we look forward to seeing and sharing your stories!
Additional resources:
Jennifer Strickland is a social media strategist with USDA's Farm Production and Conservation Business Center.