Last June, NRCS' Conservation Client Gateway moved to farmers.gov enabling USDA customers to access multiple conservation features through a platform that provides a customer-centric digital experience. Farmers.gov provides a secure, single desktop- and mobile device-accessible authenticated portal for FSA, NRCS and RMA customer-facing features.
As we've continued to add more content and capabilities, farmers.gov has quickly become the premier online hub for customers to find resources, submit applications and assistance requests, and make connections.
Another new feature is coming to farmers.gov to help you manage your USDA business. You'll now receive an email letting you know that an NRCS document needs your signature, which you can quickly and easily sign online in the portal. An example of the email is shown below.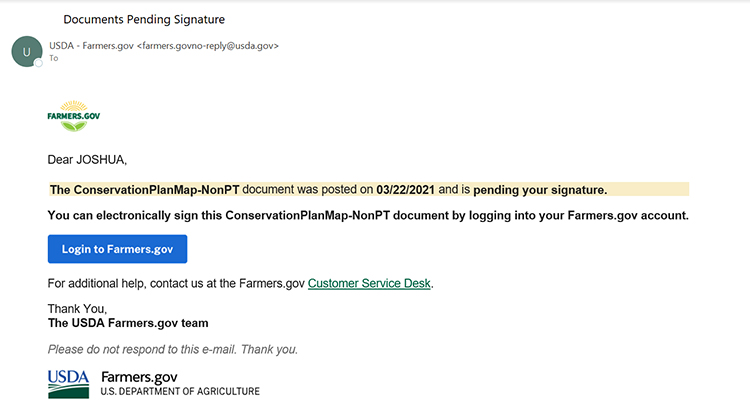 The farmers.gov portal also enables you to:
View, upload, download, and e-sign documents.

Request financial assistance, including submitting a program application.

View and submit conservation requests.

View technical references and submit questions.

Access information on current and past conservation practices and plans.

Report practice completion and request practice certification.

View detailed information on all previous and ongoing contracts.

Have the authority as an FSA and/or NRCS customer to work in the portal and act on behalf of your active power-of-attorney entitlements and your current authorities for business entities.
 These conservation features join several others already available through the farmers.gov portal, including the ability to view farm loan information. We'll continue to update you about new features as they become available.
New Farmers.gov Users
If you do not have login information for farmers.gov, you can create your login profile, or eAuthentication by following the instructions at farmers.gov/sign-in.
Help and Support
The Conservation Features User Guide  gives you step-by-step instructions on how to navigate farmers.gov and the how-to video instructions explain some of the popular features. If you need additional help, personal assistance is available at the farmers.gov Service Desk by selecting the "Help" link located at the top of the all authenticated portal pages and submitting a "Contact Us" request. NRCS field office staff are always available to assist you with your conservation questions and other needs.
Ciji Taylor is a Public Affairs Specialist with USDA in Fairfield, IL.