The nomination period for the USDA Farm Service Agency's annual county committee election began June 15 and continues through Aug. 1, 2022. Throughout the nomination period, we'll be introducing county committee members from across the nation. This week meet Chris Naylor of Sampson County, North Carolina, where he currently serves as chairman of his local FSA county committee.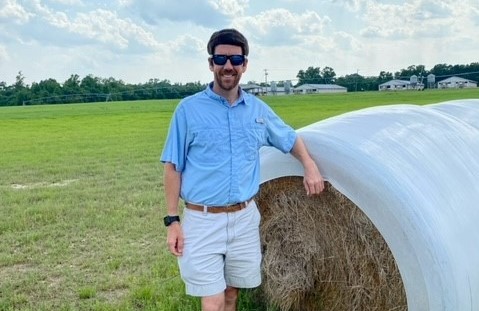 Satisfaction in Growing
Chris has been around agriculture since his youth, and his passion for agriculture is generational. His father and grandfather farmed and raised hogs until the 1980s.
A graduate of North Carolina State University with a degree in agriculture business management, Chris and his wife purchased a local farm in 2011 where they now have more than 50 acres of hay and raise finishing hogs.
"It's satisfaction in growth, whether watching seeds turn into plants or pigs grow into adult hogs," he said.
Serving Local Producers
Chris decided to run for the Sampson County FSA County Committee nine years ago to learn more about FSA and local agriculture. He enjoys being a part of the committee and seeing the progress they have made to help the farmers in the county.
"We have a very diverse crop table, lots of organic crops," said Chris. "I've seen the county committee evolve. No two meetings are the same. In the meeting today, we discussed crop conditions and joked about adding a new one titled "thirsty," but thankfully we got some rain last night."
County committee members are farmers elected by their peers to serve as a direct link between the agricultural community and USDA. Farmers on the committee help deliver FSA farm programs at the local level and work to make FSA agricultural programs serve the needs of local producers.
Each year, FSA accepts nominations for a certain Local Administrative Area and the LAA up for election rotates each year.
"Anyone who wants to become more familiar with the abundance of crops in their county and gain knowledge should consider joining their FSA county committee," Chris said.
Vital Support
Chris annually participates in FSA's Agriculture Risk Coverage and Price Loss Coverage safety-net program, which provides vital income support in response to substantial declines in crop revenue or price.
Additionally, FSA's Emergency Conservation Program provided much needed disaster recovery assistance in the aftermath of Hurricane Matthew in 2016 and Hurricane Florence in 2018.
"We had trees down and washouts in the fields," Chris said. "FSA does a great job getting information out, sending text messages and providing information on farmers.gov."
His decision to enroll in FSA programs was simple, "It's what you do."
With his final term ending this year, Chris feels the county committee has made a lot of good changes and enacted helpful new rules during his time in service.
More Information
For more information on FSA county committee elections, contact your local FSA office or visit fsa.usda.gov/elections.
Alicia Best is the acting communications coordinator for FSA in North Carolina.