This Friday meet Rich Hines of Springboro Tree Farms in Brookston, Indiana, where he works with his family and friends. The land was primarily used for hunting and fishing until a forester from the Indiana Department of Natural Resources recommended they try making maple syrup due to the high number of sugar maple trees on the property. Intrigued by the opportunity, Rich tapped a few trees and started boiling.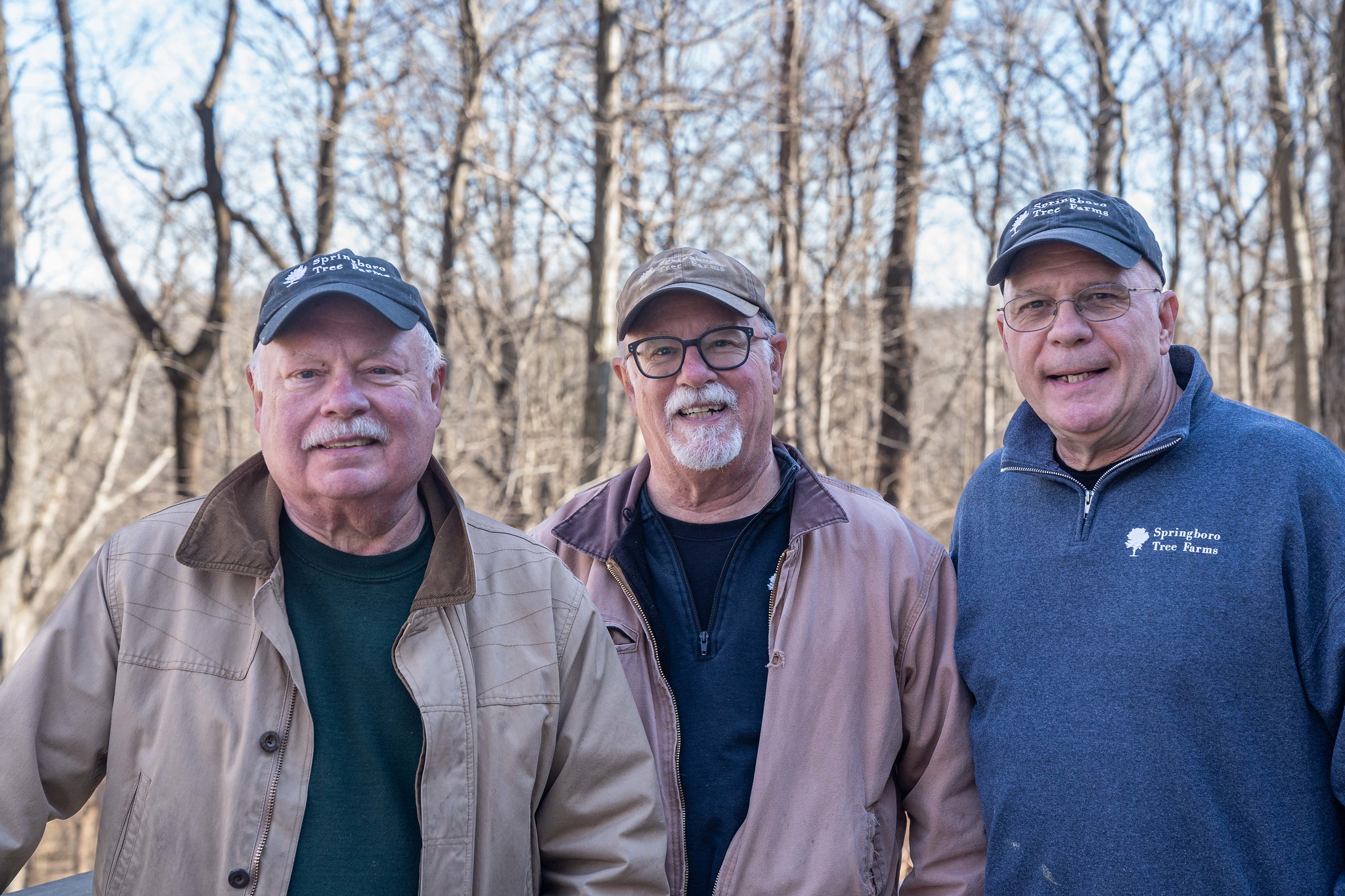 Maple Syrup Season
The maple syrup season is brief but demanding. It is a race against time with specific weather conditions required to jump start the season. It then lasts until the trees start blooming and the tree frogs start croaking, bringing the season to a screeching halt.
Over the course of the roughly four-week season Rich and his helpers will collect between 3,500 and 4,500 gallons of sap from the trees throughout his property before spending hours boiling it down to about 50 gallons of syrup.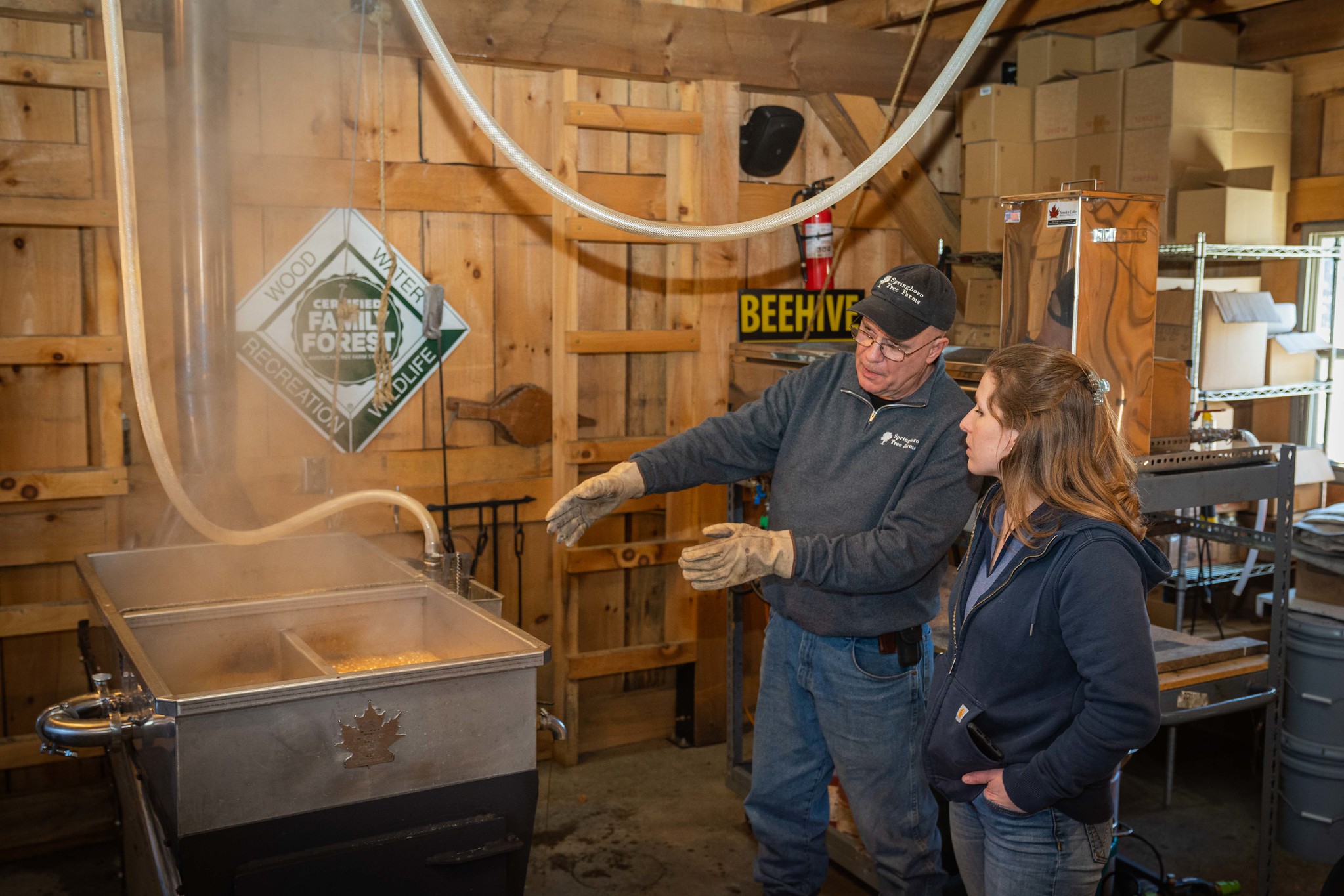 As the maple syrup operation grew, Rich began looking for ways to improve his land, eventually turning to USDA's Natural Resources Conservation Service for assistance. He had been working to remove invasive species and improve the wildlife habitat since the early days of owning the property, but he was ready to take even bigger steps into conservation with NRCS.
Working with NRCS
Producing maple syrup is inherently nondestructive, Rich said, and gives them incentive to protect the trees they utilize and encourage their continued growth through good management practices. Rich reached out to NRCS for the first time in 2014 and applied for the Environmental Quality Incentives Program for assistance building trails and landings throughout his forest and cost share assistance for brush management practices to combat invasive species.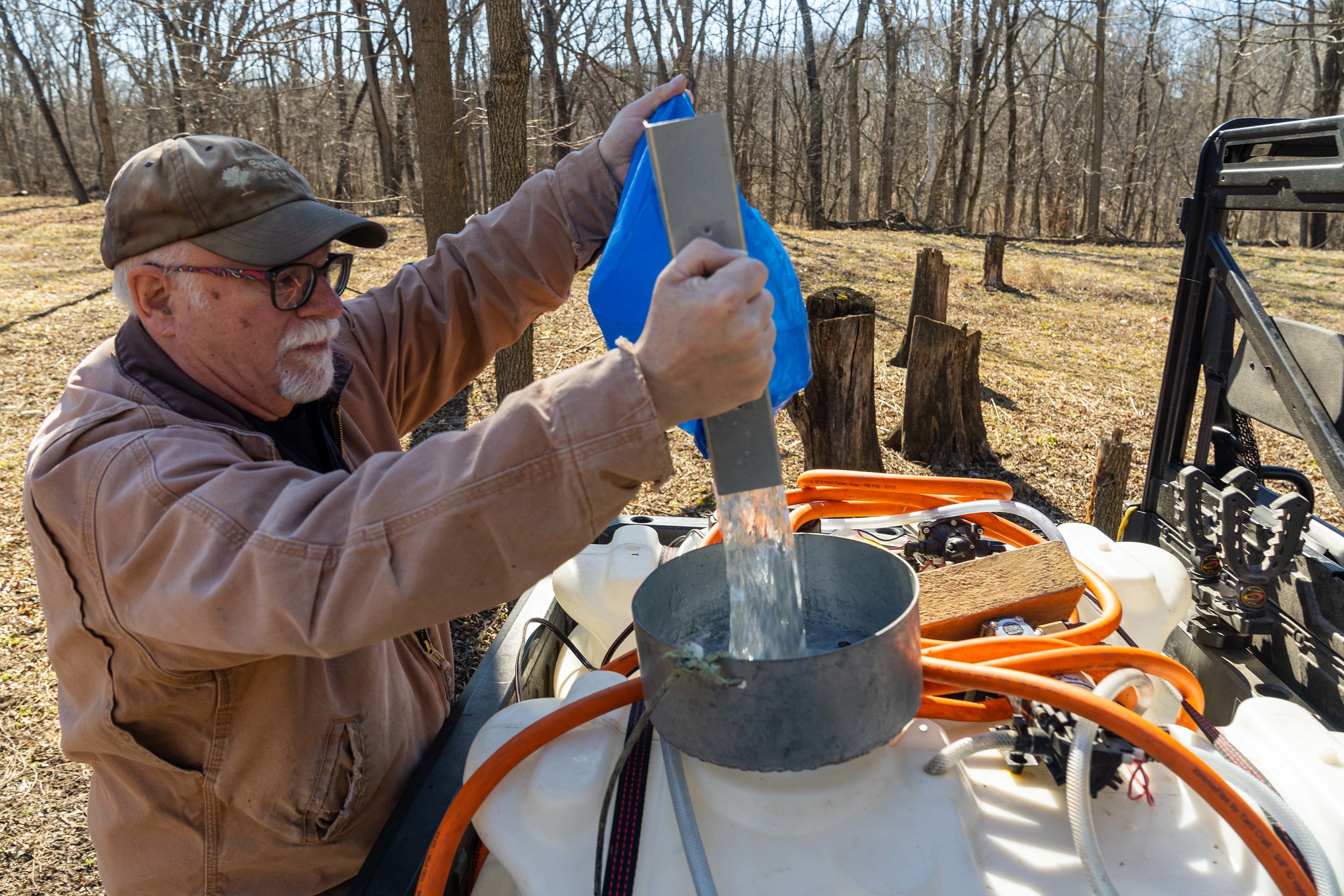 His contract began in 2015 and included financial and technical assistance to build trails that would help reduce the risk of erosion and three years of brush management assistance on 33 acres of his property. The trails go throughout his property and protect the ecosystem as Rich and his friends traverse the land to tap trees and collect sap while in the woods. He applied for a second EQIP contract in 2017 to develop a forest management plan.
"We have benefited from the participation in these programs in a major way," Rich said.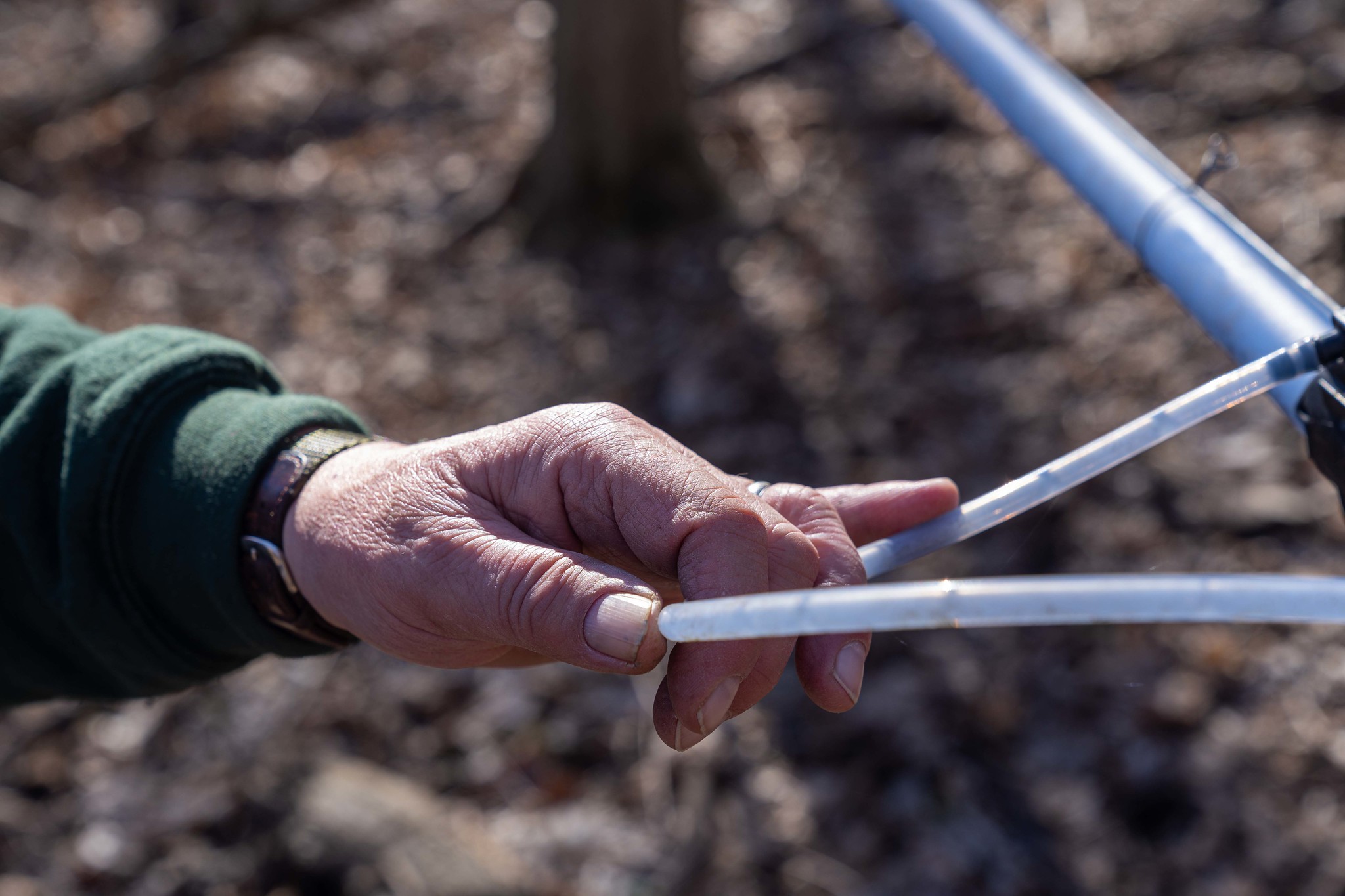 A Habitat for Songbirds
Rich entered into Conservation Stewardship Program contracts in 2018 and 2023 for forest stand improvement, tree and shrub restoration, and the development of songbird habitat.
The work to build songbird habitat begins this year with a census of the current bird population on his land. Once complete, a forester will develop a tailored conservation plan for his land to promote habitat development for the identified birds to increase their populations. Rich will implement that plan using CSP funding and then in three years birders will reconduct the census and track the improvements.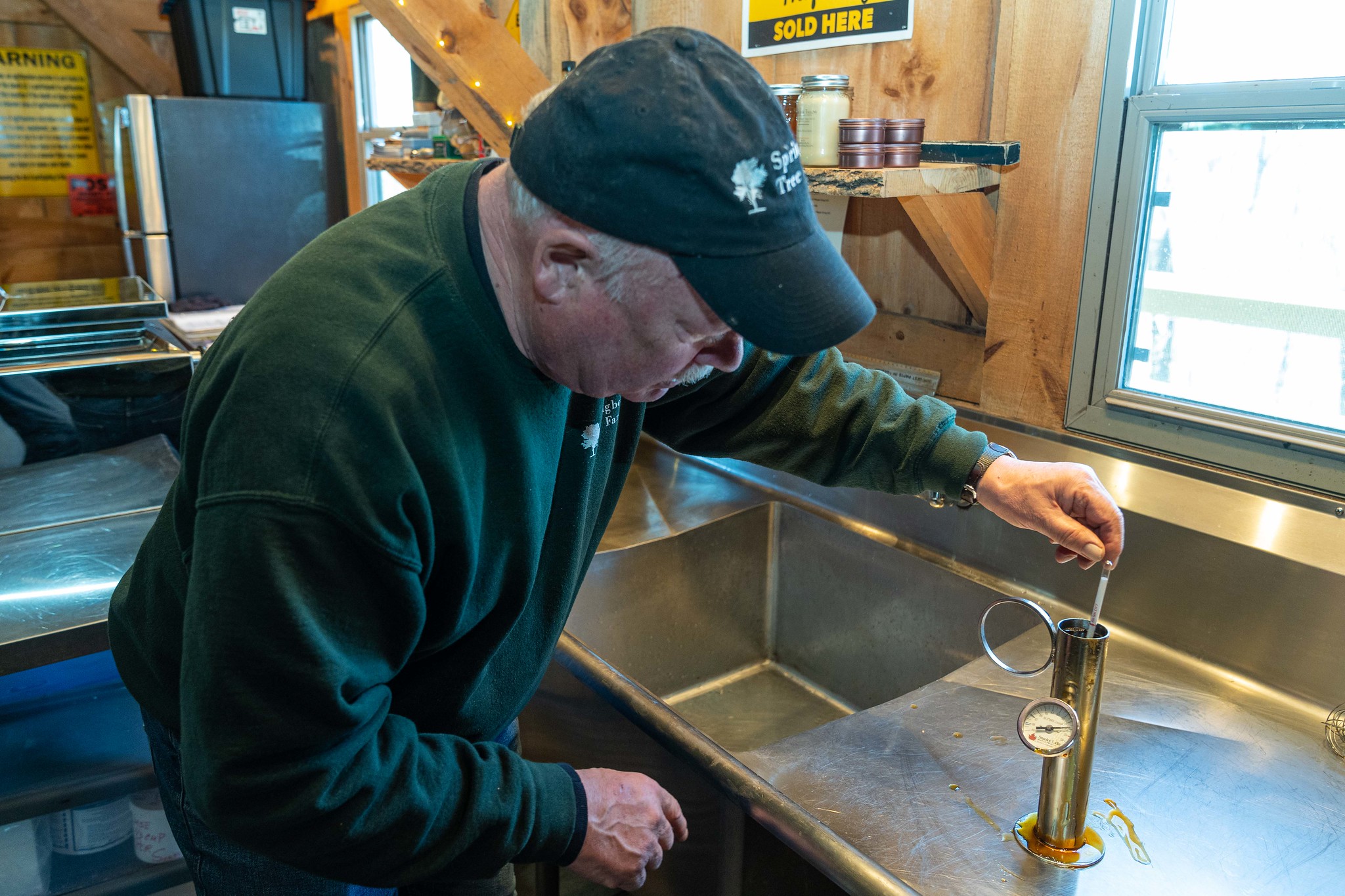 "Maple syrup fits in perfectly because maple syrup doesn't impact in any way the habitat for birds," Rich said. "When you think about what we do, there's just a few weeks out of the year when we're in the woods and it's not during the nesting season. It's prior to it. So, we leave the forest for the birds when they're here and it's for us and for making maple syrup when they're not."
It is all part of Rich's mantra to pursue everything he does with "excellence." Whether that is the products they produce or the way he manages his forest. But it is also about creating a place where he, his brother and his friends can enjoy the outdoors.
More Information
Visit local farms, ranches, forests, and resource areas through our Fridays on the Farm stories. Meet farmers, producers, and landowners who are working to improve their operations with USDA programs.
USDA offers a variety of risk management, disaster assistance, loan, and conservation programs to help producers weather ups and downs in the market and recover from natural disasters as well as invest in improvements to their operations. Learn about additional programs.
For more information about USDA programs and services, contact your local USDA service center.
Brandon O'Connor is a public affairs specialist for NRCS in Indiana.