This Friday meet Kevin and Linda Baird, owners of Cornucopia Farm in Scottsburg, Indiana. Over the course of 30 years, the Bairds have built their farm from a two-acre pumpkin patch into a flourishing fall travel destination. Kevin is the second generation in his family to farm this land, and his sons, Michael and Jared, plan to continue the tradition.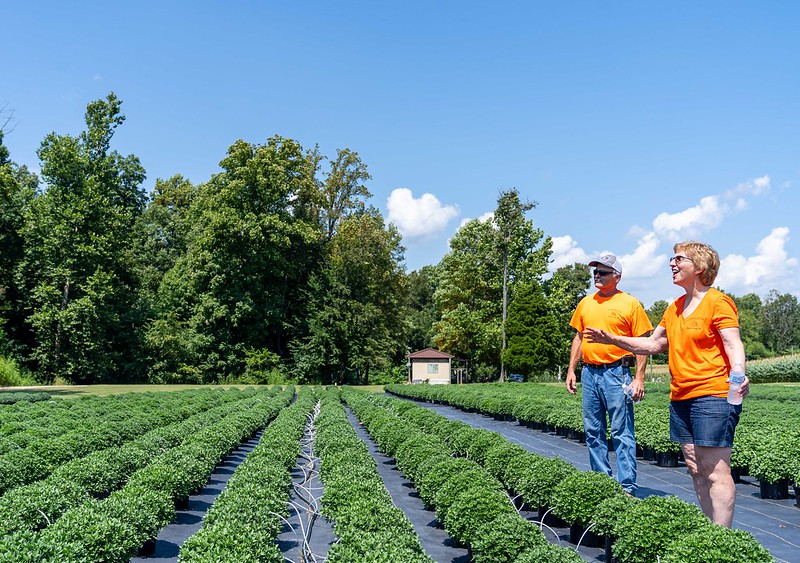 A painted roadside sign declaring this slice of heaven to be Cornucopia Farm lets you know you're in the right place as you turn down the Bairds' driveway. High tunnels full of ripening tomatoes and rows upon rows of potted mums line the right side of the road as the world outside the one the Bairds have created over the last three decades disappears.
Getting Ready for Fall
Family photos decorate one wall inside the entrance of their building as it stands ready for the flood of autumn visitors. Empty tables will soon be heaped with produce, farmhouse decorations are priced and hung, and the café is prepared to be stocked and turned into a bustle of activity.
The corn maze has been planted, the pumpkins are ripening on the vine, the mums have been equipped with an automatic watering system to cut down on labor and the sunflowers are waiting for rain before reaching toward the sky and blooming.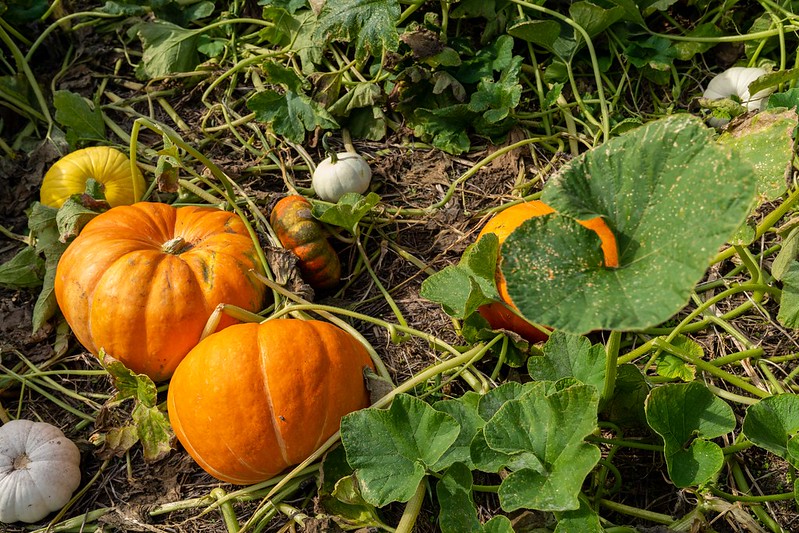 The outside world might know it as Cornucopia Farm, but Kevin and Linda simply call it their dream. It started with Kevin's father moving to the county they now call home in the 1950s. He joined a family operation for a few years before buying what Kevin and Linda call the "home farm" in Franklin Township, Indiana. There, he operated a small dairy and instilled a love of farming and the land in his son.
After they got married, Kevin and Linda moved around before finding themselves in Tennessee on her parents' farm with the plan to stay a year and then make a decision for the future.
"He wanted to come back to Indiana, I was like, 'Okay, I'm willing to go if you'll raise pumpkins,'" Linda said. "He would do anything to get back to Indiana and he was true to his word, so we started raising pumpkins from that."
Dedication to Conservation
Their dedication to supporting the land started with Kevin's father. After closing the dairy farm in the late 1980s, he became one of the first farmers in Indiana to enroll in the Conservation Reserve Program through USDA's Farm Service Agency (FSA). Using FSA funds combined with technical advice from USDA's Natural Resources Conservation Service (NRCS), he turned farm ground abutting a creek bottom into a filter strip to help improve the water quality of the stream. While the land is no longer enrolled in CRP, Kevin and Linda continue to maintain the filter strip and keep the land out of production.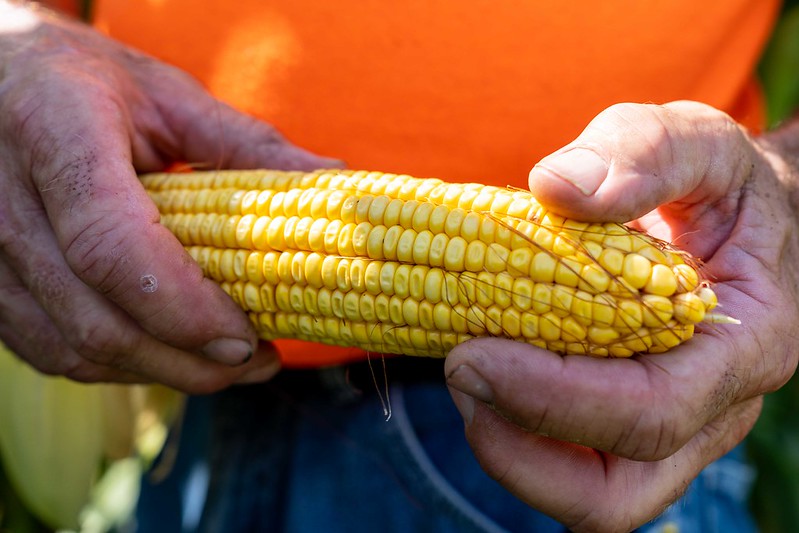 Kevin and Linda have continued to run the farm with conservation in mind, having no-tilled corn and soybeans from the get-go. A few years in, they also started no-till planting the pumpkins, and now even the sunflowers are planted without tillage.
Planting for the Future
To further implement conservation, the Bairds began planting cover crops in between growing seasons with help from NRCS's Environmental Quality Incentives Program (EQIP). They also practice crop rotation, rotating pumpkins throughout the farm to allow fields to rest for at least four years and rotating between corn and soybeans annually throughout the rest of the farm.
They plant green into the cover crops and for the pumpkins, especially, it has paid massive dividends with the cover crops suppressing the majority of the weeds. After the cover dies, it also provides a bed of refuse beneath the pumpkins keeping them mostly clean of dirt and reducing the labor required to clean them after harvest.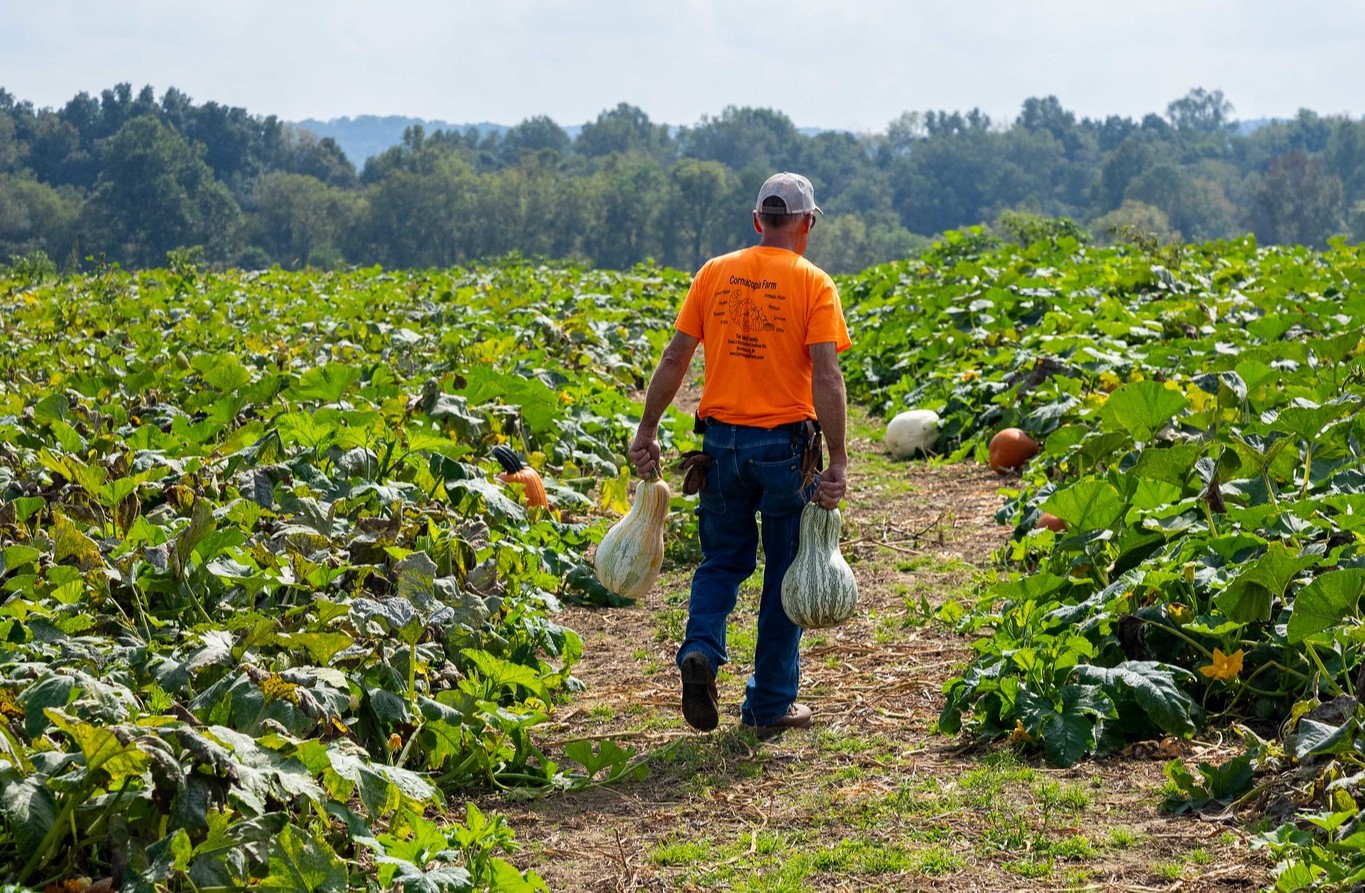 "Pumpkins, any cucurbit crops whether it's pumpkins or cucumbers, watermelons, cantaloupes or whatever, are really pretty hard on the soil," Kevin said. "It takes a lot of nutrients to grow those. So, the cover crop helps hold those nutrients there so they're not down in a ditch somewhere. There's a lot of benefits."
Michael and Jared also worked with NRCS and enrolled in an EQIP contract of their own to build one of the high tunnels where their tomatoes grow.
The Bairds have welcomed school visits for 25 years and have developed a farm family of visitors who return year after year. Michael and his wife, Valerie, recently moved back to the farm to help run it, while Jared and his wife, Kayla, are frequent visitors from their home an hour and a half away. It is truly a family run operation with decisions made in family meetings and each with a role to play.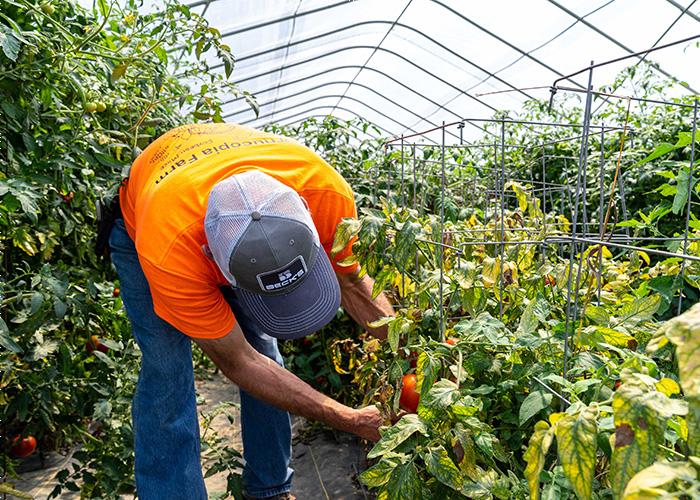 A full version of this story can be found on the NRCS Indiana state webpage.
More Information
Visit local farms, ranches, forests, and resource areas through our Fridays on the Farm stories. Meet farmers, producers and landowners who are working to improve their operations with USDA programs.
USDA offers a variety of risk management, disaster assistance, loan, and conservation programs to help producers weather ups and downs in the market and recover from natural disasters as well as invest in improvements to their operations. Learn about additional programs.
For more information about USDA programs and services, contact your local USDA service center.
Brandon O'Connor is a public affairs specialist for USDA's Farm Production and Conservation Business Center.