This Friday, meet Stacey Givens, farmer, chef, and owner of The Side Yard Farm and Kitchen in Portland, Oregon. Stacey grew up in Southern California as the youngest child in a large Greek family and, from an early age, was immersed within a deep food culture. Her mother and grandmother taught her how to grow, forage, and preserve food as women in Greece have done for generations.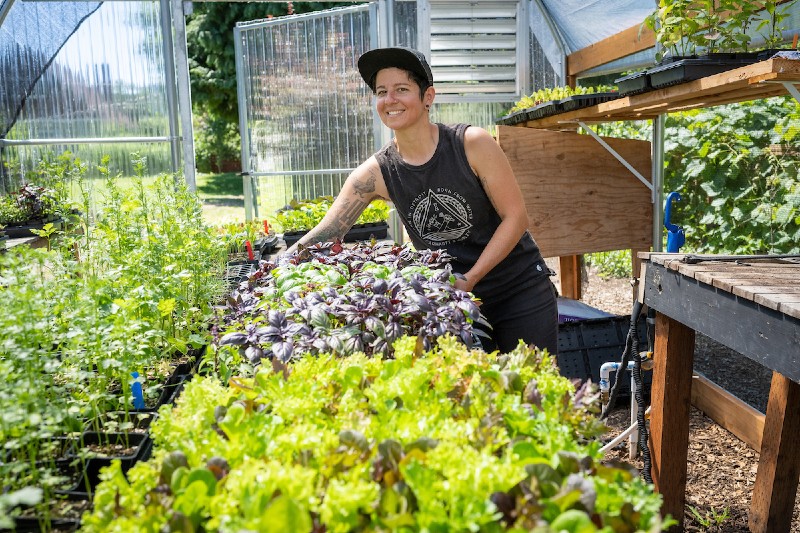 Stacey started working in the food industry at 15 in kitchens in Los Angeles, San Francisco, and Portland where she found a home and community. Driven by a deeper connection to her food and a desire to create a community-centered space, she began farming on a small one-acre plot of land in northeast Portland in 2009 and turned her "Seed-to-Plate" concept into a full-scale catering business.
Creating a Space
Side Yard Farm feeds around 15,000 people annually through restaurants, Community Supported Agriculture boxes, donations, catering, and farm events. Today, the farm hosts over 10,000 visitors each season for workshops, farm events, dinners and brunches, grief groups, farm tours, and more. Stacey also holds the "Side Yard Farm Collaborative BIPOC and Queer Market" every other month to create an inclusive space, create a community and economic opportunities for makers of all kinds.
The vision of Side Yard Farm is to create a space centered around food that is safe and inclusive for everyone from all walks of life. Stacey wanted to create a safe space for people to learn about farming and that is exactly what she has done.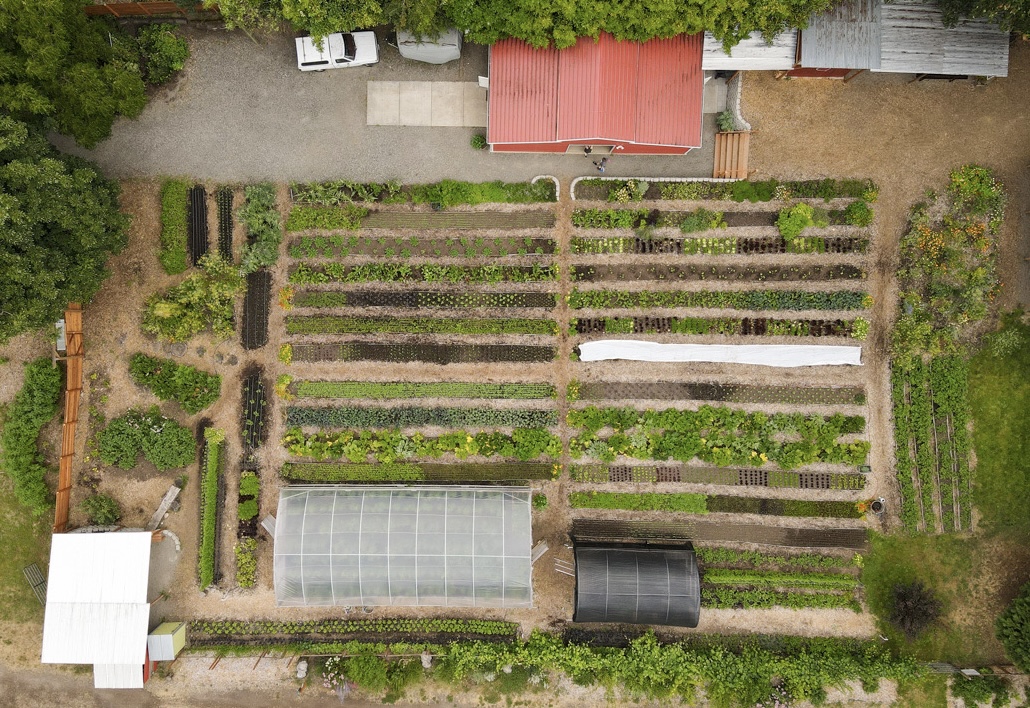 Stacey not only provides a safe space for the queer community to attend various farm events and happenings, but also hires a lot of farmers from the queer community to support farm operations.
"We want to be working where it feels good and you feel accepted," Stacey says. She feels lucky to be located in the middle of the city, where it's easily accessible to people across the community.
Over the years, Stacey became well-skilled in the restaurant business. This helped her grow the know-how and connections needed to service restaurants with local produce and culinary herbs from the farm, a key component to the operation from the onset. Being able to anticipate needs and specialty crops desired by local chefs was a trait that initially helped her succeed.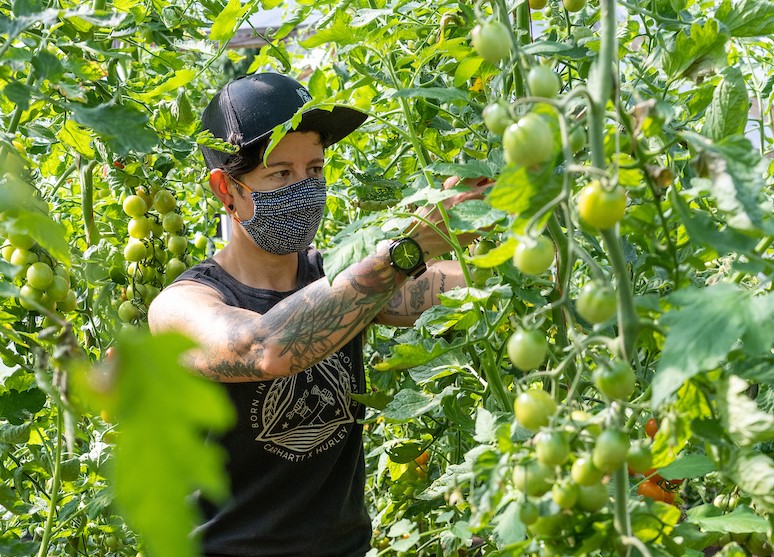 Partnering with USDA
Throughout the years, Stacey has worked with Kim Galland, a district conservationist with USDA's Natural Resources Conservation Service in Oregon. Kim connected Stacy to USDA programs and other funding opportunities through local resources.
"It felt really good to be taken care of," Stacey says of her work with Kim. Stacey found out about NRCS through a farmer friend when she was just starting out and wanting to extend her growing season.
Through the NRCS Environmental Quality Incentives Program, Stacy installed a 20-foot by 45-foot-high tunnel on her property in 2015, extending her growing season and increasing supply to meet demand.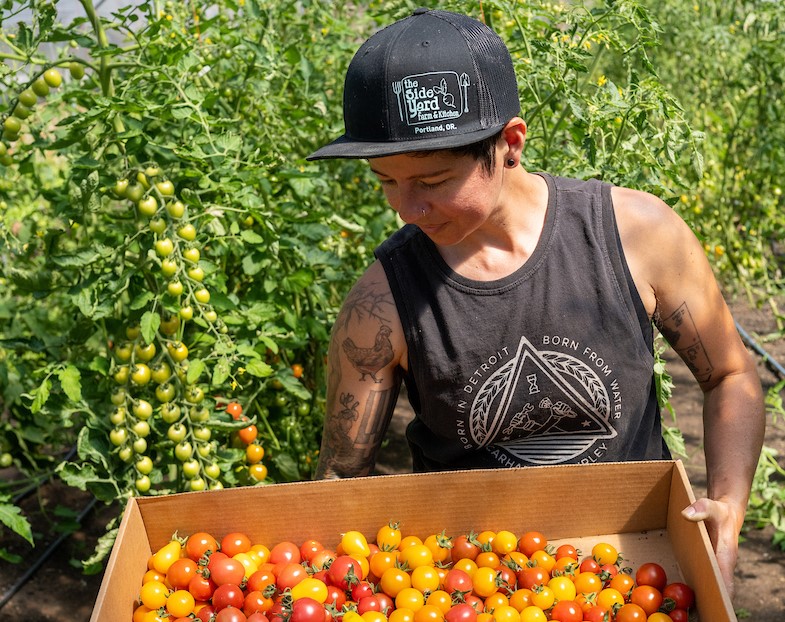 Stacey's most recent NRCS contract was through the Conservation Stewardship Program, working on a water conservation program, a nutrition program, and native pollinator habitat plantings. Stacey has now participated in all NRCS programs available to her current property.
Additionally, Stacey was able to purchase her land outright through a Direct Farm Ownership Loan from USDA's Farm Service Agency in 2020. Ownership loans can be used to purchase or expand a farm or ranch, pay closing costs, construct or improve buildings, or to help conserve and protect soil and water resources.
"I think a lot of urban farmers don't think about government funding, because we're so small scale," Stacey says. "They may not think about organizations that could help us. I know I didn't, until a large-scale farmer told me about NRCS. I urge other farmers to look into the NRCS for help with soil management, irrigation, high tunnels, because it's definitely worth it."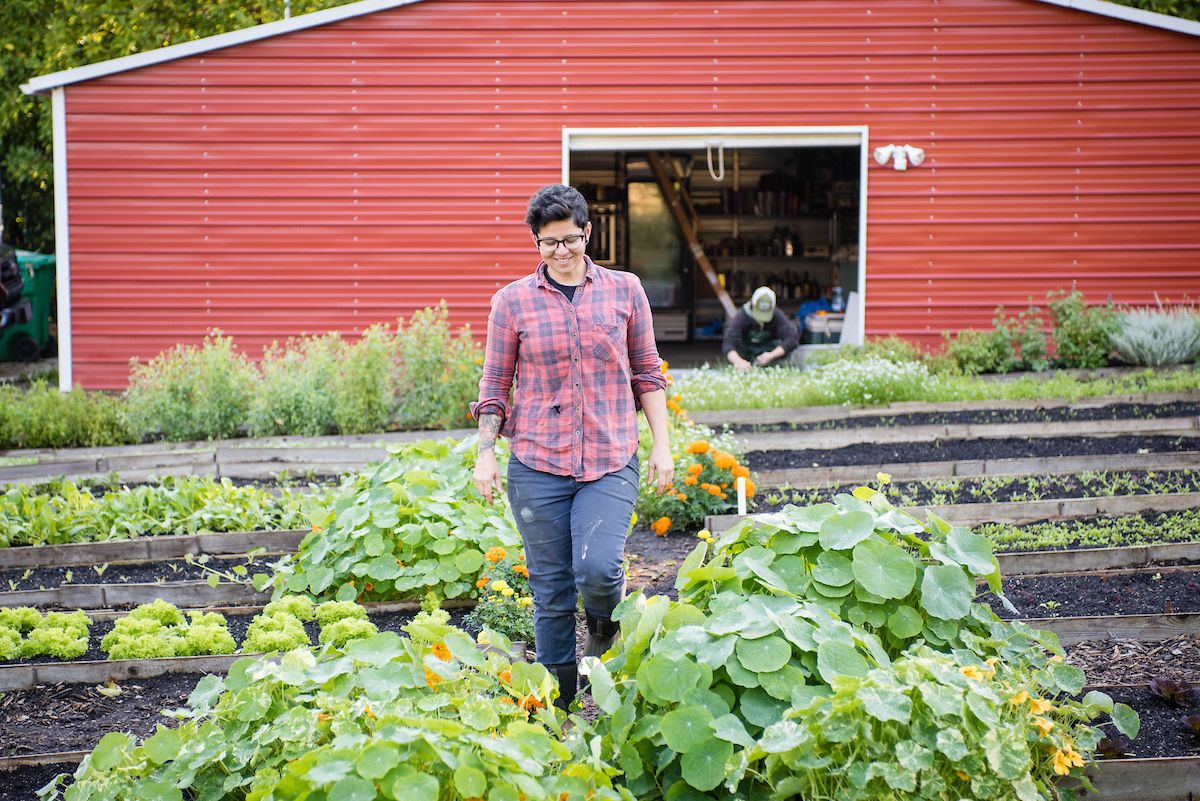 More Information
Visit local farms, ranches, forests, and resource areas through our Fridays on the Farm stories. Meet farmers, producers and landowners who are working to improve their operations with USDA programs.
USDA is committed to equity in the delivery of programs and has resources to help farmers and ranchers throughout the country regardless of their race, gender, or sexual orientation. Learn more about how USDA is working with LGBTQ+ producers.
USDA offers a variety of risk management, disaster assistance, loan, and conservation programs to help producers weather ups and downs in the market and recover from natural disasters as well as invest in improvements to their operations. Learn about additional programs.
For more information about USDA programs and services, contact your local USDA service center.
Lauren Bennett is a public affairs officer for NRCS in Oregon.