This Friday meet Michael Marchand of Lapa'au Farm in Olinda, Hawaii. Located in Upcountry Maui, Michael established the regenerative farming operation in 2017, growing a variety of organic crops offered through a Community Supported Agriculture (CSA) program and sold to local Maui restaurants and grocery stores.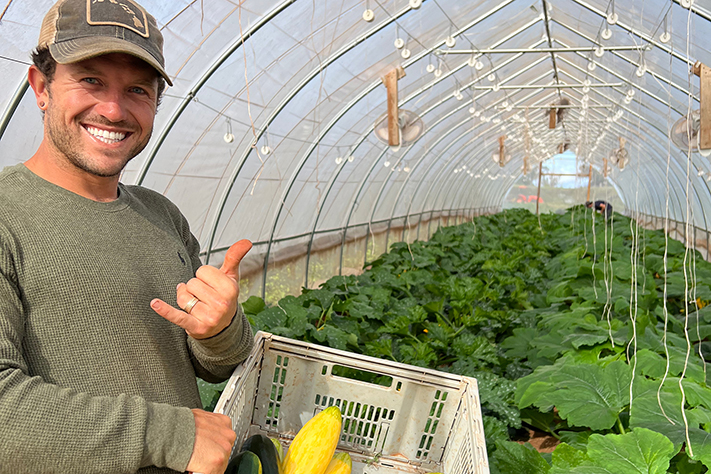 Relocating and Refocusing
Crisp cool air and sweeping hills thriving with bountiful seasonal organic crops like luscious salad greens, brassicas, oyster mushrooms, and other root vegetables. It looks like a field of dreams, but it didn't start out that way.
Michael's original goals included a mushroom operation and stone-fruit agroforestry. But when things didn't work out with his original business partner, he had to shift gears and learn how to grow quick crops to generate income.
"I learned what crops grew well, what the market wanted, what was profitable, and what I enjoyed growing," Michael said. His operation grew to include salad mix blends, baby arugula, turnips, carrots, beets, and radish.
In 2019, Michael relocated his farm to a neighboring property, which he says was "the biggest blessing of my faming career." In the past two years, Michael focused his successful operation to include mushrooms, baby greens, cauliflower, and root vegetables, while diversifying edibles to his CSA members and restaurants.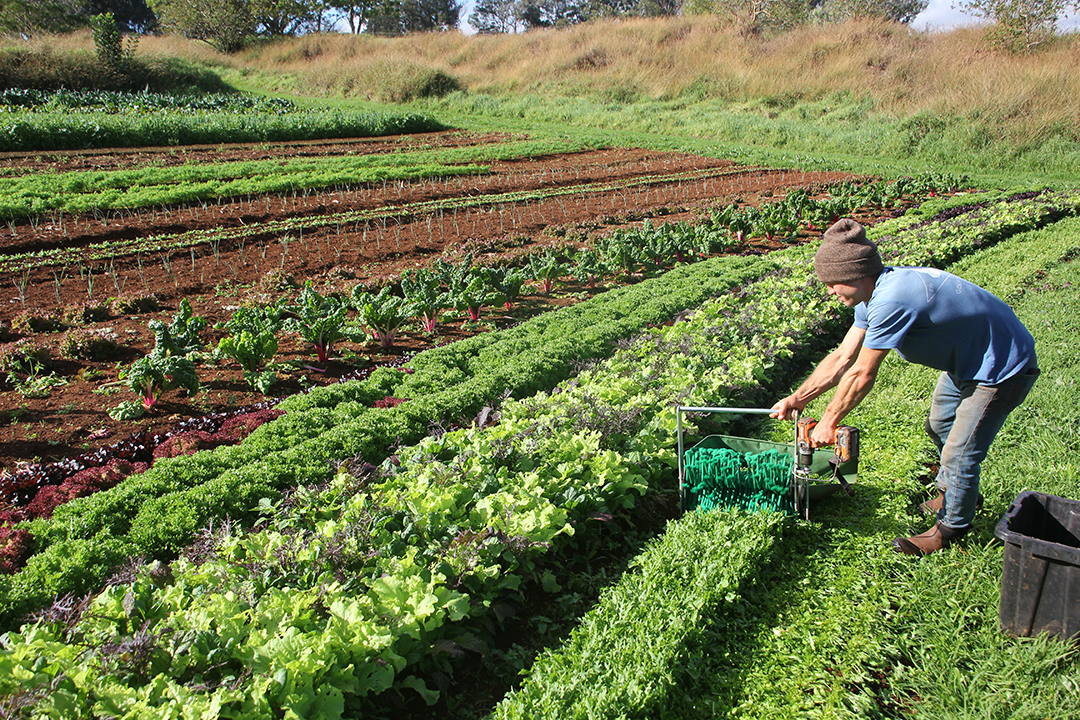 Building an Ecosystem
Michael contacted USDA's Natural Resources Conservation Service with a goal of building an ecosystem on the farm with more perennial plants and a native habitat and growing more food in a controlled high tunnel system to reduce crop loss from the heavy rainfalls and pests. To help Michael achieve this, NRCS Soil Conservationist Jason Hew designed conservation plans through the Environmental Quality Incentives Program for agroforestry, cover crops, conservation crop rotation, mulching, and four high tunnel systems with roof runoff.
In the large high tunnel, Lapa'au Farm grows mushrooms and uses the spent mushroom substrate, which is straw, to mulch the vegetable field, fruit trees, and perennial crops. "This is a big help for the microbial activity in the soil because of the amount of organic matter in the soil," Jason said.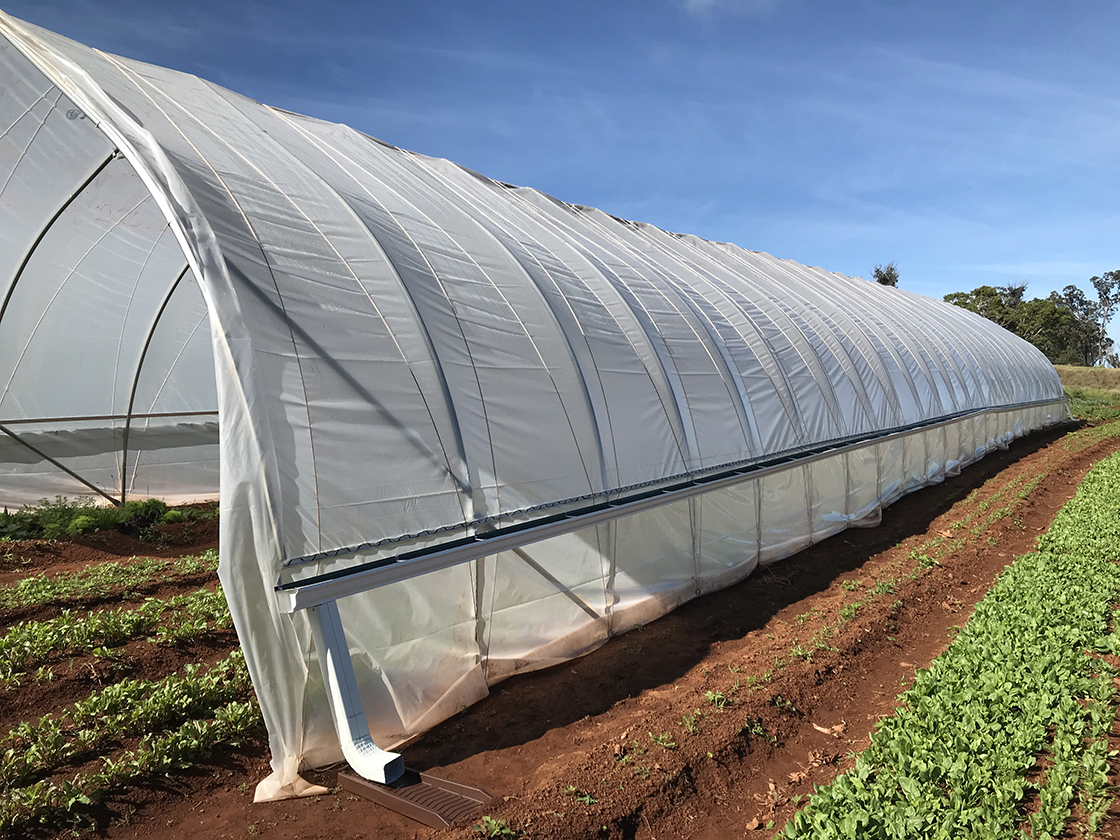 Michael background was far from farming, but he became interested in a healthier lifestyle after the passing of his mother. Later, he traveled to Peru and grew a passion for growing food and taking care of the soil.
"Producers should care about soil health because it is clear through science that the soil biology has a direct effect on plant health," said Michael. "If we continue to build the health of the soil, it does not just impact us, but the generations after us that need the land to take care of one another. With our climates becoming more severe, it is important that we do everything we can to make it easier on our children to sustain the health of the planet and each other for the future. I want people to know that NRCS is there to help support in the best way they can. Not everything always aligns, but they do a very good job on working with every individual on a personal basis to customize a plan. We are grateful for the assistance we have been provided from NRCS."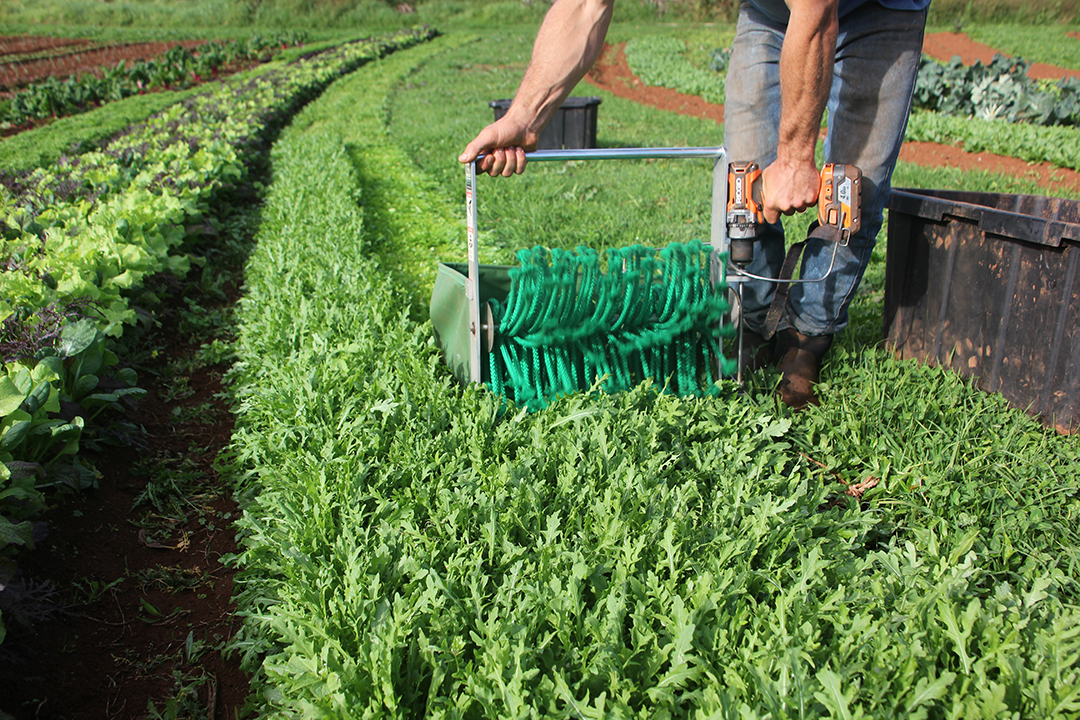 More Information
Visit local farms, ranches, forests, and resource areas through our Fridays on the Farm stories. Meet farmers, producers, and landowners who are working to improve their operations with USDA programs.
USDA offers a variety of risk management, disaster assistance, loan, and conservation programs to help producers weather ups and downs in the market and recover from natural disasters as well as invest in improvements to their operations. Learn about additional programs.
For more information about USDA programs and services, contact your local USDA service center.
Terri Dux is the public affairs specialist for NRCS in the Pacific Islands Area.