During No-Till November, USDA's Natural Resources Conservation Service promotes the economic and environmental benefits of not disturbing the soil and "keeping the stubble" to improve soil health.  To make the most of these benefits, Iowa no-till farmer Will Cannon focuses on the biology of the soil – instead of the chemistry of farming.
That's the advice Cannon gives to corn and soybean producers struggling to establish cover crops to improve soil health, reduce erosion, and decrease input costs.
Cannon grows mostly no-till corn and soybeans on about 1,400 acres with his wife Cassie. In his 15 years of full-time farming, he's learned he can't manage any year the same way. "Many farmers are more familiar with applying 'X' amount of chemicals and expecting 'Y' result," he says. Variables such as weather, soil types, equipment, and available help on the farm impact successfully growing and terminating cover crops, says Cannon. "You have to focus on soil conditions. This is about biology," he says.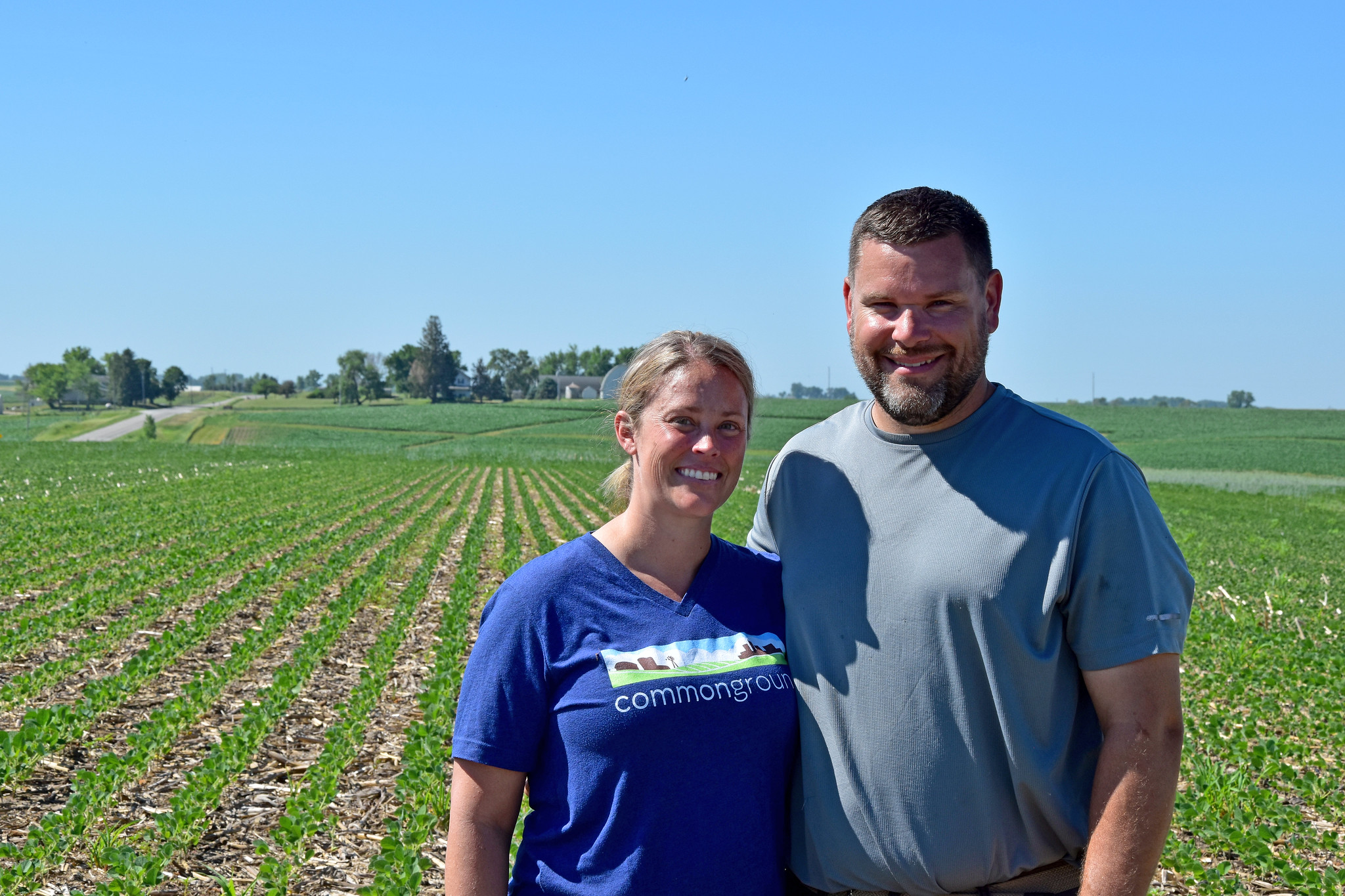 Well-respected in conservation circles, Cannon farms land for former NRCS State Agronomist Barb Stewart and a local Soil and Water Conservation District commissioner. He has farmed Stewart's land since 2008. "We brought him on as a beginning farmer and have been crop sharing 50-50 ever since," says Stewart. "Will has been very good at looking at new ideas and figuring out how to make it work in his system. We have experimented with various types of cover crops, as well as different methods of planting cover crops."
Evolution of a Cover Crop Seeder
Cannon built new equipment to find the easiest, most efficient way to plant cereal rye as soon as possible after harvest. After some years of using a vertical tillage tool that Cannon says burned $3,000 of fuel to plant cover crops, he built a faster, more effective tool. He modified a 40-foot rolling harrow soil conditioner with two sets of serrated edged rolling baskets with an air seeder box originally used to plant soybeans.
The 40-foot harrow lines up so the cover crop seed is planted between corn rows. In soybean stubble, he plants the cover crop into a 15-inch band between future corn rows. In corn stalks, the harrow broadcasts seed across the entire width. The harrow also helps incorporate the seed below the corn residue and smash the remaining corn stalk and root ball with virtually no-tillage.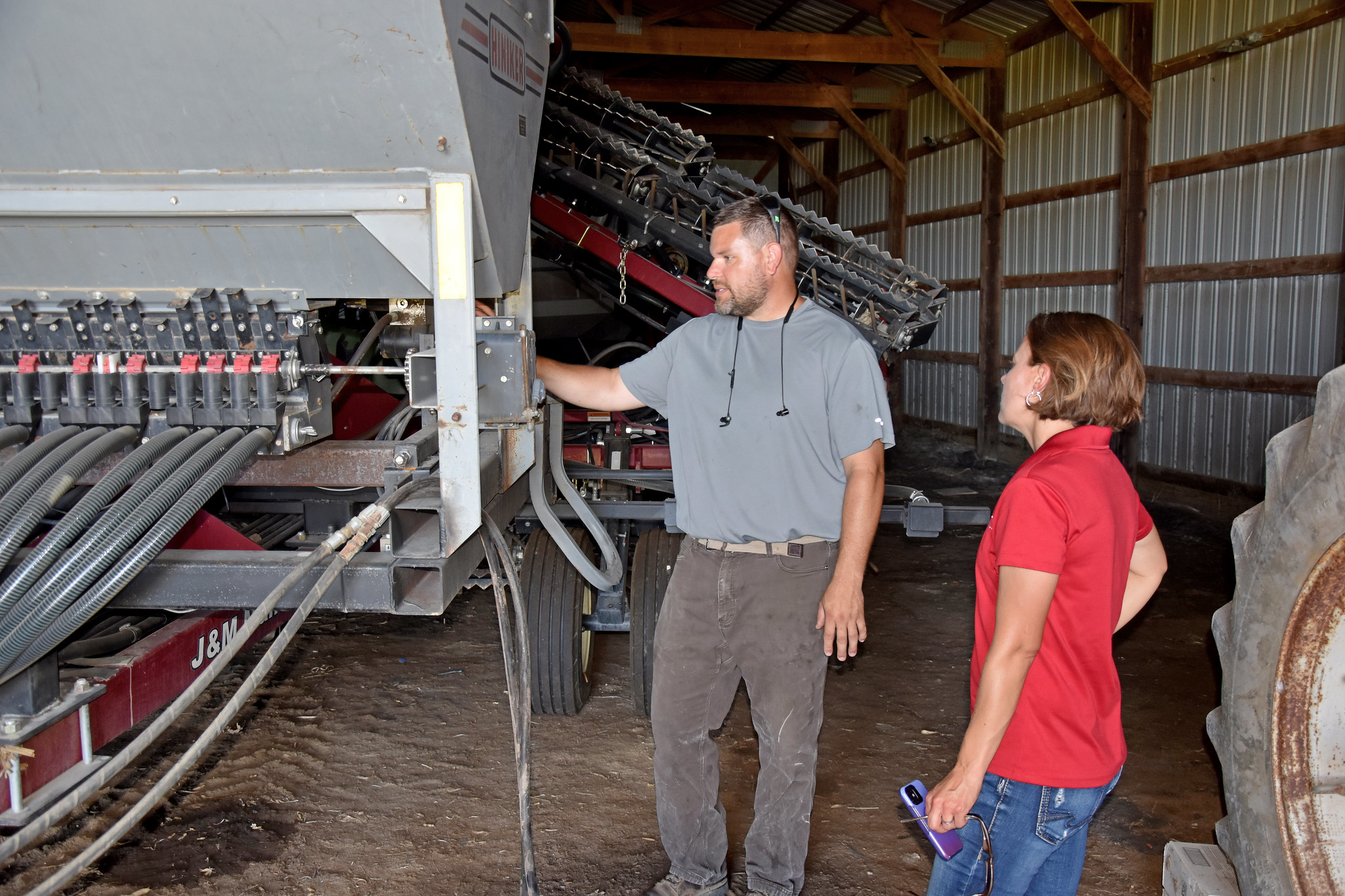 "Now we have a tool that we can run across every acre, without the tillage before it," says Cannon. "This seeder is faster, less expensive to run, uses much less horsepower, and goes through corn and bean stubble much easier."
Cannon says there are companies that have developed a similar one-pass cover crop seeder option for a rolling harrow.
Cover Crop Benefits
Cover crops may not produce immediate financial benefits, says Cassie Cannon. "It takes a while to build up that organic matter in soil," she says.
Will says the most obvious soil improvements are in the eroded areas. "Since using cover crops, we've noticed a change in color on some of the eroded side hills," he says, "but the biggest change is that my bad spots are shrinking more every year."
He's also noticed his crops are less stressed during dry conditions, compared to fields that have been tilled. "We also use less nitrogen – typically .6 or .7 units per bushel – compared to 1 or 2 that a lot of farmers use," says Cannon.
What's Next for Cannon?
Cannon recently experimented with letting cereal rye head out and planting soybeans into the green growing rye. He allowed the beans to grow with the rye for a while and then terminated the rye in late May or mid-June.
"Yield results on that experiment have been good or better yields on my better soils and similar or lower yields on my poor soils," he says.
To learn more about soil health practices, watch our Conservation at Work videos on no-till and cover crops or visit our Soil Health webpage on farmers.gov. Producers interested in NRCS conservation practices should contact the NRCS at their local USDA Service Center.
Jason Johnson is a public affairs specialist with NRCS in Des Moines, Iowa