In southwest Montana, the multi-generational family ranches are breathtaking, full of cowboys and critters galore. The sprawling sagebrush valleys near Yellowstone National Park are some of the few places left in our country "where the buffalo roam and the deer and the antelope play."
Yet, this iconic range is threatened by the same suite of problems that afflict much of the grazing land in the American West: invasive weeds, encroaching trees, eroding streams, and increasing pressure to carve up the land and develop working ranches.
One of the best ways to tackle these threats and keep ranches productive is through cooperative, voluntary conservation practices — better yet, practices that create jobs in the local community. Southwest Montana is setting a perfect example for how to keep working lands healthy while also fueling rural economies.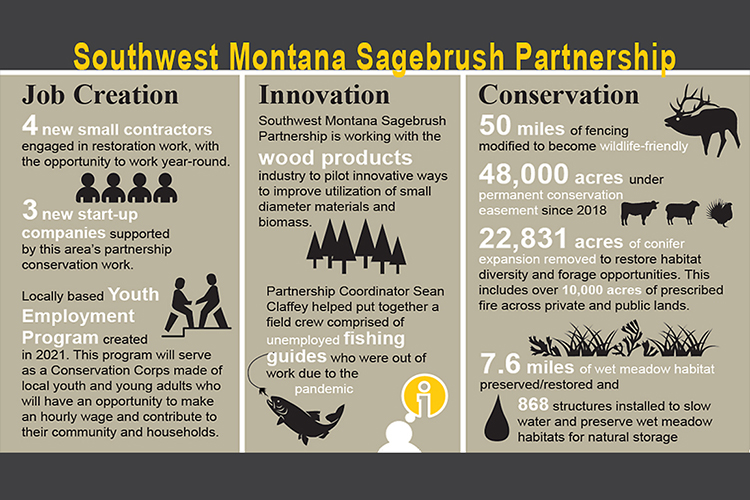 Doing good for the ground and the local community
The Southwest Montana Sagebrush Partnership (SMSP) was formed in 2018 by ranchers, business owners, federal and state agencies, local conservation districts and non-profit organizations looking to improve range health for people and wildlife. In just four years, the SMSP has leveraged over $34 million to conserve over 52,000 acres of working ranches, restore eight miles of streams, ensure fences are wildlife-friendly, and remove encroaching conifers from 23,000 acres.
The most exciting part of SMSP is that it's also creating conservation-related jobs. This includes new start-up businesses focused on selling wood products, contractors doing year-round restoration work, and a local youth workforce.
"When we recruit youth and young adults from our community, they learn what's going on in their backyard," says Sean Claffey, the coordinator for the SMSP, a position hosted by The Nature Conservancy. "If we want to maximize our impact and scale up conservation, we must figure out a way to connect it directly to as many people as possible, and make it part of our culture."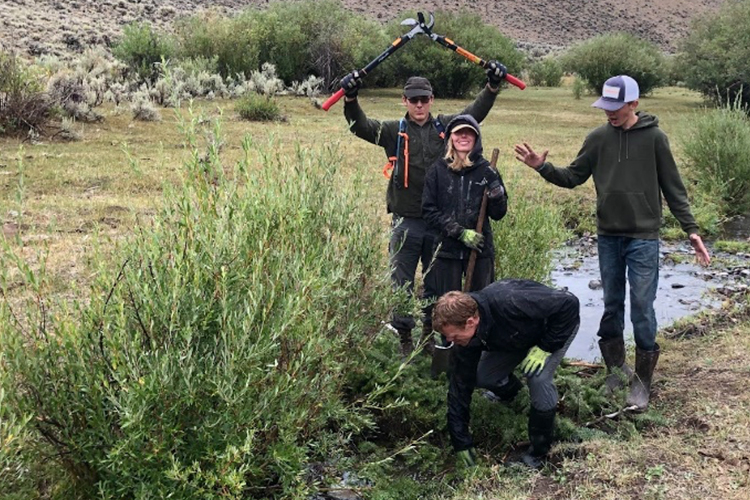 Working together to conserve a biome
The USDA Natural Resources Conservation Service (NRCS) in Montana provided seed funding to launch the Dillon Youth Employment Program (YEP) through the SMSP. Employees of YEP are paid a full wage while developing marketable skills in natural resource management.
Montana NRCS and NRCS's Working Lands for Wildlife initiative have helped SMSP deliver on-the-ground outcomes for private ranches through the Environmental Quality Incentives Program and Agricultural Conservation Easement Program. The SMSP is a prime example of how to accomplish cross-boundary, science-based conservation, using strategies prioritized in NRCS's Framework for Conservation Action in the Sagebrush Biome.
"The diverse entities involved in SMSP make this conservation work not only possible, but a reality on a fairly large scale," says Tom Watson, NRCS State Conservationist for Montana. "One focus of the partnership is to ensure conservation makes sense for rural communities as well as for the landscape and land managers."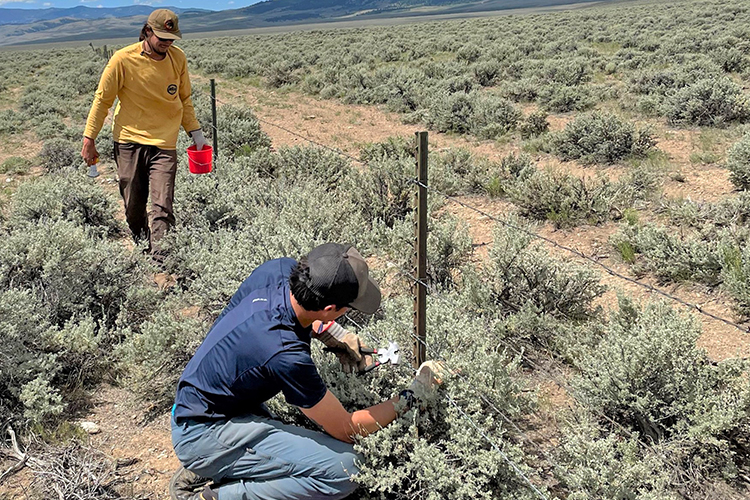 Sustaining more businesses in the future
This coming summer, YEP will hire over 20 youth and young adults from southwest Montana who will rotate between rangeland improvement projects. These field crews will also help document where cheatgrass is invading so the SMSP can develop a proactive strategy to fight back against invasive annual grasses.
In 2022, the SMSP is ramping up its partnership with businesses that can sell the Douglas fir removed from sagebrush rangelands. Partners will haul small-diameter timber to a sorting yard where it will be sent to local small mills, or sold for fencing materials, log-home siding or firewood.
"The idea is to cover the cost of operations, then put proceeds towards more conservation projects," says Claffey. "Supporting businesses, sustaining natural resources, and keeping working lands working — it all goes together."
Additional Information
Learn more about the Southwest Montana Sagebrush Partnership and the NRCS Working Lands for Wildlife initiative.
Brianna Randall is a freelance writer based in Missoula, Montana.