The eastern hellbender is the third largest salamander species in the world. It depends on clean, cool, swiftly moving waters to survive, and is an invaluable indicator of water quality.
Despite the hellbenders' valued ecological services, the giant aquatic salamander's population has suffered a 90 percent decline across its range since the 1970's.
The water quality efforts made by producers and landowners in these habitats are helping bring back eastern hellbender populations, restoring unstable streambanks, and reducing severe erosion on working agricultural lands.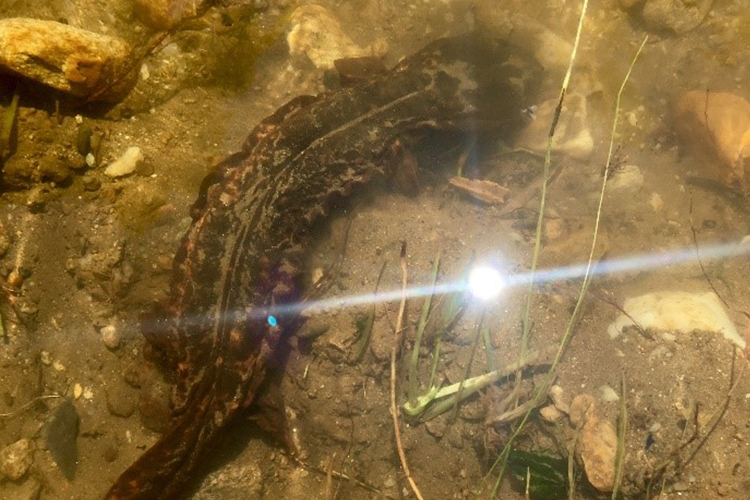 Keeping Soil on the Land
Vegetable grower Fred Thompson of Giles County, Virginia, is responsible for the most recent effort that enhanced habitat for the hellbender by restoring 380 feet of Little Stony Creek, within the New River Basin. Thompson contacted USDA's Natural Resources Conservation Service (NRCS) for assistance when he realized he was rapidly losing his land due to unstable streambanks. The erosion also caused excessive soil deposits and clogging of in-stream habitat.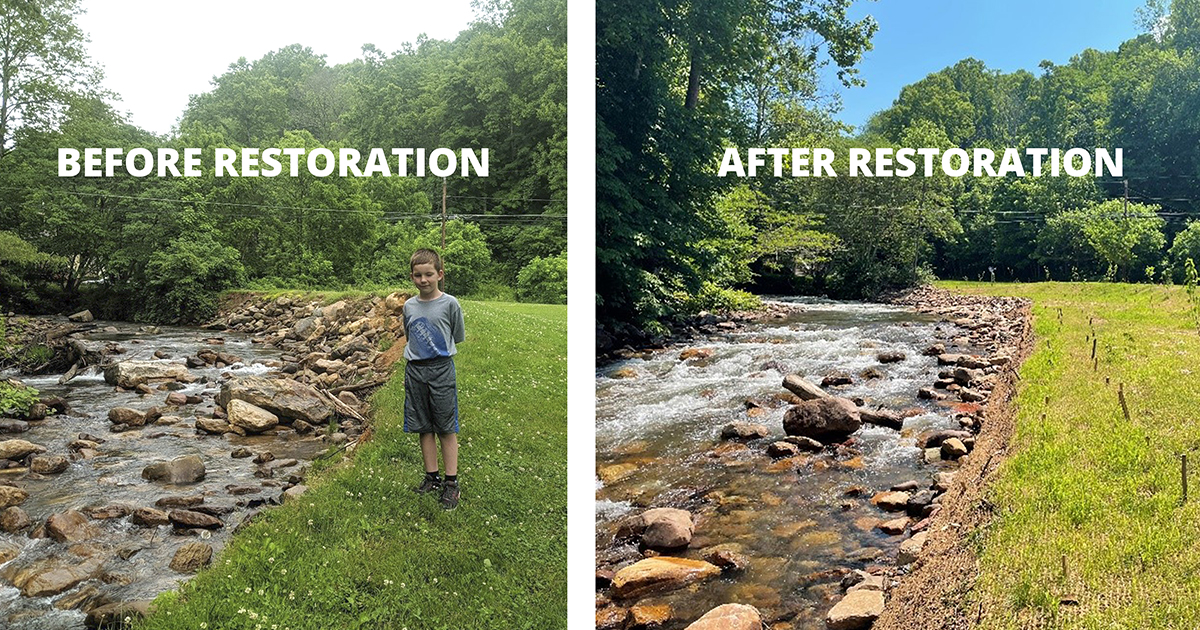 So NRCS and the Conservation Management Institute of Virginia Tech (CMI) collaborated on a conservation plan for Thompson to implement natural channel restoration, streambank stabilization, habitat structures and tree and shrub planting to restore the channel and reduce erosion. CMI partnered with NRCS to design stream restoration and habitat improvement projects for agricultural producers, like Thompson, in southwestern Virginia.
"We are very pleased, and we've had so many compliments on the work that was done," said Thompson. "It really made a difference on our property."
These conservation systems helped Thompson keep more soil on the land and out of nearby waterways while maintaining productive lands and restoring aquatic habitat for the hellbender and many other wildlife species.
Partnering for Wildlife on Working Lands
Farmers like Thompson are working through NRCS, in partnership with Working Lands for Wildlife (WLFW), to make water quality improvements that benefit the salamander and other aquatic species in priority watersheds, including the Tennessee and New River Systems in Virginia and North Carolina and the Duck River watersheds of Tennessee and Alabama.
WLFW provides agricultural producers technical and financial support, offered by NRCS' Environmental Quality Incentives Program (EQIP), to implement conservation systems on their land, such as livestock fencing, streambank stabilization, natural channel restoration, and instream barrier removal. These conservation measures also help restore hellbender habitat.
WLFW efforts like this are helping farmers maintain the productivity of working agricultural lands while enhancing habitat for all species that call the streams home and for people who use these resource-rich waters for recreation.
More Information
The eastern hellbender is a target species of the WLFW initiative. NRCS also works with agricultural producers in North Carolina, Tennessee, Georgia, Virginia, West Virginia, and Alabama to help them implement conservation practices to improve productivity on their working lands while restoring aquatic habitat for the hellbender and other species.
To learn more about Working Lands for Wildlife's win-win approach to conservation, visit http://www.nrcs.usda.gov/wildlife. Landowners interested in participating are encouraged to contact their local USDA service center.
Jocelyn Benjamin is a USDA public affairs specialist in Washington, D.C.