American farmers are conservationists at heart, but it can be a challenge to know where to start when it comes to conservation planning. Finding the right technical assistance and determining whether a conservation practice actually works for your land isn't always easy.
The new Resource Stewardship Planning Guide, backed by NRCS science and developed by the editors at Farm Journal, is now available to help. This free workbook is the first in a three-part series published as part of America's Conservation Ag Movement, a public-private partnership that helps producers use profitable and conservation-minded practices. The Soil Health Guide is currently available, and a Water Quality Guide will be available soon.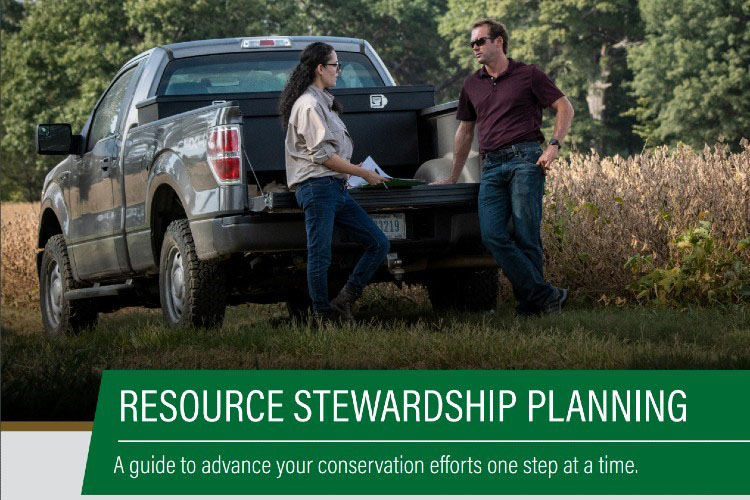 Here are 10 tips from this new interactive workbook—available in digital format to download for free.
Tip 1: See what other farmers are doing
Learning from other producers' conservation experiences is a great way to evaluate what might work in for you. In this workbook, you'll find plenty of stories from farmers across the U.S., including row crop producers from the Midwest, cattle ranchers from the Plains, and more.
Tip 2: Make a plan and write it down
Check out pages 4-7 for a primer on the process of conservation planning. Then fill out workbook pages 8-10 to see where your own farm stands and to identify some practical next steps you might take. There's a cheat sheet on page 11 with some examples to get those gears turning!
Tip 3: Same farm, different land types
A farm is rarely composed of a single giant parcel. Instead, it often spans soil types, terrains, and counties. That's why it's important to know where you are and what type of land within a field you're dealing with. Page 12 breaks down four common categories: cropland; associated agricultural lands; grazing, pastureland, and rangeland; and animal feeding operations.
Tip 4: Scout for conservation opportunities with cropland
If you raise crops such as corn or soybeans, pages 13-16 are for you. Starting with a soil loss assessment, you can begin to identify where conservation in your fields can deliver the strongest ROI. This section will also help you take stock of unique attributes of individual fields, such as proximity to adjacent bodies of water. The flow chart on page 15 can help you determine what you need and who can help.
Tip 5: Reduce costs through associated ag lands
Some spots in fields have notorious problems like ponding, erosion, or poor productivity. In these places, it might make sense to consider how you might save a precious resource—capital. Pages 17-21 provide insights on associated ag lands and illustrate how farmers are reimaging them for better lands and a better bottom line.
Tip 6: Grazing opportunities
Fencing is an infrastructure investment that NRCS programs can use to help livestock producers. From pages 23-27, you'll discover that conservation planning isn't just for  row crop—it applies to every farm or ranch, albeit with its own specific toolbox of best management practices.
Tip 7: Stewardship spans feed, manure, and more
If you raise livestock, then feed handling, waste management, and other activities have a central role in conservation planning. Learn how to integrate stewardship into these staples of farm life from pages 28-36. Then meet hog producers from South Dakota who are putting these principles to work.
Tip 8: Rent land? Engage the owner
Conservation might seem like a big investment of time and money, but in many cases, stewardship begins with an evaluation of what you—and your landlord—care most about when it comes to the farm. Pages 37-40 illustrate practical ways to start a conservation about rented land to ensure both parties benefit.
Tip 9: Pencil it out
If you're skeptical about whether conservation can have positive financial benefits, check out page 41. There is a step-by-step example of how stewardship can be a win-win for your business and the natural resources you manage.
Tip 10: Find a trusted adviser
Now that you've explored the many ways in which conservation planning can make a difference for farms like yours, it's time to ask: Who can help me do that? From pages 43-46, you'll find practical tips for locating the right kind of technical service provider in your local area. There are plenty of links so that you can do your own research online.
Interested in learning more about how conservation can help your farm? Click here to get your free guide to explore what the next step of your own conservation journey might be.
More Information
America's Conservation Ag Movement is organized by Trust In Food, a Farm Journal initiative, in partnership with the Farm Journal Foundation. Financial and technical support is provided by USDA's Natural Resources Conservation Service and leading agribusinesses, food companies and nonprofit organizations.